The newest ArcheAge update is due to land tomorrow, introducing a brand new series of lore-driven quests and content that features some familiar but decidedly unfriendly faces. Fans will be able to enjoy some ArcheAge vehicle customisation and a chain of Chronicle quests that promise to reinvigorate fans with a whole new story to sink their teeth into.
In the episodic quest-line, Calleil and the Crown Prince, players must heed the call of the ancient Hiram Guardians as they investigate traces of a mysterious stranger. As they journey through the Eastern Hiram Mountain Region, a slew of new challenges await - including some far more powerful versions of 3 familiar adversaries.
Jola the Faithful, Vicious Meina, and Relentless Glenn (which, incidentally, is the best name ever for a villain) await the heroes that have already defeated their less threatening counterparts. Within the event that spawns these empowered enemies, players can also obtain the Improved Leaders' Fusions.
But that's not all, as the new update brings the chance to pimp your ride with the new vehicle customisation feature. Eager drivers can now flaunt custom chassis, tires or impressive weapons in the November raid as if playing out some weird ArcheAge and Fast & Furious crossover. We're all for it.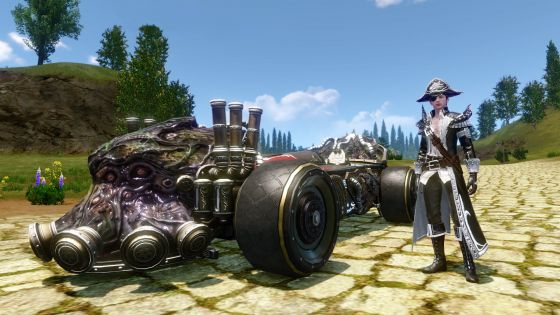 Pure Eldritch swag
The update spans both ArcheAge and ArcheAge Unchained so nobody is left out - and for the extra impatient, it can be played right now on the Test Server. For all the details surrounding the new update, however, make sure you swing by the official website and let us know your thoughts in the comments!
MMOGames.com is committed to bringing you all the freshest, funniest, and most insightful MMO news. If you enjoyed this content, why not share it with your community? And make sure that you never miss our updates and exclusive giveaways by following and favouriting us on Instagram, Twitter, and Facebook.