If you're a fan of fighting big robots then SD Gundam Online is the game for you. SD Gundam is another popular offering on Joyfun.com where you are to role play a pilot of a Gundam but in SD or super-deformed miniature design.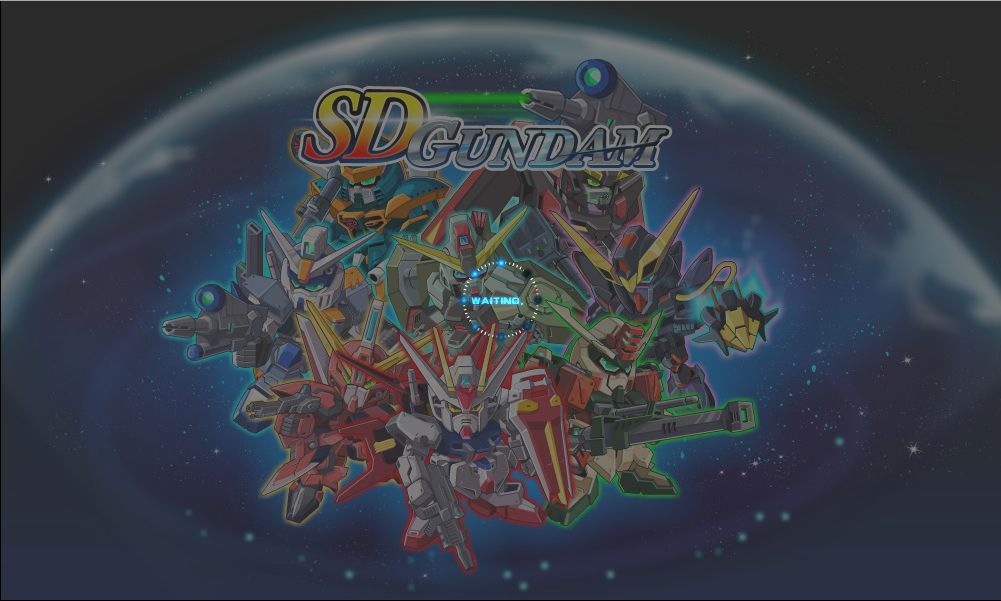 Now if you follow Gundam, then you will be familiar with the storyline of SD Gundam as it follows the story of Gundam Seed and Seed Destiny.


When you login to the website for the first time, you will be requested to sign up for an account which is quick and easy. Once an account is created, you can login to the game and select a server to play in.
Customization (or lack of)

You will then be asked to select your avatar for your character. The avatar selection is based on characters from Gundam Seed and past Gundam series. You can then choose a name for your pilot. Unfortunately, this is the only customization that you will have in this game as everything else is pre-determined. But since character creation is this fast, it lets you get into the game faster.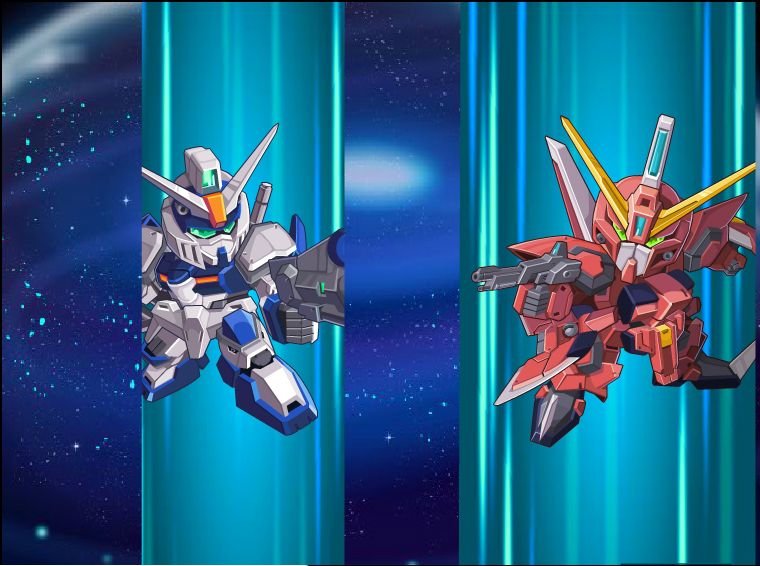 The nice thing about this game is that it's completely browser based so you don't really need to download a game client and wait for it to install and update. As long as your browser supports flash, you can play right away as soon as you log in. You'd be hard pressed to even find a browser that doesn't support Flash these days anyway.
Starting Off
The game begins with a short animation that sets up the story. The animation itself is reminiscent of old 90s PC games and anime/comic books. Once the game animation is done, you will then start with the tutorial which is led by Lacus Clyne. And like Kira Yamato in Gundam Seed, you'll eventually end up inside Archangel, the focal point of the first season of Gundam Seed.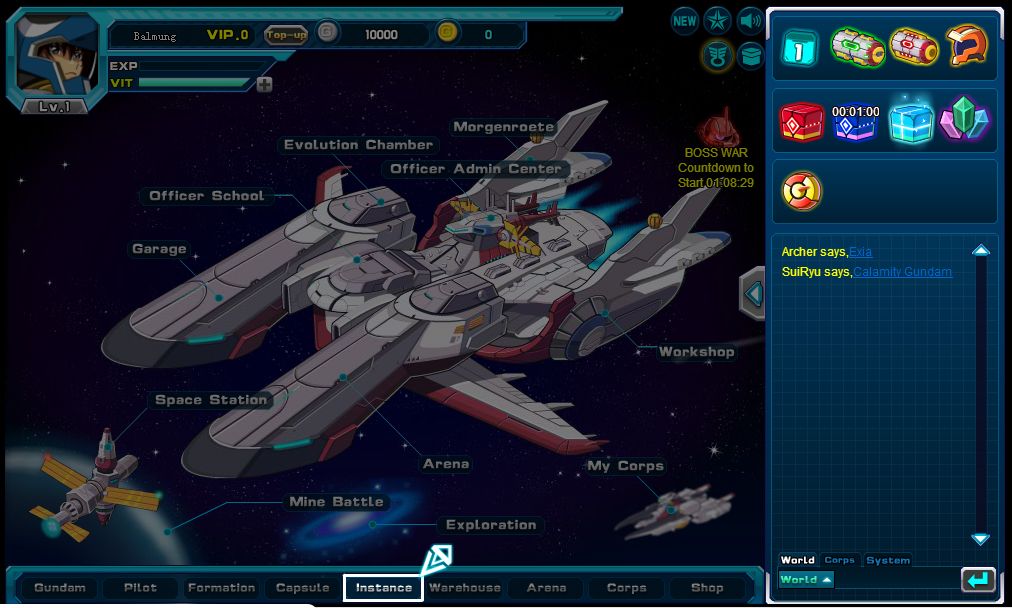 It is through the "Legged Ship" (as the anime calls it) that you can buy new Gundam units, upgrade your owned units and even hire pilots for your Gundams. Archangel has a lot of parts where each deck has a specific purpose.
The Experience
Music and sound effects play an integral part of the game as it serves to enhance the gaming experience. The moment you are in game you are already greeted by strong background music which adds to the ambient feel to the game. However, there is a limited playlist and after a while it can get very repetitive and annoying. Thankfully it isn't always full blast or else you'll be forced to just mute the game.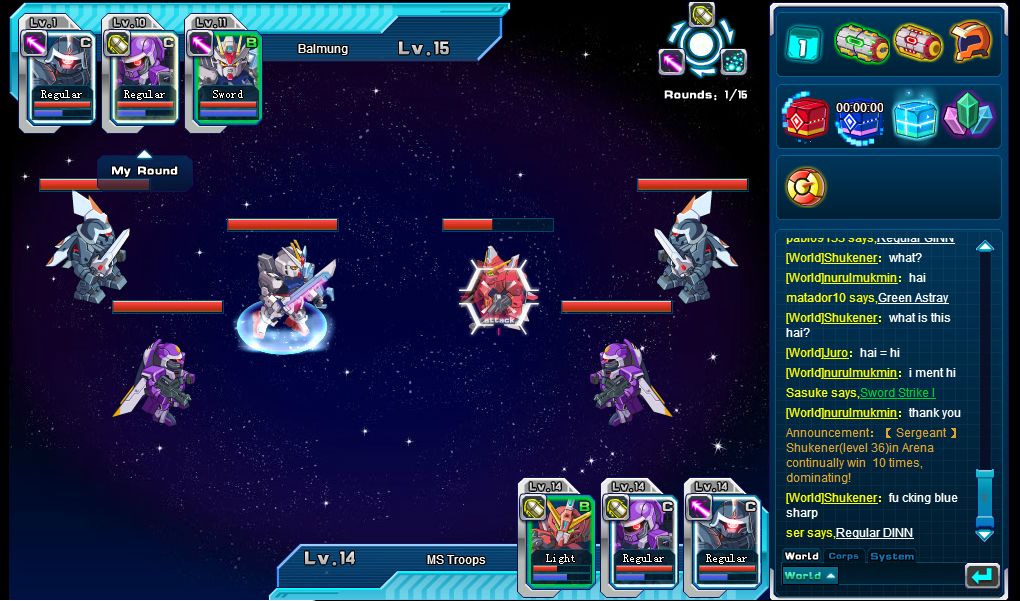 You have the option to jump into the game immediately, but I suggest you go through the game's tutorial mode. The game isn't as newbie friendly as you would think it would be, and you need to go through the game's tutorial to understand what is going on as far as the story goes as well as giving you a run through the basic mechanics of the game.
Thoughts
If you are expecting an action-centric game you will be disappointed. You don't have much control in battles. When you actually enter one of the instances, all you actually get to do is see the arrangement of your team and your match up. You then just have to depend on the strength of your team to make it through the battle. So you can sit back and relax while you watch all the action happen.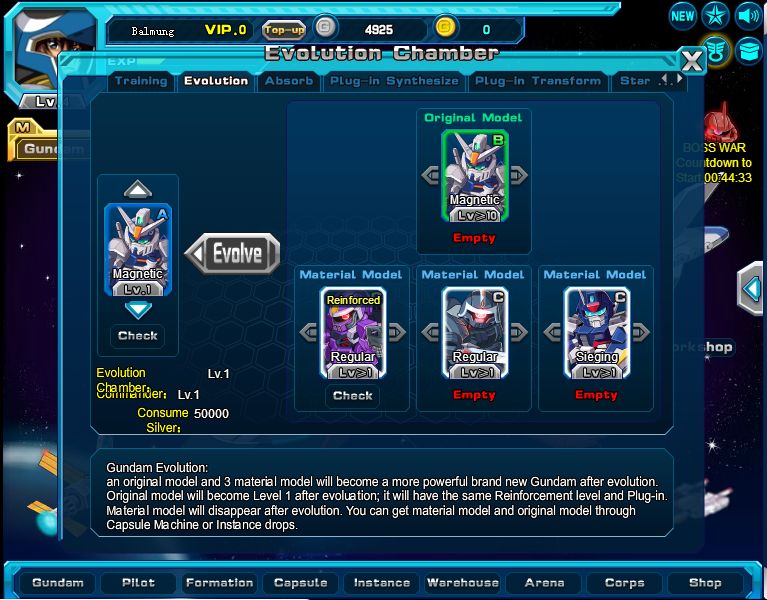 However, in this kind of setup, strategy is key, and I can confidently say it is the game's strong point. In fact if action is what you were looking for, I'll have to dash your hopes right here and right now that the game is mostly centered on managing, strategy and building your team to fight your next opponents.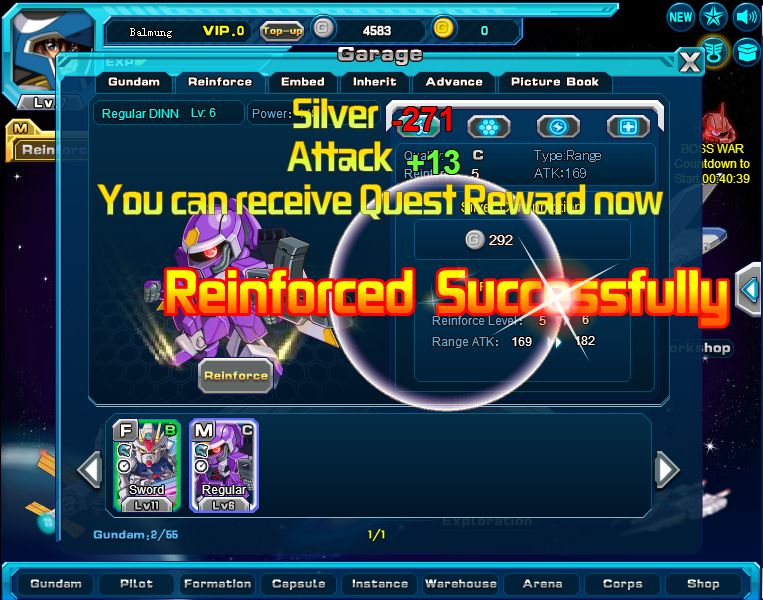 The game's replayability lies on the situations where you find yourself defeated, or at least facing a really tough opponent. Because you will need to go back to the drawing board and start upgrading your equipment and maybe arrange the formation of your team so that you can maximize your wins. So don't expect to win every single battle, even Kira didn't win everything (well, at least until he was able to get into SEED mode, but I digress)
Scenario
If for instance you have a level 12 Gundam, but the unit can't seem to bring down enemies with lower levels it may only mean that you need to upgrade said Gundam or it'll be just one big peace of gundanium paperweight in the Battlefield. Or it could be something more serious which requires you to completely reconsider your strategy.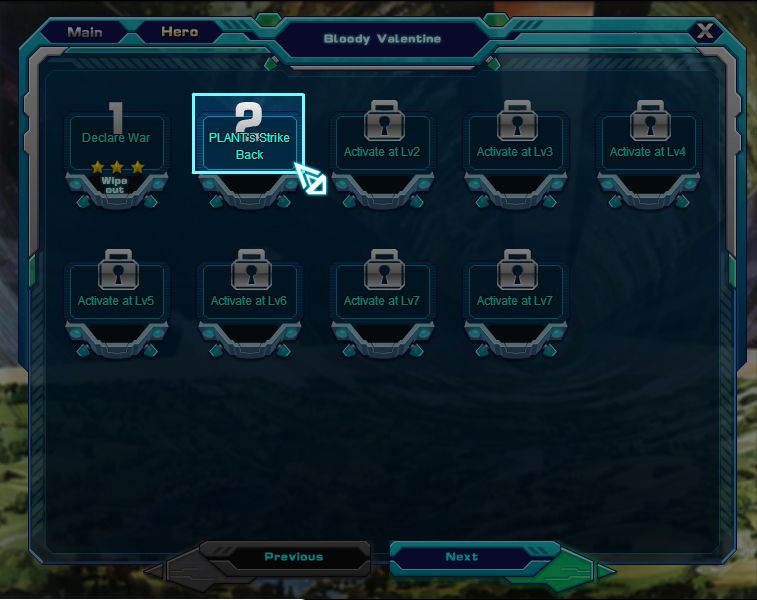 Gundams won't move themselves. So it is possible that if things aren't going well you just need a good pilot. Each formation has a cap of three gundams per team, you will need to select carefully who's going to pilot the two other suits. If you're well versed in Gundam lore you know that even the crappiest of mobile suits can turn into real gems as long as the one piloting is a really good pilot (like how Norris Packard owned Shiro Amada in 08th MS Team). This also applies in your formation building in SD Gundam.
Paywall & Currency
Upgrading the units and recruiting pilots is expensive unfortunately. The game's currency is set to silver and gold with gold being the premium, actual cash purchased currency while silver is the one you get through the game.
Take note that everything you do in SD Gundam requires some sort of payment in either silver or gold. So the game's paywall is pretty obvious at the start of the game.

Earning silver in SD Gundam follows the In typical MMO process. Quests serves as your primary financial source in-game. I can not stress enough the importance of the game's quest system in your game progression.
In fact, it is so that important that the game's tutorial is itself the first quest you would have to go through. Quests that appear allow you to progress through the game and give you the needed items. But, most importantly they will give you the currency to pay for your machines, upgrades and pilots.
Just like in real life economics, you need to manage your wins and losses so you can get the money you need to build a bigger and better combination of winning units. However, if you're not careful, progress within the game will grind to a halt when you run out of cash. So you also have to be careful what you spend on. You may need to sell some of the items you picked up in some of the battles you've had if funds become an issue for you.
Graphics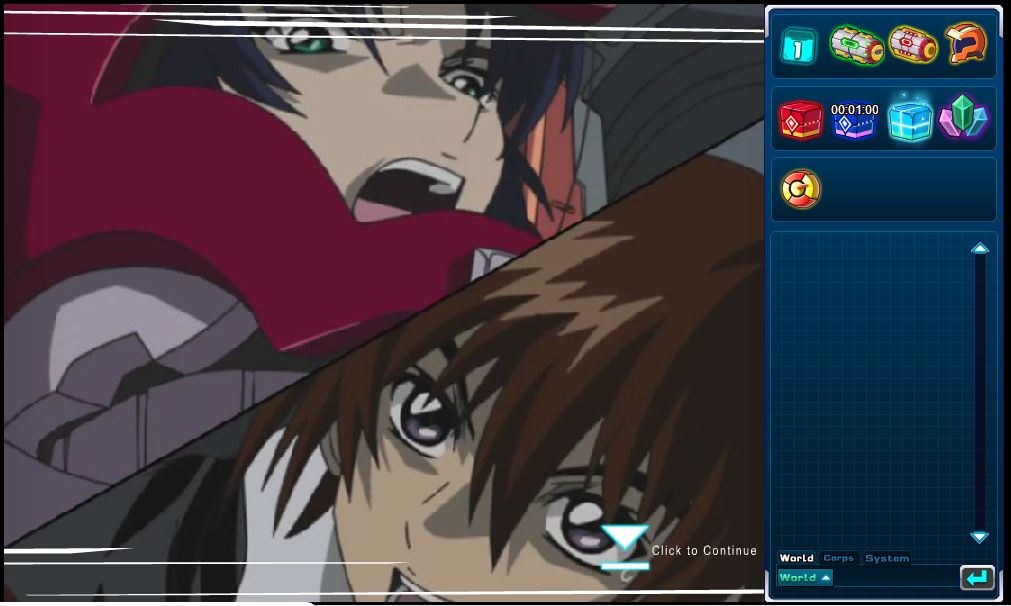 The graphics in this game are okay but not something I would say the game relies on. It follows the art style of Gundam Seed, however, in chibi or super-deformed version (well at least for the mechs). Battles and action sequences tend to be something out of a comic book which is visually nice but nothing really graphics intensive. But it being SD I doubt that anyone will go into the game expecting high class graphics, especially because it is browser based.

Conclusion
Overall, SD Gundam is not your regular Gundam game. I could not stress enough that the game is not as action oriented as other Gundam titles are. This isn't really a bad thing however as it does offer strategy which is something other Gundam games just haven't offered before.
The importance of strategy, micro-managing teams and economic management is cute and interesting for a Gundam title. Since we're used to being in the pilot seat and actually piloting said Mobile Suits in normally free-for-all gundanium wrecking mayhem. The strategic element of SD Gundam is a refreshing take on the world famous title.
I think the best description for this game is that it's more like a Gundam manager game more than anything else. Similar to other "manager" titles, you're the game's puppet master and everything is literally and figuratively under your finger tips.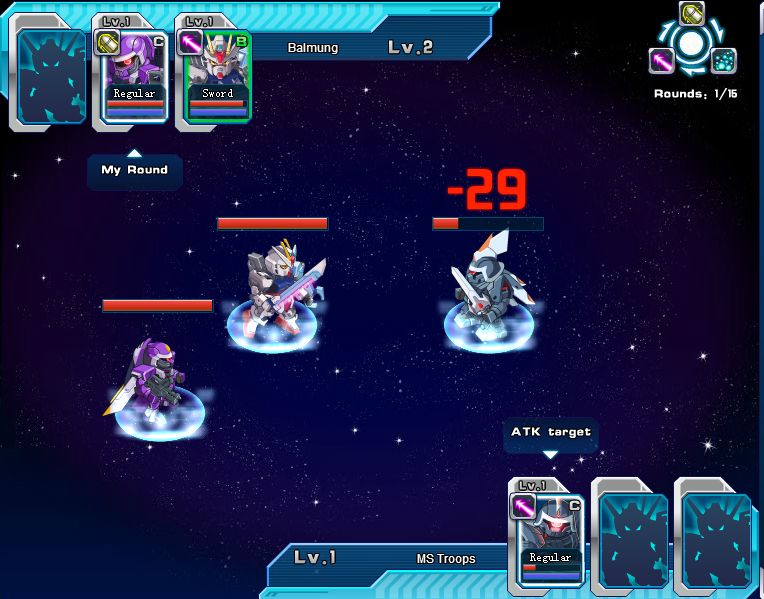 If you want to go all out on the association, you can consider yourself to be Sumeragi Lee Noriega of your team (sans the other features, in the case that you're not female).
This game definitely isn't something for the Gundam action junkie though. The learning curve is quite steep and you can't just willy nilly jump into it without eventually facing dire and almost game breaking consequences. What it does present though, is a really cerebral challenge. Well, as cerebral as any Gundam titles can get at least.
If you're the Gundam fan who prefers to see his/her favorite pilots go at it without "being" them, then by all means SD Gundam is a good game to sink your teeth into. You'll find yourself getting deeply involved in strategy and tactics. Of course you will have stomach the SD-chibi look of the units. If that doesn't bother you then you're set.