A brand new tournament was recently announced for the World of Warcraft esports circuit and we don't have long to wait before we can get stuck in. Though similar to the Mythic Dungeon International, The Great Push veers off into a new direction as a one-off tournament. But with a prize pool of $20,000 at stake, it's sure to be no less nail-biting. That is, if we have any nails left to bite following the MDI and AWC finals this month.
In the MDI, teams are tasked with beating their opponents' times to score victory. The aim of The Great Push, however, is for teams to push keys as high as possible, turning the competition into more of a survival mode than a speedrun.
The Great Push is currently open for teams of five to register from now until 17th May, with no prerequisites aside from owning the latest Shadowlands expansion. There will first be an initial qualifier phase, the Proving Grounds, taking place from 22nd - 23rd May, in which teams will be given two dungeon keystone combinations to push to the highest difficulty level they can reach. From there, the top six teams will be invited to the main tournament, facing off in Shadowlands Dungeons. The team with the highest overall score for dungeons pushed will then clinch victory, be crowned The Great Push champions and bag the lion's share of that tasty prize-pool.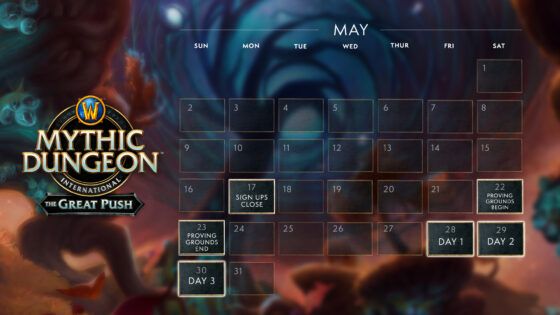 Image: Blizzard
The main event is set to take place from 28th - 30th May, making it a sweet morsel for those looking for a quick fix as we enter Summer. Viewers can watch the drama unfold via a live broadcast on the official YouTube and Twitch channels, although competitors are also able to stream their efforts including their attempts at the Proving Grounds. So it's pretty easy to follow and show support for your favourite players.
Meanwhile, in other WoW news, players are still pooling their efforts to finally release the pet that everybody needs, Daisy the Sloth, as part of Blizzard's Charity Pet Programme. With just over a week to go before the drive comes to a halt, it seems that total donations to the Covid-relief efforts of Doctors Without Borders/Médecins Sans Frontières (MSF) have yet to reach the all-important $1m mark. So, if you want the cutest sloth in Azeroth hanging from your back, then you know what to do.
MMOGames.com is committed to bringing you all the freshest, funniest, and most insightful MMO news. If you enjoyed this content, why not share it with your community? And make sure that you never miss our updates and exclusive giveaways by following and favouriting us on Instagram, Twitter, and Facebook.