This week's WoW Wednesday is a bountiful one, as Blizzard announce a World Quest Bonus Event, the latest PvP brawl and the final Cup in the Arena World Championship - with a $900k prize pool hanging in the balance for the eight most worthy teams.
Friday and Saturday will see the EU and NA groups hash it out for their place in the AWC Season 1 Circuit. Only four teams from each region will make the cut, so this weekend's fourth Cup Championship will have the final say in sorting the Men from the Gnomes (no offence, Gnome mains). Each day will commence at 6pm GMT, so be sure to catch them via WoW's official YouTube channel.
For the rest of us filthy casuals, however, there's a new Bonus Event taking place next week in Shadowlands. World Quests allow players to open up their maps, select any of the Shadowlands regions and then view all of the World Quests available to them. Hover your mouse over any World Quest to see which tasks need completing, the rewards you will receive, and the remaining time for the quest.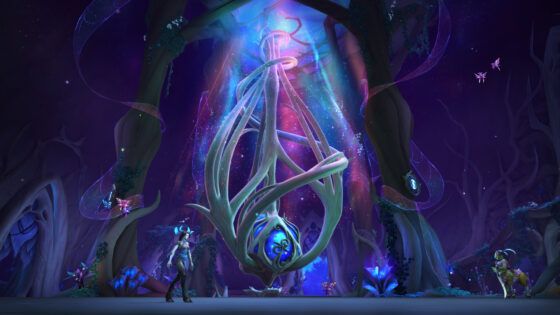 Players are encouraged to keep an eye out in particular for the quest given by Caretaker Kah-Toll. Players must have completed 20 World Quests in Shadowlands to trigger the quest, and will earn themselves a choice of four Covenant Commendations worth 500 Reputation and three Multi-Modal Anima Containers each worth 250 stored Anima for your Covenant Reservoir. Plus, players will receive a 50% passive buff to Reputation gains from World Quests, so never was there a better time to ingratiate yourself with your preferred Covenant.
This week also plays host to the wildly-fun PvP Brawl: The Temple of Hotmogu Resource Race. This game of Hot Potato sees players striving to keep possession of the Orb of Power, by throwing it from teammate to teammate as the brawl plays out. Granted, there's no $900k involved, but do you really want that stress spoiling all the fun?
To check which of the AWC final Cup teams are in the running for the WoW Season 1 Circuit, check out the official standings, and place your bets.
MMOGames.com is committed to bringing you all the freshest, funniest, and most insightful MMO news. If you enjoyed this content, why not share it with your community? And make sure that you never miss our updates and exclusive giveaways by following and favouriting us on Instagram, Twitter, and Facebook.