As part of the continued 100 Years of Tanks celebration being held by the company, today Wargaming have launched a virtual Mark I tank app that lets people in the UK take a tour of the world's very first tank.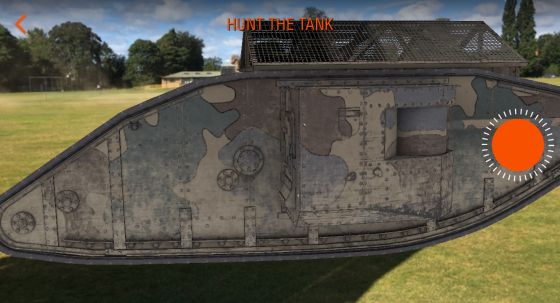 The Tank 100 app allows people across the British Isles to "hunt the tank" and tour a life-size replica of the Mark I via augmented and virtual reality technology. The app will let people locate the tank on a map, then walk around the virtual Mark I in AR, as well as check out a variety of VR films of historical tanks in action and overall tank history.
The app is part of the continued cooperative effort between Wargaming and the Tank Museum in Bovington, who have provided insight and details about the development history and impact of the weapons platform starting with the Mark I's first appearance on the Somme battlefield in September. "History is part of Wargaming's DNA. We wanted to use all that technology has to offer to give everyone a new way to rediscover history, tanks and facts of WWI," said Markus Schill, Wargaming Europe's general manager. "The Tank 100 app will allow you to virtually see the first tank on the battlefield or see a life-size model, the Mark I - or a smaller version pop up on a desk top."
The Tank 100 app will not be limited to the 100 Years of Tanks event, according to the press release. Wargaming has plans to expand the app, introducing other WWI-era and 20th century armor as key anniversaries arrive, along with plans to further enhance the AR tanks with the ability to be controlled by users. The updates in question will arrive over the next several months, though no specific dates or other details were offered.
The app is available to UK users on Apple or Android, and the digital Mark I is available in 100 different locations in England, Wales and Scotland.
Our Thoughts
The Tank 100 app is easily one of the most awesome methods of showing the history of the tank. It's a bit of a shame that the app is limited to the UK, but considering the crucial part the country played in the creation of the Mark I, it's also completely understandable. We can't wait to see how the app will grow, and we're looking forward to going on some tank hunts in the British Isles.
Your Thoughts
Would you want the Tank 100 app to release in your area? Are you in the UK and planning to hunt the Mark I? Tell us what you think in the comments.
Source: Press release
Articles Related to World of Tanks
\
Wargaming Celebrates 100 Years of Tanks
World of Tanks Blitz Crossover Event with Valkyria Chronicles Previewed
World of Tanks Comic Book Release Date Announced