Back in 2014, the idea of dinosaur survival games was just taking off. There were a few different titles in the works, most of them never made it though. Ark: Survival Evolved was the only success story to come from the dinosaur survival genre. It was quite the success too with several spinoffs. This brings us to the question, why has Ark: Survival Evolved been such a success where others have failed? A question we're going to dive into as well as taking a look at the other titles in the franchise.
Ark: Survival Evolved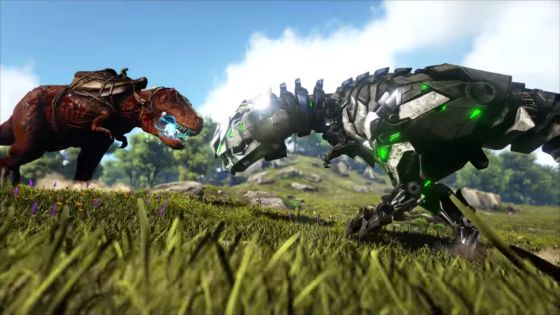 Ark: Survival Evolved started its life out as a little indie game that got a whole lot of attention. In the first week the game was in Steam Early Access it had made $10 million in revenue. It sold 400,000 units in that week and boasted over 60,000 concurrent players at its peak. A very good start for an indie game. What we didn't learn until recently though was that in December of 2015 Ark: Survival Evolved stopped being an indie game. Chinese publisher Snail Games bought the entire studio, along with the now incredibly successful dinosaur survival game that was still in Early Access. How much money was exchanged hasn't been made clear and it's unlikely that it ever will be. But, this explains why Snail Games is the one making the other games in the franchise. The news of the studio's purchase managed to stay out of the public eye until a lawsuit, which actually delayed the game's launch, brought it to the forefront in 2017. Throughout Ark: Survival Evolved's lifetime on Steam concurrent player numbers have remained very high, this is something we can watch on Steam Charts. But it doesn't tell the game's whole story. Ark: Survival Evolved is playable on 8 different platforms, which is basically all of them.
Ark Park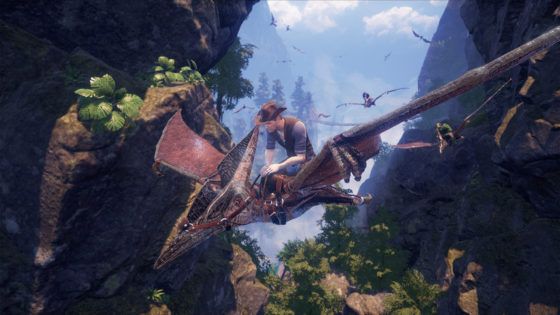 In March of 2017, the virtual reality spinoff Ark Park was announced and put into Early Access. It officially launched on March 22nd. Only a few days ago on June 28, the first DLC became available. The game doesn't seem to have the success that Ark: Survival Evolved has enjoyed, however. Some of this can be put down to the fact that virtual reality never really took off like it was expected to. It's high price tag of $39.99 certainly didn't help matters. Perhaps most damning though are the reviews for the game. Instead of putting out a full VR adaptation of the game that is so popular Snail Games opted to pick out the best parts of the game and mash them together in a way that doesn't quite work. Steam reviews say that the game is more of an experience than a game and there isn't a whole lot to it. At the game's peak on Steam, it has only had 70 players at one time since it released. Once again, this isn't the whole picture as it is available elsewhere. But it does give us a glimpse at how successful, or not, the game is. Oh, and the new DLC has a fire-breathing dragon in it for… some reason.
PixArk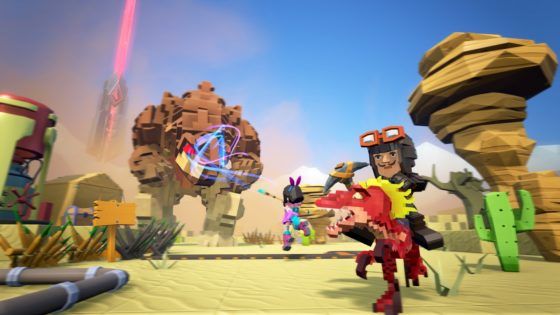 This all brings us to PixArk, the Minecraft like dinosaur survival game. Compared to Ark Park this game is doing incredibly well on Steam. At its peak, it had 14,000 concurrent players and it's only been around a few months. Reviews on Steam are mixed, though 63% of them are positive, which again, is up from Ark Park who has 51%.
Survival of the Fittest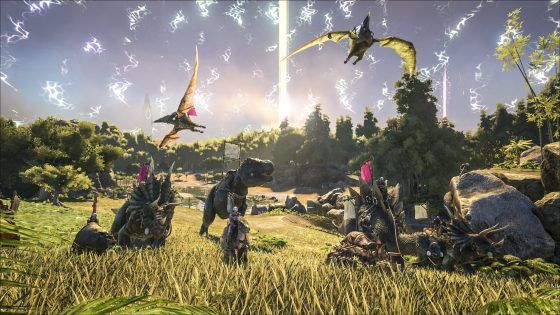 You may also remember Survival of the Fittest, which was at one point being advertised as a different thing entirely from Ark: Survival Evolved. It's an arena game with 72 players on a map. These days it comes packaged with Ark: Survival Evolved, so when you've bought one you get the other for free. It does make one wonder how much work it would take to turn Survival of the Fittest into a battle royale game.
This brings us to the question of why we're getting so many Ark based games. To answer that we have to take a look at Snail Games' history in the West. To date, their most successful game with Western audiences, not taking Ark into account has been Age of Wushu. This game was published by Webzen in Europe, though it closed down about a year ago. Age of Wushu has never been an incredibly popular title for the west, but it doesn't seem to do too badly either.
They are also the team behind Black Gold Online. If you don't remember Black Gold here's a little bit you should know. It was a Steampunk Fantasy game being imported to us from the East and on paper, it sounded amazing. Steampunk is criminally underused in MMOs. It went into beta in June 2014 and people seemed to like it well enough. But son after everyone started talking about the game the business model that they used in China came to light. This model didn't have a cash shop and there was no subscription. Instead, all your good loot would get saved and you would have to buy your loot for the last few hours. Also, I remember the idea of pay per minute being discussed for the game as well, but I can't actually find any information online that supports that.
Snail Games is also the team working on turning Dark and Light into a survival sandbox game. It has been in Early Access for a year now with mixed reviews and a peak concurrent player count on par with PixArk. This game doesn't show any signs of being close to completion though.
So all of this brings us back to the Ark games. Snail is using what is their most successful IP in the west and, from where I'm sitting it looks like they're banking on its popularity and name to try to chase current trends. If they did do a battle royale that would really only further support this theory of mine. At the same time, it would also make a lot of sense to do so. I wouldn't be surprised if there were more Ark games coming soon.