This week's WoW Wednesday - with its winning combo of cute animals and charity - could sit comfortably in our Feelgood-gaming Friday segment. In an ingenious move to help global efforts to fight the pandemic, Blizzard are incentivising its players to partake in their Charity Pet Programme by offering a baby gorilla and a sloth (arguably two of the world's favourite animals) as prizes.
Doctors Without Borders/Médecins Sans Frontières (MSF) is an independent international medical humanitarian organization that delivers emergency aid to people affected by armed conflict, epidemics, natural and human-made disasters, and exclusion from health care in more than 70 countries. Teams provide lifesaving medical assistance to people who need it most, regardless of race, religion, or political affiliation.
To provide much-needed contributions to this exceptional cause, WoW players can now participate in the latest Charity Pet programme by donating directly to MSF between now and 26th April. All contributions will head straight to the COVID-19 Crisis Fund to support the global response to the pandemic. Once the initiative's stretch goals of $500,000 and $1m are reached, all WoW players will then gain access to Bananas the Gorilla and Daisy the Sloth.
Little Bananas is the son of King Mukla of the Skymane Gorillas, though thankfully displays none of his father's ferocity. Meanwhile, Daisy the ponderous sloth emanates an infectiously mellow disposition, taking it easy between battles, or hanging from your shoulders should you '/beckon' her. Which means you'll be sporting the cutest backpack in all of Azeroth, bar none.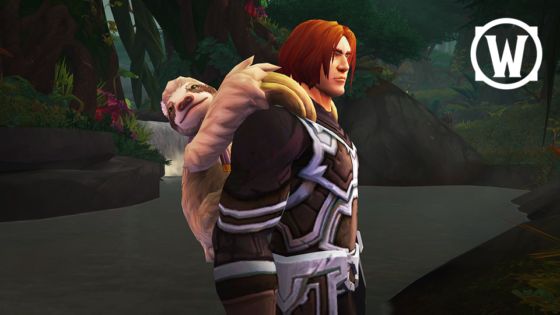 Image: Doctors Without Borders/Blizzard Entertainment
Here's how to contribute:
Navigate to the MSF DonorDrive site and select the "Donate To This Event" button at the top of the page.

Fill in your Donation Amount and select your currency type from the drop down next to it.

For USD only—Choose PayPal, Amazon Pay, or credit card as payment method.

For all other currencies click "Next" and enter credit card billing and payment information.

Click "Pay" to process your donation.

Return to the page as often as you like to keep tabs on the goal progress or to donate as many times as you like.
Twitch streamers are also encouraged to rally their communities by creating a fundraising page. Better yet, set milestones, track contributions, and message your donors to garner as much support as possible. Check out the streaming guidelines and toolkit here.
So don't hang around - whether you're in a place to donate a little or a lot, or even if it's to just spread the word, seize the golden opportunity to bring the WoW Charity Pet programme up to a point where everybody can bring Daisy along on the adventures she deserves for being so damn cute. Not to mention you'll be helping the world to finally get back on its feet.
MMOGames.com is committed to bringing you all the freshest, funniest, and most insightful MMO news. If you enjoyed this content, why not share it with your community? And make sure that you never miss our updates and exclusive giveaways by following and favouriting us on Instagram, Twitter, and Facebook.