While last week marked the beginning of the fortnightly World of Warcraft Arena World Championships, we all know that one WoW tournament isn't enough to get us through these dreary months of winter. Enter the Mythic Dungeon International 2021, which, like a bottomless cup of hot chocolate, will begin bringing joy to our homes this Friday and entertain us all the way up until March 14th.
This weekend's broadcast will showcase the first of four Cups as competing teams vie for the points required to enter the MDI Season 1 Global Finals and their share of a tasty $20,000 prize pool.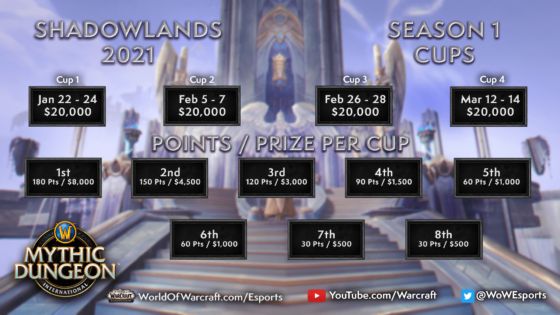 When the series of Cups come to an end, the six highest scoring teams will eventually ascend to the Season 1 Global Finals. They will then be joined by the top two teams from China to compete for the MDI Global Champion title and their share of an even tastier $300,000 prize. Evidently, it's not to be missed, so here's how, where, and when you can watch:
Venue: Online via the Warcraft YouTube channel
Dates: Every other Friday-Sunday, 22nd January - 14th March
Broadcast Start Time: 10:00AM PT
Prize Pool: $20,000 (USD) per Cup
Format: 5v5, Best of 3
Seasonal Affix: Prideful
Dungeons:
The Necrotic Wake

Plaguefall

Mists of Tirna Scithe

Halls of Atonement

Theatre of Pain

De Other Side

Spires of Ascension

Sanguine Depths
Language Streams:
As with the AWC - the two-week break between each bout allows the competitors to hone their A-game and bring us all the WoW-factor we're itching to witness, and we can't wait to see what's in store. In the meantime, for all the info and schedule for the Mythic Dungeon International 2021, swing by the official website.
MMOGames.com is committed to bringing you all the freshest, funniest, and most insightful MMO news. If you enjoyed this content, why not share it with your community? And make sure that you never miss our updates and exclusive giveaways by following and favouriting us on Instagram, Twitter, and Facebook.