Lost Ark Review – A Slickly Executed Action RPG
Written by Marc Pavey at 02/08/2022, 09:49 AM
Check out our review of the new isometric sci-fi fantasy MMORPG.
Lost Ark is a free-to-play MMORPG with an action-oriented combat system and isometric viewpoint. This, in a high fantasy setting which sees guns and trains alongside magic and horses, has invited comparisons with Black Desert Online, Diablo 3, and Final Fantasy XIV.
Lost Ark was developed by Smilegate RPG and initially released in South Korea back in 2018 - developing a healthy player base and garnering accolades in the Korean game industry. Lost Ark now comes to North America and Europe on February 11th this year, published by Amazon Games. We knew we had to get our hands on a PTR key to check it out for ourselves.
Lost Ark is a game that has a lot to offer, and it comes with a high degree of polish.
First things first, the game looks great. Bright and varied visuals modelled in the Unreal 3 engine provide detailed character models, slick cinematics, gorgeous environments and bombastic skill-effects that make for an inviting world and a spectacular combat experience.
Aesthetically, the fantasy elements are highly emphasised; expect extravagant armors with oversized swords, duster coats with fiendishly high lapels, and magical effects radiating to an extent that puts even the most pointless of LED computer accessories to shame.
This aesthetic is driven home in the character creator. A wide variety of presets and optional levels of fidelity in customisation make it simple to make a great looking character, and possible to make a really unique one. I rate the character creator highly; I ended up making three characters before deciding which I would go with. Hairstyles just seem to be less of a priority in western RPGs.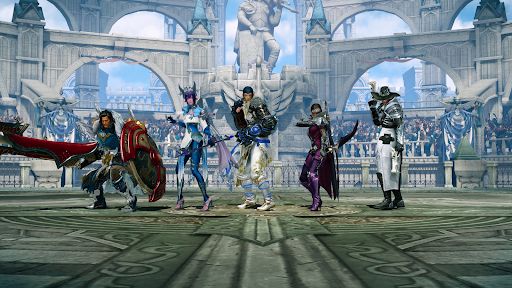 The game offers 5 classes including Warrior, Martial Artist, Assassin, Gunner and Mage. The first three being primarily melee based, the latter two being ranged, with further differences offered in terms of survivability, movement speed, and single-target damage vs area-of-effect damage. Each class has multiple subclasses, with each one having between one and four available on the PTR, and a total of 15 subclasses being available on launch.
The subclasses can fundamentally change the feel of the class – within gunner, for example, you have the option of choosing Hawkeye, Deadeye or Artillerist. The Hawkeye uses a bow, with a basic attack and many supporting abilities that facilitate attacking from distance (i.e., the width of the screen), and a special ability that summons a Hawk to support in combat. The Deadeye class, meanwhile, primarily uses mid-range pistols, but has a special ability that allows you to switch to a longer range rifle, or a closer range shotgun as the situation necessitates. The Artillerist uses heavy weapons with a shorter range, sacrificing mobility for raw stopping power and a rather awesome flamethrower.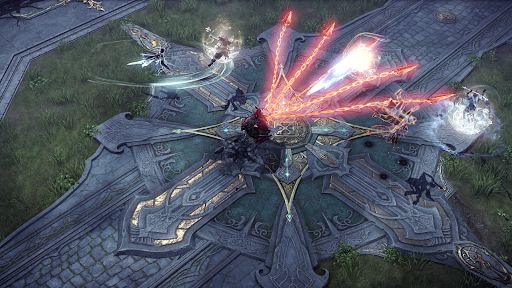 You're able to test all of the subclasses available to your chosen class almost immediately after starting the game, which is great for supporting you to make an informed decision before committing. It's well worth testing them all out, and the system allows you to summon monsters and bosses to try your abilities in a "live" situation. This is one of a few games where I was intrigued by almost all of the classes, so having this system in place was a great way to aid my decision-making. I tried quite a few, and it honestly felt like it would be hard to go wrong.
The game's prologue has your protagonist supporting an Age-of-Discovery type voyage to track down an ancient tablet. In the payroll of a priest, your ill-fated quest is quickly beset by attacks from beast-like humanoids and, as you progress through the landscape, it becomes apparent that there is something more to your character than meets the eye. You alone are able to interact with certain mystical devices that progress the party through otherwise impassable situations, helping the group find a lost temple which is revealed through satisfyingly wondrous visuals.
Of course, something goes wrong and ultimately you and the priest are the only survivors of the expedition. Successful, nevertheless, the priest thanks you and sends you on his way before it is revealed, unknown to your character, that the priest is a rather more nefarious character than had been let on. It's not ground-breaking storytelling, but it's a decent backdrop and sets the scene well for your further adventures.
Turning to combat - while initially slightly overwhelmed by the number of abilities I had in combat, I started to feel more comfortable pretty quickly. My class had a range of situational abilities, such as an AoE bomb, and a powerful but slow moving shot which would continuously damage enemies as it passed through them. I also had a "gap-closer" which would then throw enemies into the air, and a number of slow-charging but deadly abilities requiring a bit of forethought. On top of this, a dodge, healing potions and shields.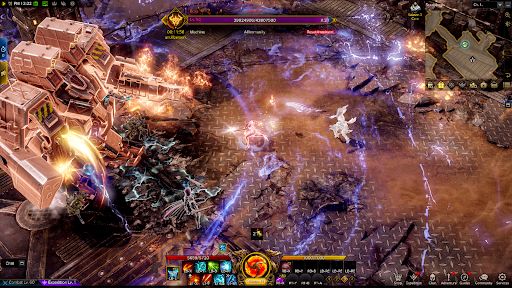 Once using these abilities became a bit more intuitive, it felt very satisfying to control battles by using the right abilities at the right time. Of course, tougher enemies will throw powerful, telegraphed attacks into the mix to keep you on your toes and to keep combat challenging. Almost without fail, the abilities were visually spectacular and felt impactful, making for a very satisfying combat experience overall and one which compares favourably to the experience of games like Diablo.
By the time I reached the first major city – the starting location if you skip the prologue – I was excited to explore further. The first city, Prideholme, offers the familiar comfort and warmth of many RPG's first environs - reassuringly stoic ecclesiastical structures and the idealised benevolence of a pastoral society (it'd be an awful shame if something were to happen to it).
As well as looking pretty, the city is a haven for merchants, pet trainers, bards, and potential suitors. Exploring the city for the first time introduces you to a number of the game's more civil mechanics, including the ability to woo certain inhabitants with gifts, dancing, emotes and quests. You encounter your first "vista", one of many to be recorded throughout your exploration of the world. You can also begin collecting the first of many collectibles – "Mokoko Seeds". Apparently there are nine to collect in Prideholme, but I spent too long looking to only find eight so I consider the game a liar.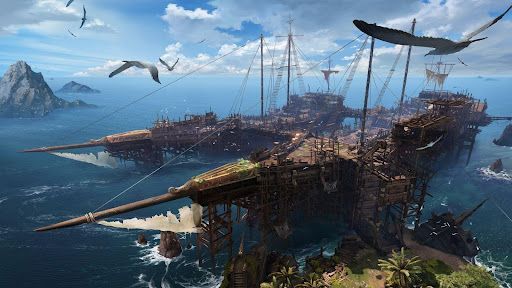 These activities provide a bit more reason to spend time in the social hubs, but the game is at its best when exploring the world with other players. Of particular note here are the dungeons, which provide more crafted experiences with tougher named enemies, and more unique environments. Early game dungeons aren't huge undertakings, but the game offers dozens of larger dungeons later on with a progressively difficult skill ceiling. Players interested in PvE content will find no shortage of content here.
The game also has PvP when your character reaches level 26. PvP comprises arena battles of up to six players with deathmatch, team deathmatch and team elimination modes; the last of which comprises a 3v3 mode in which players fight 1v1 until all players on one side have been eliminated, with the winner of each duel carrying their current hit points into the next fight.
The PVP mode provides a level playing field by not taking equipment into account, and allows players to freely allocate points to create and experiment with builds. Battles look fast and frenetic, and have the potential to be genuinely competitive with the breadth of builds and counters that are possible.
Lost Ark is a game that has a lot to offer, and it comes with a high degree of polish. Many MMORPGs launch as a promise of something good - an offer of potential which is seldom delivered. MMORPGs have systems and mechanics that are only as good as their weakest link, and if one of those pushes players away, the house of cards comes tumbling down.
Lost Ark feels more solid. I had a lot of fun and look forward to returning to the game to explore the many different environments, and to dive into some challenging dungeon content. The sole impediment to me playing further is that my character is on the impermanent PTR. We recommend you check out Lost Ark, and will see you in Arkesia soon!