It's the first year anniversary of Black Desert Online, and a year one infographic has tallied up all of the most important stats like population, class choices, and the number of beers chugged in-game.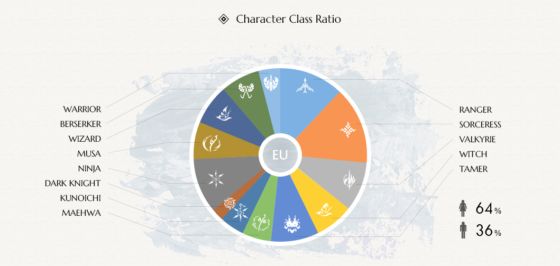 Specific facts from the infographic include a total of 1.5M characters on the EU side and 1.8M on NA. There are more Rangers, Sorceresses, and Valkyries on both regions of the game's playerbase, with the infographic noting that both servers having a higher female character population are "not a surprise at all".
Other unique statistics include the most horses per tier, most deaths in one horse, the most popular pets, and how many in-game beers consumed for each server. For the record, EU players pounded over 174M pints, while NA players consumed over 190M pints. "We thought EU had the best beers. NA drank more though," remarks the infographic.
You can look at all of the important and not-so-important stats from Black Desert Online's first year here.
Our Thoughts
We love infographics, especially when they have fun with the data they collect and present. The numbers from BDO's first year are definitely impressive when looking at both the silly and the serious side of things. Here's to more years of Black Desert Online and more digital beer consumption!
Your Thoughts
What stat in the Black Desert Online year one infographic stood out the most to you? Are you among one of the few who own a tier 8 horse? How many of those digital beers did you drink? Share your thoughts with us below.
Source: official site
Articles Related to Black Desert Online
Special Events Celebrate BDO's Dark Knight Class Launch
Black Desert Online's Dark Knight Awakening Showcased in Video
Release Dated for Black Desert Online Margoria Expansion