Crowfall continue with their regular developmental updates with a look at Battlements. Battlements? Why yes, they give your Eternal Kingdom Keeps and Castles additional aesthetics while also being pretty functional.
Crowfall Battlements and Beyond
Having previously outlined such things in Crowfall's Eternal Kingdoms as multi-player city building, Battlements give us a little peek into just one part of the Castle customization process.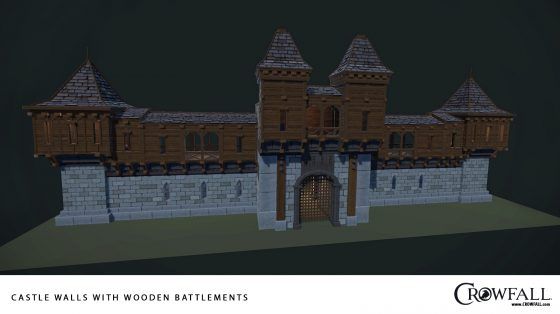 When building your strongholds, you will be able to stack battlements on top of stone walls and gatehouses, the latter of which are being broken up into modular pieces making building with them even easier. The team wants Castle customization to come with the most amount of options with the least amount of assets and deed, to save in inventory space.
They also give us a little look into what they are calling "Mega Deeds". These will be a collection of deeds within a deed and Artcraft say that these "will totally change the Eternal Kingdom creation game." And the higher quality your deed, the more aesthetic options will be available to you.
Panels are also being implemented, allowing you to change any wall, gatehouse, tower, or battlement for any aesthetic or even practical purpose.
Of course, the official post goes into much better detail so be sure to check that out and start thinking about what kind of look you want to give your stronghold!
Our Thoughts
Well I mean, we love messing around with creating and customizing in the MMOs that we play so a deeper dive into battlements is gonna get us a little bit excited all over again for the idea of building and maintaining our own castles in Crowfall's Eternal Kingdoms. That's just the way it goes. It's also awesome to see how Artcraft fiddle with different elements to make the act of customization easier all around. I just really like castles, okay?
Source: Crowfall Post
Articles Related to Crowfall
Crowfall Elaborates on the Hunger Mechanic
Where Are They Now? Kickstarter Edition
Crowfall's May Q&A on Win Conditions, Testing Scale and Dungeons