Another month has arrived to 2018 and with it the Crowfall May Q&A video with design lead Thomas Blair and creative director J. Todd Coleman. In this round of questions, the lead devs answer when Crowfall's testing scale will ramp up, when new win conditions are coming, and whether dungeons will ever be a thing among other questions.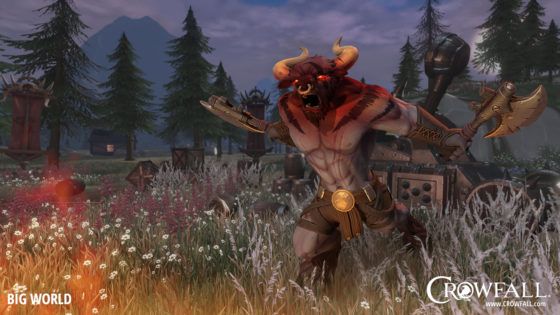 The lineup of questions touched on another broad variety of subjects including the ones listed above along with guild support, monster camps, season changes, imports and exports with runegates, and more active character advancement systems.
The tug-of-war win condition is seen as stale and the devs are considering ways to spice things up.
Active progression systems are going to be focused on a bit more, but the devs are looking to strike a balance that doesn't grant high power to those who have lots of time invested.
Dungeons aren't going to be available at launch for technical reasons, but there should be something coming post-launch.
5.6 will not have guild support. Campaign world cluster systems/zones are taking priority.
Testing scale is still a gradual process to best simulate a live game service, but most major system tests are going to continue to be in short spurts.
Those are the bigger highlights this time around for the majority of folks, perhaps. The full video is below for the more specialist fan of Crowfall's development.
Our Thoughts
Pity that they're not making a full game yet, or aren't ready to act like a full game yet, but we can appreciate the thought process of keeping test scales down in order to make sure systems are operable. Here's hoping that Crowfall will make strides to that full-on sandbox MMO….something. Also, we need to know where Mr. Blair got that "happy meowr" shirt. For reasons.
Source: official site
Articles Related to Crowfall
ArtCraft Go Over Pre-Alpha 5.5 Milestones
Crowfall is Opening a Guild Showcase
Crowfall's March Q&A Talks Crafting, Spawn Camping and Walls
Related:
Crowfall
,
May
,
News
,
Q&A
,
Sandbox MMO