Today is either an interesting day for Paragon fans or is possibly picking a scab. A new Unreal Engine 4 store offering for game devs using the engine will have access to over $12 million worth of assets from the soon-to-sunset MOBA for absolutely no cost.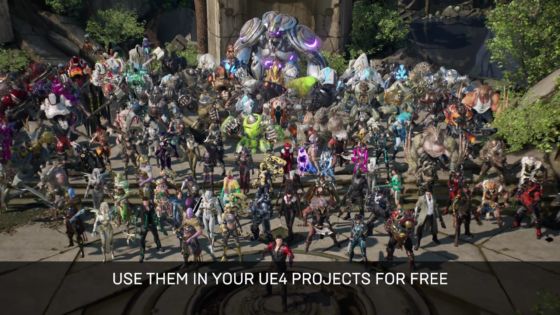 The assets include 20 of Paragon's heroes with their skin variants and base meshes, along with vocal cues, visual effects, textures, and animation cycles. The asset package also brings 1500 different environmental assets from the game's Agora and Monolith maps.
Epic has suggested to those who want to import Paragon characters into their game projects start with the character Shinbi first, as she has comes with an animation Blueprint that can be used as a framework to help bring other roster characters to life.
The new UE4 bundle isn't stopping at just these initial offerings. Additional packages are planned to be released to the UE4 store through the Spring and Summer, once again touting "AAA-quality" work and millions of dollars' worth of assets. Whether these new packages will also be free or require payment wasn't made clear in the initial announcement.
Our Thoughts
That is remarkably generous of Epic Games to release the Paragon assets for no cost whatsoever, but also does seem to ultimately extinguish any hope that fans may have had of keeping Paragon online. That said, who's to say someone won't take those assets and attempt to do something with them entirely? Time will tell, ultimately, but we do hope that the pieces from Paragon are beneficial in the creation of new titles at least.
Source: Epic Games website
Articles Related to Paragon
Paragon Closing April 26; Epic Offering Refunds
Fans Petition Epic Games to Keep Paragon Alive
Hi-Rez Backpedals on Video Welcoming New Paragon Players to SMITE