Happy Father's Day to all of the amazing gaming dads out there. And no, we're not just talking about exceptional in-game dads like Joel in The Last of Us, Kratos in God of War 4, Big Daddy in Bioshock, or James from Fallout 3 (though don't we all secretly want Liam Neeson directing us across the waterless wastelands?) Instead, in this list we're paying homage to the real-life dads who love to game. The dads who guided us through our first cooperative campaign or who still manage to squeeze in more World of Warcraft than we do.
To honour these paternal players, we've compiled a hand-chosen list of amazing gaming experiences and gifts for Father's Day 2021. So, this year, forget about buying daddio another boring football mug that will sit at the back of the cupboard for a year, buy him something he'll really enjoy. If we've missed any perfect gaming gifts for dads, be sure to let us know. And if you have an inspiring gaming dad, tweet to us about him and we'll share his story!
We don't receive any payment or affiliate rewards for promoting these items, so you know our reviews are reviews you can trust.
For the Next-gen Father-Child Gaming Duos
We're starting this list with a novel and affordable gaming gift that will help strengthen that father-son or father-daughter gaming bond. The AC2 AMMO clips by gaming brand Gioteck are an awesome next-gen accessory, available for both PlayStation 5 (£17.99/$24) and Xbox series X | S (£19.99/$28).
The AC2s are charging stations with a difference. They offer fast-charging USB-C connection and a "reload" system that allows them clip together stylishly for dual charging capability. Not only is this dual-charging capability great for fathers and children who game together, but they allow for lightning fast mid-combat changeover so that you're never caught off guard in your moment of need. If that hasn't sold them for you, check out their promotional video.
For the Gaming Dads with "Gamer Back"
Gamers are notorious for having poor posture caused by too much time hunched over screens. While it's certainly advisable to look after your posture at any age, the older we get, the more seriously we need to take these considerations. While we didn't review any gamer chairs for this father's day gaming gift list, we don't think it would be complete without recommending them.
Instead of recommending a particular model, we're sharing our guidance for buying a good one: an ergonomic design, lumbar support (ideally adjustable), neck support, high-level adjustability, a curved backrest, and tilt-lock or tension mechanisms. It is also worth noting that while for the rest of these gadgets, we recommend buying a new one, a good gaming chair should last a long time. Therefore, if you don't have the budget for an expensive present, consider picking up an affordable father's day gift second-hand via eBay, Facebook Marketplace, or local stores.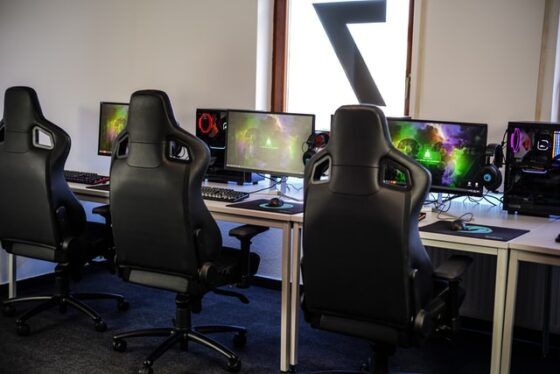 For the PC Gaming Dad on the Go
As much as they'd like to spend all of their time gaming, many dads have to balance their gaming passion with a busy work life. With the older generation of gamers keener on PC gaming than mobile, tablet, or handheld platforms, a portable gaming keyboard is a fantastic gift for a father who wants to game on the move.
Our top suggestion for a portable gaming keyboard comes from world-renown gaming brand HyperX. The HyperX Alloy Origins 60 features aircraft-grade aluminium, RGB lighting, and fully mechanical keys at just 60% of the size of a full keyboard, HyperX have managed to squeeze an extraordinary amount of quality into a tiny package – the Alloy Origins 60 provides a better gaming experience than even the most high-end gaming laptops. Reduced from £109.99 to a sale price of £87.99 ($125), an excellent price point for any mechanical keyboard, the HyperX Alloy Origins 60 also offers fantastic value for money.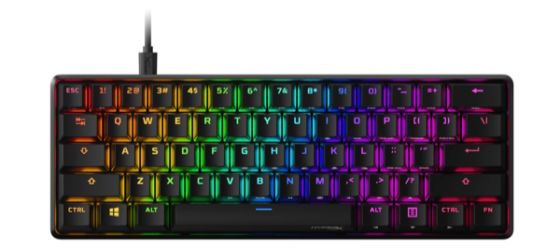 We had reservations about gaming on such a small keyboard, which is almost a full half smaller than most, but instead found a gaming keyboard of the highest levels of excellence. Quality keyboards are heavy no matter the size, so to save your dad some carry weight, you could pair it with an ultra-light gaming mouse.
For Other Gamer Dads on the Move
If your dad has taken the bold plunge onto other, smaller gaming platforms, then we have another freshly released gaming product, this time from Fixture Gaming. The Fixture S1 Gaming Case is a lightweight, practical carry case that is designed to protect a Nintendo Switch, tablet, or other handheld gaming device alongside a Pro controller. By providing space for both controller and device, it not only keeps your dad's best product safe but allows him to be on top gaming form wherever he is in the world.
It's ideal for people who are always accidentally turning on their devices without realizing it, only to later discover that they have no battery life left once they're ready to game. With Pro controllers turning on with the press of any button, it's a nigh-on essential purchase for those who move them from place to place. It's a well-built case which though light to carry still feels sturdy and durable - ensuring all of their important gaming accessories are kept safe. It can be purchased alone (£18 | $25) or in an S1 Mount Bundle (£36 | $50).
For the Gaming Dads Who Prioritise Comfort
When we reach a certain age, comfort becomes the most important thing in the world. This is especially true for fathers whose aches and pains seem never-ending. If your dad is the sort of person who groans every time he gets out of an armchair or releases a long sigh after a cup of tea, we think we've found him the ideal gaming headphones.
While in our previous gift list summaries, we've reviewed headphones replete with all of the gizmos and gadgets (including on-head vibration), the black and teal TX70 Wireless Bluetooth stereo gaming headset is designed for one thing – maximum comfort. This latest entry in the TX series achieves this through massive high-quality mesh cushion cups with a lay-flat design that can rotate a full 90 degrees. So, if you've got a dad with big ears or funny shaped ones, looked no further for their gift. Even after a marathon gaming session while reviewing the beta of Mortal Online 2, there was no pain or discomfort; quite the opposite in fact – the TX70s are like a hug for your ears.
While they prioritise comfort, that's not to say that they don't also offer great sound quality too. They have 50mm drivers, 2.4GHz ultra-low latency, a flip-to-mute microphone, and an extremely impressive 15-hour battery life. The 3.5mm cable supports mobile gaming, Xbox One, and Nintendo Switch. They can currently be purchased from Argos for the very affordable £49.99.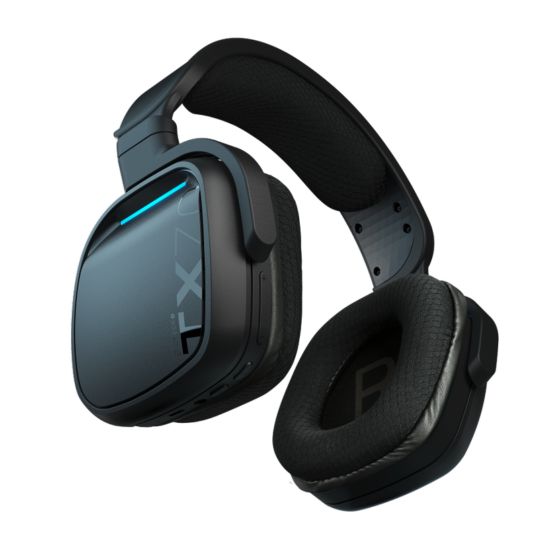 For the Gamer Dads Who Like it Loud
While gaming headsets are great for immersive gameplay for individual players, what if your dad wants to share his gaming experience with you or the rest of the family? What if you want the whole room to echo and shake with the epic clashes of online battles? Legendary audio-solution providers JBL have you covered with their awesome Quantum Duo (£150/$211) speaker set. Despite the fact they're only desktop speaker size (89 x 210 x 176 mm), they can get real loud while still maintaining exceptional audio clarity; so not only will you be able to hear an enemy coming from a mile off, but the whole household will too. Sorry about that, mums…unless you're gamer mums, in which case – you rock.
If you've been treating your dad to epic gamer gifts for Father's Day every year, then chances are he's probably running out of USB ports. Fear not, the Quantum Duos also feature Bluetooth connectivity. They also feature lighting audio sync, are pairable with Windows, Mac, and consoles, and feature full surround sound for in-game immersion. Stellar sound quality aside, if you're into the futuristic look – then you're in luck; when turned on, the Quantum series iconic lighting comes into play complete with a variety of coloured presets and customisable lighting patterns on the front and sides. We have to say, they look ace – when paired with a keyboard with RGB lighting, your gaming setup will not only look pro-as-hell, but it will feel like you've been transported into some sort of high-tech alien battleship.

For the Dads with a Future in Streaming
We've actually chosen two competing streaming-quality USB microphones here because they were so good that we struggled to choose between them. The first is the Talk series from JLab, a multitiered product line with models ranging in price and quality. The cheapest and most portable, the Talk Go costs just £49.99 ($70), the standard issue Talk at £99.99 ($140) featuring three condensers and four directional options, and the high-end Talk Pro at £149.99 ($210) which features an impressive 92k recording sample rate and aluminium folding stand. Each of these microphones provides exceptional quality for the price point and would be bound to make a gaming dad happy. Especially one who thinks he has a future on Twitch.
While we're yet to launch our own MMOGames streaming channel, we tested out the Talk Pro model in a game of Valheim and in our internal video calls; resulting in not one, but two colleagues independently making the same ASMR joke because the sound quality was so crisp.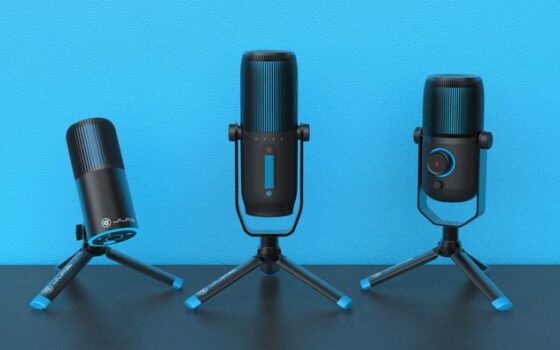 Alternatively, for another super-high-quality microphone with next-gen plug and play functionality, it's hard to imagine much better than one of the very latest gaming products from the sound-sovereigns at EPOS. The EPOS B20 (£179/200$) has just been released and is already making a splash thanks to its slick and robust design, studio broadcast quality, and rich vocal range.
Like so many of EPOS' products, everything about the B20 screams quality. The cool metal feels like something found in a professional recording studio. With four pickup patterns, a solid metal stand, plus the ability to add it to a boom-style stand; it truly ticks all of the boxes for any would-be Twitch star. Its omnidirectional pickup pattern is ideal for dads and kids who want to stream together. Beyond their gaming uses, with the pandemic still ranging, we're all video-calling our loved ones more than ever - the sound quality is so crisp that it feels like the person you're talking to is in the room right next to you. If you're dad is into music as well as gaming, then the no latency output, integrated pattern controls, and headphone jack means that you're equipped with anything you need for your first father-son EP.
While designed primarily for PC, the B20 is also PS4 compatible out of the box. A firmware update is expected at some point in the future that would also make it PS5 ready. All in all, the B20 is a remarkable bit of kit thanks to its stunning design and incredible build quality. It's truly a joy to use.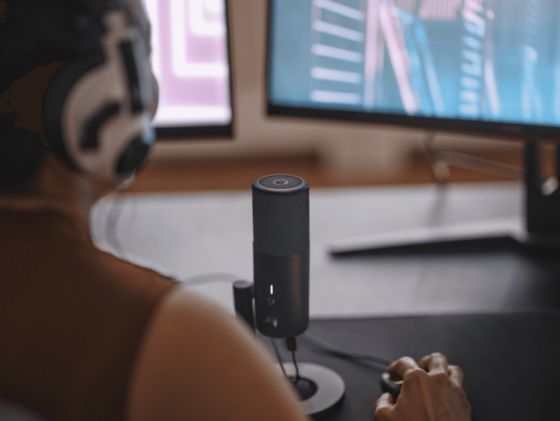 For the Dads Who Think They're James Bond
Perhaps your gaming dad is already kitted out with a gaming mancave that needs no more gadgets nor gizmos. Well, they say that if you want to purchase a gift that lasts a lifetime, you should buy an experience. Earlier in the year, we reviewed a gaming experience with a difference – Agent Venture – an online escape-room complete with a talented professional voice actor.
After assigning all of your players with roles, your voice actor will take you through your own personal immersive theatre production in a tense and hilarious race against the clock. At a time when many of us are still separated for our loved ones, it's a fantastic opportunity to connect with distant relatives and is guaranteed to create fun memories. So gather your family, grab your martinis, and go scupper some evil plans. For another great gaming experience that makes a novel way to bring the family together, check out our Team-review of Among Us.
MMOGames.com is committed to bringing you all the freshest, funniest, and most insightful MMO news. If you enjoyed this content, why not share it with your community? And make sure that you never miss our updates and exclusive giveaways by following and favouriting us on Instagram,* Twitter, and Facebook. If none of these father's day gaming gifts are quite right for your gaming dad, try browsing our ultimate Easter gaming gift-list.***