The new tagline for Sea of Thieves is "Be More Pirate". And there's nothing pirates like more than schwag, right? Case in point: this limited-edition Sea of Thieves controller that packs in some DLC for the game along with some other digital goodies.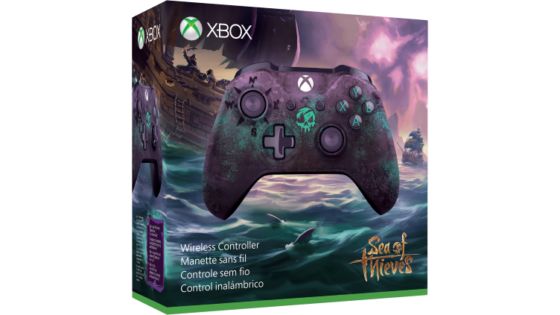 The controller offers a variety of unique visual features including a deep purple translucent shell, laser-etched barnacles, a glow-in-the-dark skull at the center, and one golden shoulder trigger on the top because why not.
The controller will also come packed with a set of exclusive Ferryman Clothing cosmetics for Sea of Thieves, and 14-day trials of Xbox Live Gold and Xbox Game Pass. All for the cost of $75.
The controller will release on February 6th, but you can pre-order it now if you really want.
Our Thoughts
Yeesh. $75 for a controller? That price is pretty steep. But then again, it is a very nice-looking controller. But then again, that is a lot of money to ask for a gamepad, even if it is PC and Xbox compatible. Then again, it is very shiny...
Source: Microsoft Store
Articles Related to Sea of Thieves
Sea of Thieves Release Date Confirmed
Sea of Thieves Outlines Character Progression
Sea of Thieves Discusses its Take on Multiplayer Gaming