Ahoy, ahoy! These games aren't for the landlubbers out there. We've taken a look at some of the finest swashbucklin' seafarin' pirate MMO games around.
Playing as a pirate is the ultimate freedom. With no feeling greater than the wind in your sails and freedom from the law, what could go wrong on your search for treasure amongst the seven seas? Well… Mutinies could go wrong, and I suppose plundering enemy pirates as well. Oh and scurvy, mustn't forget scurvy.
There is a wide variety of different pirate MMO games available to play right now, and our selection below includes games for adults and children, sprawling colonisation games, a puzzle game, and an upcoming pirate PvP game from Ubisoft.
Sea of Thieves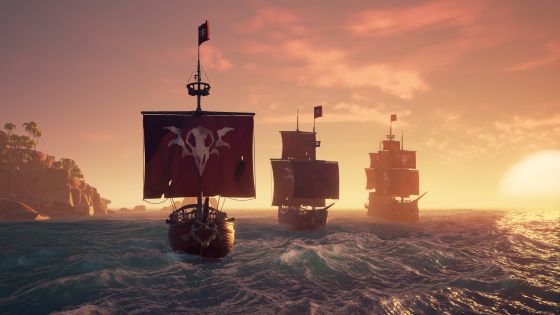 As we shared earlier in the year, Sea of Thieves has been played by over 10 million people since it launched just two years ago. This impressive feat from the Rare/Xbox team goes hand in hand with the rave reviews the game has received from critics and players.
While there is a campaign to follow, the free-form nature of the game allows you to spend hours just sailing around the map, exploring and having fun.
The development team has been far from quiet when it comes to adding new content to keep players on their toes. An enormous Megalodon shark was added, keeping budding pirates fearful of a bloody Jaws-like attack at any time. Skeleton ships were added in the first year of release, allowing players to engage in non-PvP combat. Environmental changes have been added too: fire, fog, volcanoes and geysers.
Sea of Thieves has also become a deeper and much more fully-fleshed out game, with the introduction of a large update including fishing, hunting and cooking. These are much more than simple bolted-on game mechanics: the fishing element actually won PC Gamer's "best fishing" in a PC Game.
The sailing is intuitive, the gold is plentiful, and the water is (quite literally) warm. What are you waiting for? It's time to weigh anchor.
Pirates of the Burning Sea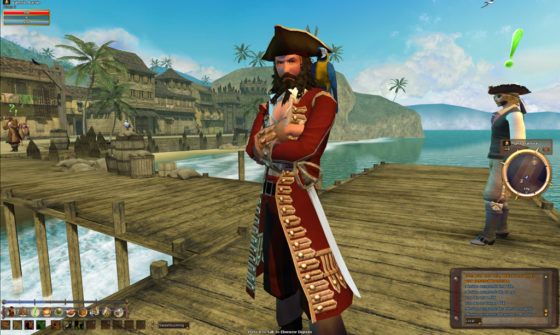 Like all experienced swashbucklers, Pirates of the Burning Sea has had a fair few brushes with death. The game was released way back in 2008. Between then and now it has survived losing support from Sony in 2012. A handful of developers founded a new studio, Portalus Games, just to continue running the game. Working remotely to save costs, the development and support team gradually shrunk down from 30 to 3. In 2018, Pirates of the Burning Sea lost its only programmer. For several months the game remained in limbo, with Portalus having no other option but to close down.
Vision Online eventually stepped in and rescued the game from the brink of death in 2019. Players came back in droves. Without this loyal player base, there is no doubt that the game would not still exist today. There are now plans to update the game, provide new content, and even offer a legacy server allowing players access to the game as it was in its earliest conception.
The player base is small, but as loyal and friendly as pirates can be! The user interface is to be expected from a 12-year-old game, but it is usable – UI updates are in the works, but are likely to be way down in the priority list. You can choose to play as a pirate, naval officer, privateer or freetrader. The game plays very well, the quests are fun, and it is arguably the most welcoming game in this list for new players.
Atlas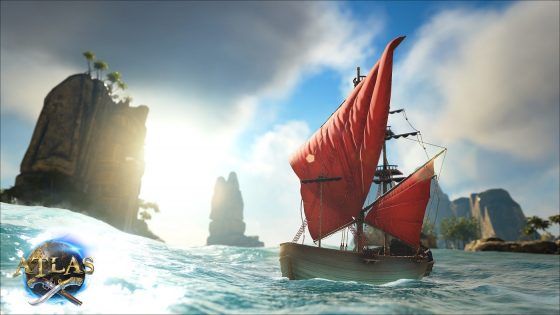 Image credit: playatlas.com
Atlas is a complex game of survival and international rivalry released in 2019. Hunt for treasure, explore and colonise the expansive world, and watch your back for enemies.
The game polarises reviews and is not for the faint-hearted. Your land and resources become vulnerable when you are offline, and so huge land-grabbing battles take place between rival factions. Complex war strategy is often arranged offline amongst members of a clan, with players often targeting rival clans based on when they are likely to be sleeping and offline. This reliance on international time zones means that clans are often separated by nation, with Western players often opting to attack Asian clans while Asia sleeps, and vice versa.
Due to the international nature of the game, international real-world politics seeps into the game in every corner, with one now disbanded company of players having branded themselves as Make Atlas Great Again, or… MAGA 😬.The ability to customise sails to display images and messages allows banners to be displayed targeting rival factions.
In both content, learning curve, and tough punishing play (ships can take days to build and minutes to destroy), this is certainly a game for seasoned adult gamers.
Pirates of the Caribbean: Tides of War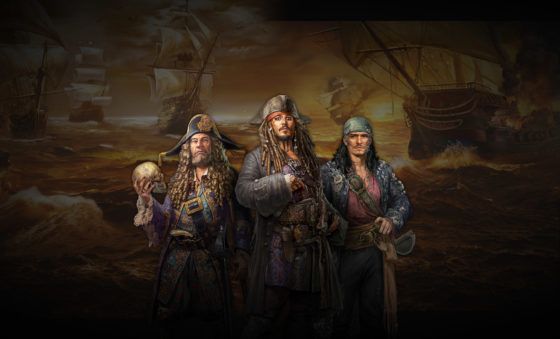 A fully-fledged pirate MMO game on your mobile device, Pirates of the Caribbean: Tides of War allows you to captain your fleet, hunt for treasure, hire a crew and get up to all manner of pirating plundering mis-deeds. Animated versions of Johnny Depp and Orlando Bloom splash across the game all the time, if you like that sort of thing.
The gameplay is good, and we love the ability to adventure away at any time on a mobile device, but what really lets this game down is the mobile developer's choice of monetization model. The game is free to play but pay to win. Perhaps if you want a game to mess around with on the bus on your Apple or Android device then you might enjoy this, but if you really want to compete then prepare to be plundered.
Pirate101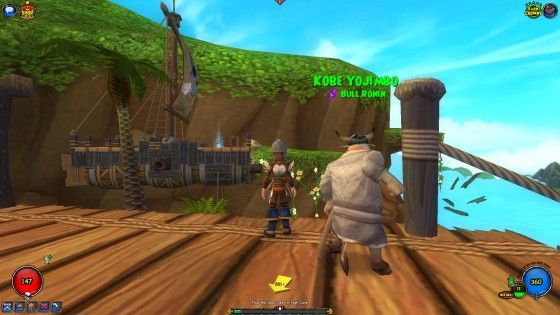 From the Wizard101 team comes the simply named Pirate101. Create your own pirate and sail through the Skyway (Yep – these pirate ships can fly!) looking for treasure and adventure. The game is free to play and is designed to be child-safe but is suitable for adults too. There is combat but no blood, and the chat is designed to be safe.
Despite developer KingsIsle stating that they don't intend to add any further story updates, Pirate101 retains a small but significant player base. The characters are anthropomorphic, the animation is cartoon-esque, and the pirate puns are fast-flowing!
Puzzle Pirates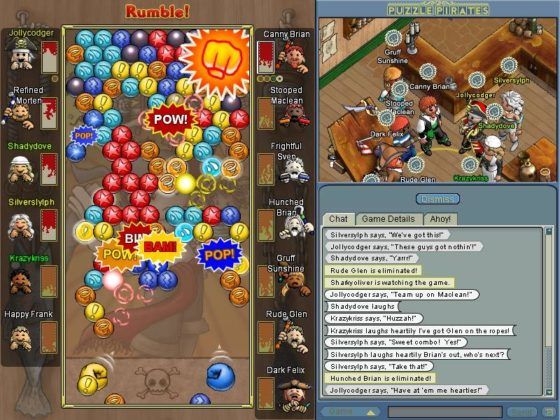 Another older game with a small but loyal following, Puzzle Pirates brings an obvious twist to the pirate niche: puzzles. Like the other games in this list, this pirate MMO game features all the usual suspects: sailing your own ship, putting together a crew, and grappling/attacking enemy vessels and players. Where Puzzle Pirates differs, is that all of the grinding, skilling, crafting and attacking happens via a series of puzzles – think Tetris or Bejewelled.
The game still has depth and grinding through levels and earning money is rewarding. You can run your own ship, or even create stalls, shops and businesses. The chat is filtered and the battle is all done via puzzles so this game is friendly for all audiences.
Skull & Bones
If Ubisoft's much-awaited Skull & Bones was released on time, then it would have made a good addition to this list. Unfortunately, it has been delayed from the end of 2018, to 2019, to 2020 and now (surprise, surprise) to April 2021 and beyond. The game is also being adapted into a television series, but frankly we'd much prefer they focused on just getting the game ready for release instead of working on building a multimedia brand.
There are open-world and PvP elements, but for now we will have to wait with baited breath for the release. In the meantime, check out this video of the PvP Gameplay:
Well, me hearties, there you have it: the finest pirate MMO games your well-pillaged doubloons can buy. Now get playin', or you'll be walkin' the plank – savvy?
Consider yourself an old salt who knows a thing or two about any of these games? This old seadog missed mentioning a great pirate MMO? Let us know your feelings in the comments below.
MMOGames.com is committed to bringing you all the freshest, funniest, and most insightful MMO news. If you enjoyed this content, why not share it with your community? And make sure that you never miss our updates and exclusive giveaways by following and favouriting us on Instagram, Twitter, and Facebook.