Before World of Warcraft, there was another massive MMORPG capturing the attention of thousands of players worldwide. In 2001, Mythic Entertainment released Dark Age of Camelot, a fantasy MMO with Realm versus Realm combat as its focus, despite offering a PvE experience as well.
I dearly recall the day when the game arrived in my hands. It came in this bulky box that is designed to stand the test of time and looks great in every shelf, even nearly two decades after its release. Try doing that with your digital library of games, will you?
Following Dark Age of Camelot, Mythic released Warhammer Online: Age of Reckoning in 2008 to a warm welcome. However, it turned out to be its final MMO, having shut down by late 2013. Mythic Entertainment closed soon after, in 2014, but this wasn't the end of Dark Age of Camelot, with Broadsword picking up on this and Ultima Online, keeping the studio's legacy alive.
In October 2019, Dark Age of Camelot finally surrendered to the times and added a free-to-play option called Endless Conquest. In a day and age where most games tend to do so after a year or two, this long-running MMO deserves a pat in the back for supporting its paying players for nearly two decades. Alas, a vigorous player base is crucial to keep such a game going, and that is why this move makes perfect sense.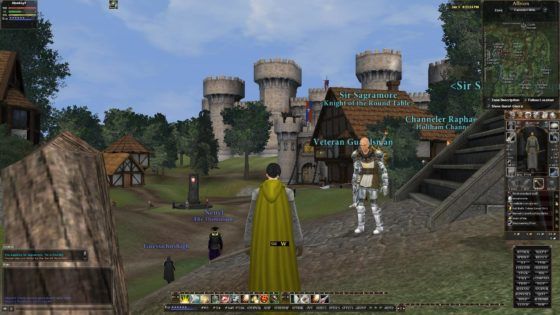 As I booted up the game, it felt like an exquisite time-traveling experience, with everything that it entails. The graphics are acceptably low poly, but it was the font used during character customization that gave the game an antiquated feel. Oddly enough, the start of the game itself brings a cleaner, more eye-friendly font choice, although the UI remains as rudimentary as expected. Clearly conceived in a time when functionality was key and with a few text commands to support this notion, it is the sheer embodiment of pragmatism in detriment of friendliness and style, a challenge that ensuing MMOs eventually decided to tackle.
While you can expect the choice of class archetypes that we've grown to know and love, with tanks, healers, spellcasters, and the like, Dark Age of Camelot isn't very friendly on its approach. That is understandable, since this was early days for the genre and the developers were paving the road for an unpredictable future. Therefore, going with a Sorcerer but failing to find a supporting class such as a Paladin to join you is a death sentence. You need to find a good balance right off the bat because this MMORPG isn't going to take you by the hand, apologize for its mistakes, or point you in the right direction.
Well, except for the quest markers, a handy feature to have due to the open world nature of the game. Given the slow pace and the now rudimentary mechanics, it would be a burden to explore the realms of Albion, Hybernia, and Midgard without at least some clues. This is a game that is heavy on lore and content, and the expansions that followed only served to increase its scope. In tandem with the Dark Age of Camelot free-to-play release, these expansions are now available for free as well.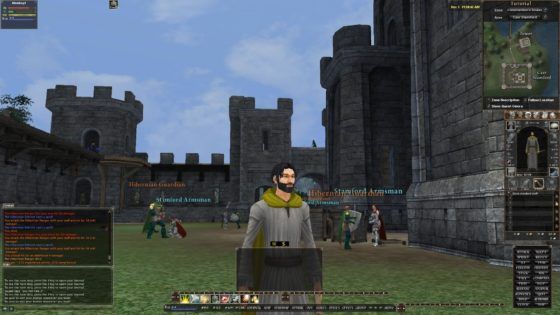 "XP is shorthand for experience" | Dark Age of Camelot Free-To-Play Impressions
That hint above sounds just like something only a videogames rookie would be thankful for, right? However, shortly after the turn of the century, this was very reasonable advice for a genre that was extremely niche, a notion that was only dispelled with the release of World of Warcraft in 2004. And the rest is history, as they usually say.
But going back to the Sorcerer, my XP… I mean, my experience with this class was ambiguous, to say the least. This is a class that has a penchant for crowd control, but the truth is that there is no crowd to control during the many first hours of questing. Although I did try to dip my feet in Realm vs. Realm combat early on, the battlegrounds were deserted and far from what I was expecting to find – a deafening silence that was made all the more baffling by the slew of idle NPCs. It does make sense, however, as these battlegrounds are divided by levels and the Dark Age of Camelot veterans are surely testing their might on the high-level areas, or in the main RvR zones in New Frontiers.
The issue here is that for a game that is so focused on large-scale guild battles, it's highly likely that its player base is the equivalent of a very restricted boys club that few new players will be able to enroll for. For that, you would need other players to begin the adventure with you, something that isn't highly plausible, or at least easily achievable. I did stumble upon a few players and even joined one of them for a couple of quests, but we soon disbanded, never to meet again.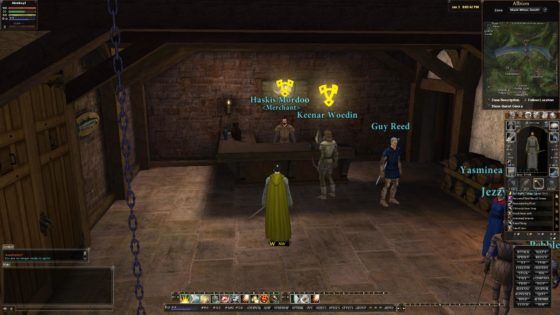 This means that a new player will be forced to venture solo for the majority of quests, with such an unnatural path reflecting on your perception of combat. In hindsight, the tab targeting system was superb for its age, and still holds up today if you're not too picky. However, the creaks are showing and what was considered fun many years ago now feels like a laborious and tedious task. Thankfully, each class has enough skills for you to experiment with, giving you a feel that you have a wide range of options at your disposal, especially for caster classes.
Dark Age of Camelot has rightfully earned its place in videogaming history. It's a remarkable achievement, designed in a time when the genre was taking baby steps, with little more than EverQuest to serve as inspiration. It's a testament to its quality that it remains live after so many years, but the truth is that it's a harsh and somewhat barren game that is entirely geared toward organized groups of players. Endless Conquest was a great trip down memory lane, but this Dark Age of Camelot free-to-play release ends up being extremely time-consuming and mechanically outdated, and I prefer my realm wars to be more contemporary. So, I guess I'll wait to see what its spiritual successor Camelot Unchained brings to fans of King Arthur and realm combat.