The holidays aren't just for the big-ticket MMOs. Case in point, the browser-based game Dragon Awaken holiday events, which are handing out a large assortment of free in-game items while also dressing up its main hub for the season.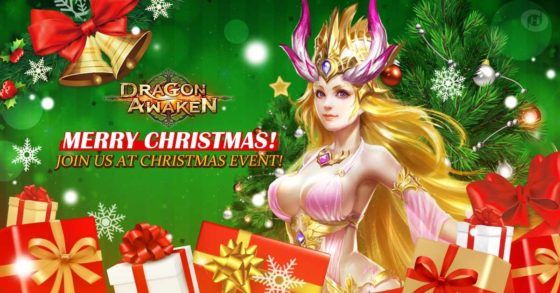 From December 23rd to the 28th, players who log in every day will get a bunch of free consumables, including Stamina Scrolls, title and icon cards, and Christmas Fruit items which can be traded in for mounts and cosmetics.
Santa Claus is also coming to town - or more specifically the Holy City - on those same dates. If players talk with Santa, they can get random rewards such as Diamonds, Gold, XP scrolls and a variety of enhancement items.
There's even physical Dragon Awaken-themed Christmas cards that players can print out if they're so inclined on the game's Facebook page. Fans can also create a Facebook post tagging the community page to receive a variety of in-game items. There are pretty specific instructions to that, though, so be sure to read up.
Beyond the holidays, the latest update also adds a Hero Starnet system that lets players upgrade Hero Starnets starting at level 48, and a Time Chest filled with items like Mount Souls, Dragon Souls and more is awaiting those who complete all of their dailies in-game.
Our Thoughts
We hope that players of Dragon Awaken enjoy the free goodies however they come, either from logging in, speaking with in-game Santa, or posting on Facebook. While the event in question isn't really a typical playable affair, that doesn't mean that fans of the game can't get into the seasonal spirit.
Source: press release
Articles Related to Dragon Awaken
Dragon Awaken Launches with New Event
Dragon Awaken Game Page
US Navy Browser MMO Seeks Ideas to Combat the Singularity