This one is for the parent gamers out there. Perhaps you have a young child who watches you playing games and wants to "do what daddy/mummy does". Unfortunately, MMO games can be a minefield of unfiltered chat and games that are either too complex for children, or with violent or adult themes. In any case, we've done our best to put together a selection of child-suitable family-friendly MMO games, so you can put your mind to rest while they play.
MMO games, by their very nature, involve interacting with strangers – we would still suggest that you monitor and supervise your little ones while they play. And hey, we promise we'll keep it a secret if you end up having a bit of fun playing these MMO games yourself.
AdventureQuest 3D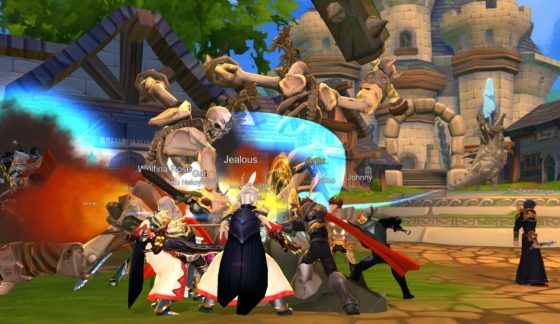 The latest in the family-friendly AdventureQuest instalment from the Artix team, AdventureQuest 3D is great fun for adults and children alike. It has a PEGI rating of 12. The game was released in 2016, but the population is still active, and welcoming. The game, as you might have already guessed, allows players to go on adventures and complete quests!
The original AdventureQuest was one of the most popular 2D browser-based MMO games. AdventureQuest 3D brings players that same great player experience but in all three dimensions, and accessible on multiple platforms: In Browser, PC, Steam, iOS and Android.
The game has lashings of real-time and fast-paced combat, but in line with its family-friendly focus there is no blood, and the combat isn't particularly violent. The game is also totally free to play, and has been praised for keeping the game as far away from a Pay to Win experience as possible. This makes it a great choice for you to jump in with your child to get a feel for the game before allowing your little one to quest solo.
If you are looking for a game with a slightly younger audience, then predecessor AdventureQuest Worlds has an ESRB rating of Everyone 10+. There are strict chat filters in place, and there are even extra safe servers for children age 13 and younger which only allow pre-selected phrases to be used in chat.
Star Stable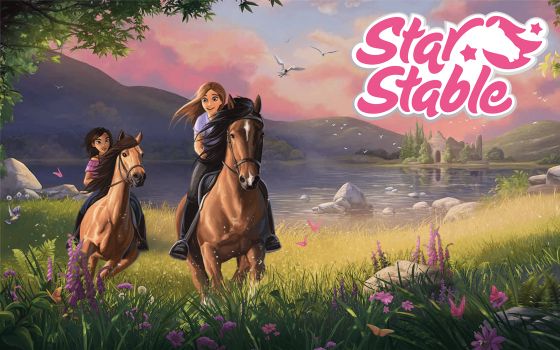 One for the horse lovers, Star Stable allows your character to choose your very own horse, maintain stables and go on adventures on horseback. (Note for the parents: It is much MUCH cheaper than giving your equine-obsessed child a real horse!)
Gameplay from level 6 requires an affordable lifetime fee or monthly subscription, but this still allows for plenty of free horsing around, and more importantly allows you to give the game a quick test run yourself to assess its suitability.
Star Stable might be of particular interest to parents as a result of its educational focus. The game involves learning and developing social skills and friendly relationships, problem solving, and even developing financial management skills using the Star Coins virtual currency.
The game is compliant with the PRIVO Children's Online Privacy Protection Act, and the in-game chat uses a strict filter. The game also has active moderators to investigate any potentially unsuitable behaviour.
Star Stable offers a full and detailed online gaming safety guide which, while tailored to their own players, offers relevant and useful information for parents of all young game players. We reckon this is the best choice for helping foster a positive 'can do' attitude, and will help your child develop resilience even when the going gets tough.
Wizard101
For those budding little Harry Potters, there can only be one obvious winner: Wizard101. The game plays almost like a collectible trading card game, but with a 3D and roam-able world developed around it. Players collect a deck of spells, and then work their way up through the levels through combat.
Wizard101 has an Everyone 10+ ESRB rating, although there are plenty of much younger players. The game primarily targets 8 to 14-year olds, but there are plenty of users in the 5-7 years category. There are also a fair number of older users who ended up enjoying their investigation so much that they stuck around for a few spell battles.
The game is easy enough for younger children to understand how to play, but has enough depth to allow older audiences the chance to build more complex card decks and think about strategy. There is plenty to hold your attention from the combat, to crafting, clothing and housing as well as minigames.
It is worth noting that while the game is advertised as Free to Play, the vast majority of the areas and arenas are only accessible to paying subscribers (although there are discount family plans available). There is still more than enough content for you to playtest yourself to assess suitability for your child, but just expect your little one to soon start tugging on your sleeve and asking for your credit card if they throw themselves wholeheartedly into the virtual wizarding world.
There are tight controls on the chat, with a tiered filtering system depending on multiple factors. Players younger than 13 years old can only use and see a selection of chat options unless they are given parental permission. Only players over age 18 with a card on file are able to remove most of the filters (leaving only the permanent profanity filters).
Pirate101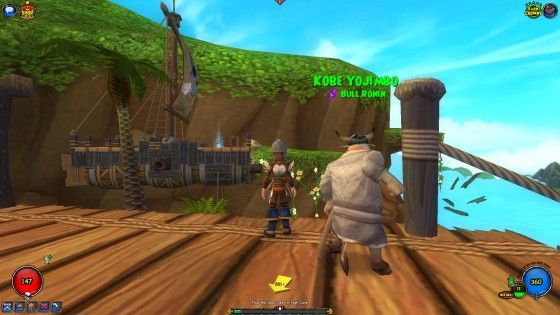 If the above sounded perfect, but your child prefers to look up to Jack Sparrow than Dumbledore, then KingsIsle Entertainment also offers a pirate-themed MMO: Pirate101. Also ESRB rated at E10+, the game is absolutely family-friendly too.
The game does touch on some slightly more adult themes: kidnap, death and taxes! The combat system is also slightly more complex, and leans more on strategy. Pirate101 is also the newer game, released four years later than Wizard101, in 2012. The graphics are undeniably better and brighter.
It has all the same tight chat controls and safety features to protect your kids. The combat has no blood and there is a limited (although very broad) selection of family-friendly first and last name combinations to choose from.
This game might be a good choice for a younger child who is looking to move on from Wizard101. And as an added bonus for the truly pirate-obsessed child, the Pirate101 team even offers pirate party planning resources with invitations, decorations and activity ideas.
School of Dragons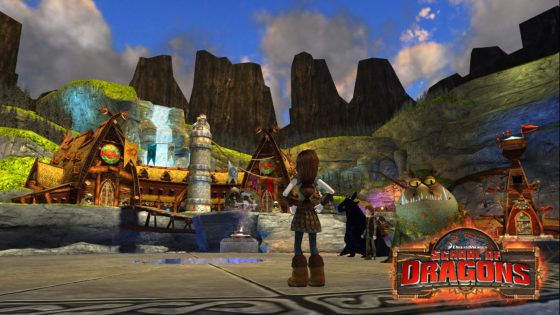 School of Dragons is our last family-friendly MMO game suggestion for you. The game is based on the hugely popular DreamWorks film release, How To Train Your Dragon. We think it might just be the perfect way to trick encourage your child to develop their scientific knowledge!
Yes, you read that right, School of Dragons is absolutely packed full of educational science learning, and there are even heaps of free resources for science experiments that your child can try at home.
School of Dragons has the youngest approved audience rating on this list: PEGI 3. It is also the only MMO on this list to offer the game not just in English, but in Spanish, Portuguese, Mandarin, Russian, Korean, and French.
The game is available on iOS, Android, Windows and also In Browser, and lets players go on quests, and (as you may have guessed) train your very own dragon!
School of Dragons is also Free to Play. There are elements of the game that allow for faster progression if you are willing to spend money, but it is by no means necessary to do so.
MMOGames.com is committed to bringing you all the freshest, funniest, and most insightful MMO news. If you enjoyed this content, why not share it with your community? And make sure that you never miss our updates and exclusive giveaways by following and favouriting us on Instagram, Twitter, and Facebook.