Hordes.io is the latest block party aiming to become all the rage. This is an MMORPG undressed of all the superfluous aspects of the genre, sticking to the basics and immediacy that make it a must for PvP fans. Furthermore, it's awfully cute, with its quaint World of Warcraft meets Minecraft looks. Every time that I see a block do a flip, nostalgia reminds me that there may be a bit of Dizzy in this game as well, minus the eggs. If fortune continues smiling upon Hordes.io, we may be about to witness the coining of the Block versus Block term.
A one-man project created by a developer simply known as Dek, Hordes.io can become addictive thanks to its simplicity and focus, traits that some players may mistakenly confuse for lack of depth. Io games are renowned for their virtuous and persuasive design, often resulting in unabashed attention grabbers, with Agar.io and Slither.io being two of the prime examples.
Simplicity is what makes Hordes.io tick. This is an MMO that even someone who is only remotely familiar with the genre can pick up and play in minutes, with no unnecessary bells and whistles to hinder the experience. Just as it happens with other .io games, Hordes.io has a gameplay loop that is refreshingly simple and compelling, but inherently repetitive – that shortcoming can be said of most games in the genre. However, it is a work in progress and the developer has big plans to add more features, turning it into more like a full-fledged MMORPG, while never letting the freshness of a .io game out of sight.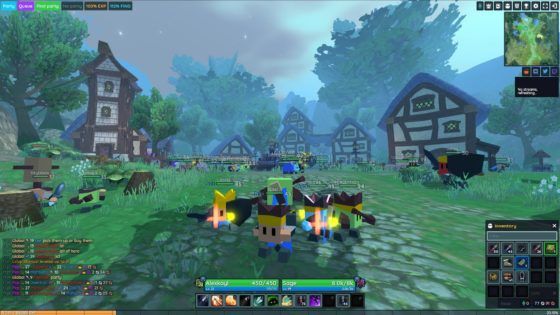 War of the Blocks | Hordes.io Preview
In pure MMO fashion, your adventure in Hordes.io begins with the class selection. There isn't much to sink your teeth into right now, but the four options should cover the basic needs of any MMORPG enthusiast. Warriors are the tanks that will keep the enemy busy, as Archers strike from a safe distance. Meanwhile, Mages deliver heavy AoE damage and other magic skills that hinder their foes, while the Shaman class provides support to the group by means of heals, buffs, and debuffs. You have probably spotted your favorite playstyle in there, but that doesn't mean that other class variations won't be added as development progresses.
The village is your sanctuary, the place that you and other players frequently return to in order to get some rest from the endless skirmish. Hordes.io is an MMORPG with no old-fashioned quests, as odd as that may sound, although the developer has admitted that he will add quests to give players some much-needed relief between battles. However, quests shouldn't stray too far from the essence of the game, as the plan is to create simple kill quests to make players level up faster and give them an additional reason to return to base.
When your backpack is overflowing with spoils of war, your best bet is to use the Conjurer's Recall skill to teleport back to base. Head over to the Trader and sell any goods that you don't need, or make the best of the player-driven economy of the game by chatting with the Merchant NPC. Besides purchasing items from other players, you can set your price, post your item, and wait for the in-game currency to come rolling in. Well, that depends on the rarity of the item and whether the price is reasonable or not, but I won't be the one to crush your virtual entrepreneur dreams.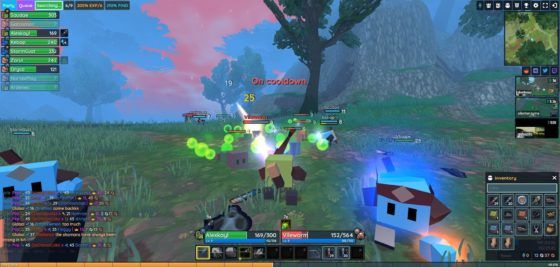 There are a couple of other NPCs that you should resort to. The Blacksmith is the man… I mean, the block for all your gear upgrading needs, as long as you have the coins and runes to make it happen. The higher the item level, the riskier it is to upgrade it, but every MMORPG fan knows by now that this is a necessary evil. The Sage is willing to lend you a hand in case you need to respec those character stat points and take a different approach to your progress.
Every character level that you gain gives you stat points to allocate in various attributes. The consensus is that since Hordes.io is mostly a PvP-based MMORPG, you should focus on areas that will pave the way for faster returns. One way to do so is by boosting the attributes that help you eliminate PvE mobs in a speedier way, leading to better loot and an improved leveling speed. Here's our Hordes.io tip for you: get those Strength and Dexterity stats up to interesting values, and then slowly but surely focus on the rest of them.
The way that you learn skills in Hordes.io is a mix between leveling up to unlock new skills, finding skill books, or purchasing them from the Trader. Skill books come in different levels as well, which means that if you find the Swift Shot Level 3 book but you haven't learned Level 2 yet, you can't learn this one right away.
Despite the substantial mention of PvP combat as the focus of Hordes.io, this is a game that also offers PvE combat, as you may have correctly inferred by the hints above. It is by destroying blocky worms and other AI-controlled creeps that you earn most of your loot and coins, leveling up to a point where you won't be crushed when you stumble across another player in a PvP area. There are many locations in the map where you can fight massive bosses for greater rewards, in a continuous and familiar progression system that is going to give you many additional options when you are forced into a PvP showdown. Believe me, that is going to happen quite often, and every death is going to cost you a few coins.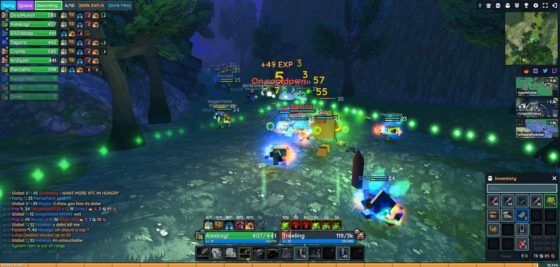 Block Party | Hordes.io Preview
Hordes.io truly shines when dozens of players engage in furious battles, with a myriad of visual effects and spells bringing color to the screen. Either against stronger PvE creatures or in an epic clash between rival clans, the game feels alive and exciting, with a player base that many big-budget MMORPGs would kill for. Besides, it comes with a feature that may sound ridiculous to even mention, but it deserves praise from every player with a keen eye for detail and a decent knowledge of the inner workings of MMO games: here, you don't just ghostly traverse other players or enemies, your character has an actual physical space to it. This feature works correctly for most of the time, and I can already imagine the intense clan contests to see which team manages to make the higher block tower.
Before speaking about clans, you should know that it's extremely simple to join a party in Hordes.io, even during this open beta stage. The game automatically pairs you with other players of a similar level, and you can easily spot your teammates using the mini map, showing you the places where the action is hot. Joining a party in this game may be optional in theory, but it is a straight up requirement if you want to go anywhere. Furthermore, it's the best way to level up, since you're not going to make a dent on those bigger monsters all by yourself, and the stronger creatures are where the better loot drops can be found.
Clans are the real deal and where the meat of Hordes.io lies, in case you have big plans for your blocky avatar. You must be invited for a clan or, in alternative, create your own clan, but for this you'll need a large amount of coins. If you want to increase your chances of being invited, you need to work on your Fame score, as this is often used as a gauge for clan leaders to scrutinize potential new members. Fame is increased based on your number of PvP kills, and it also acts as a screaming signpost for other players in search of the greatest threats to challenge.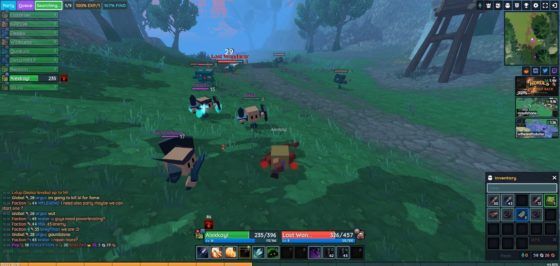 For those fearing the interference of pay-to-win mechanics, the Hordes.io open beta seems adamant in proving that this is a fair and leveled battlefield. You can purchase Elixir to contribute to the development of the project while getting some perks in return, such as extra bag slots and additional stash storage. You also remove ads with your payment, which can be a monthly or yearly spend, roughly varying between $7 and $60 respectively, although you need to pay a bit more due to the set package prices.
At risk of jumping into conclusions, Hordes.io is far more than a promising game - it is destined to be successful. It dares to tackle a very different genre from other .io games and does so with finesse, delivering a simple but addictive experience that is hard to put down. As you may recall, that is the heart and soul of a fantastic .io game, and while Hordes.io has plenty of room to grow, it is already an expansive and fun game that no PvP fan can miss.