It's Valentines Day, and it's good to know that as MMO players we all have someone to share it with. Especially if you're a fan of Nexon games. Nexon America is spreading the love this weekend and beyond by treating players of MapleStory, MapleStory M, Mabinogi and KartRider Rush+ to some Valentine's Day goodies. Expect some sickly-sweet treats in the form of themed content and events, and a general air of loveliness across these already charming titles.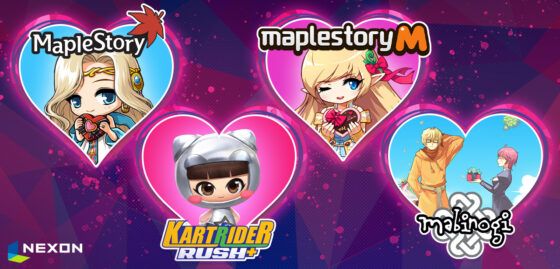 Here's what's in store:
Maple Story
Until February 16th, players at level 101 and above, including Zero characters who completed Story Chapter 2, can receive Tracy's Valentine Gifts by completing the special missions.

Adorable valentines items such as the Love Mouse Hat, Love Mouse Outfit, Moon Roller Mount, True Love Chocolate or Heartbreak Chocolate can be obtained by collecting item coupons through daily missions.
MapleStory M
It's death by chocolate in MapleStory M, as until 24th February players can summon chocolate-themed monsters to defeat. Vanquishing these delicious devils will yield chocolate ingredients, which players can combine on the event page to make a variety of buff items.

Cumulative rewards can be amassed depending on the number of chocolates that players craft.
Mabinogi
Until February 25th, players who log-in daily for at least 36 minutes will receive one Valentine Cookie Box, as well as a Valentine's Day Event Coupon for the first character they use.

Opening the box will bestow upon players another Valentine's Day Event Coupon as well as another random item.

Combining 10 of the Valentine's Day Even Coupons will grant players the brand new Sweet Valentine Spirit Transformation Liqueur which can be used to change the appearance effects on any Spirit Weapon.
KartRider Rush+
Until 25th February, racers will be able to customise their carts with items such as the Valentine's Day Frame, a Valentine's Day Balloon and more.

Until 17th February, login bonuses await racers who play at least 10 multiplayer races.
Valentine's Day isn't usually spread out over a number of days, but it would seem that Nexon loves to spoil its players. Head over to the official website for all the details of this Nexon Valentine's Day celebration, and feel the love.
MMOGames.com is committed to bringing you all the freshest, funniest, and most insightful MMO news. If you enjoyed this content, why not share it with your community? And make sure that you never miss our updates and exclusive giveaways by following and favouriting us on Instagram, Twitter, and Facebook.