Playing MMOs is something that takes time both for playing and planning your game sessions between all the patches. The news that Marvel Heroes is going to become playable from the go, with the rest of the game download being streamed in the background, inspired me. I decided to look at some great browser MMOs this week.
Most of the games on the list can be played in the browser with no extra download at all, and some require a small plugin to work. But all games can be played within seconds of you creating an account and you never have to worry about big patches stopping you from playing when you have some free time.
Drakensang Online
This is by far one of the best-looking browser-based games on the market. The visuals come on par with many isometric AAA games and stands way above most free to play browser titles it is competing with.
The game is set in a fantasy world filled with monsters and magic and you have over 40 areas to explore, ranging from the snowy high mountains to desserts and swamps. Drakensang Online lets you choose between four different classes that all comes with a special playstyle.
The game also has a great PvP system where teams are pitted against each other in both CTF and TDM.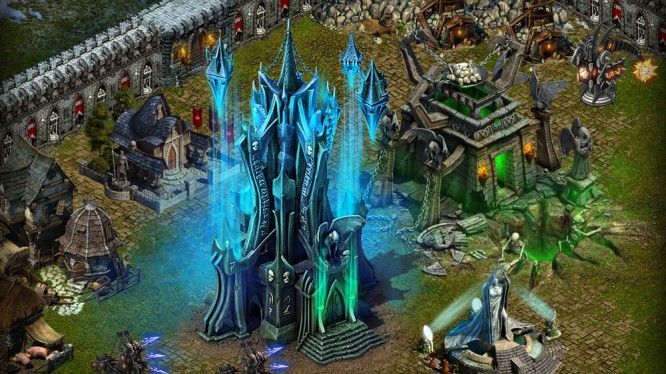 Stormfall: Age of War
Stormfall is a beautiful looking MMORTS set in a dark fantasy world. This game lets you create and manage you own fantasy empire directly in your browser. Stormfall is built around playing with you friends, and inviting friends to join you will heavily affect you chances in the game as you can receive resources and reinforcement from them.
The game lets you customize you empire and lets you decide how you want to play by giving to a techtree called Lost Arts. Here you have several branches to explore and put your resources into.
Stormfall also comes with one of the best stories in a browser MMO and it gets even better by having a full voice over in almost all the missions.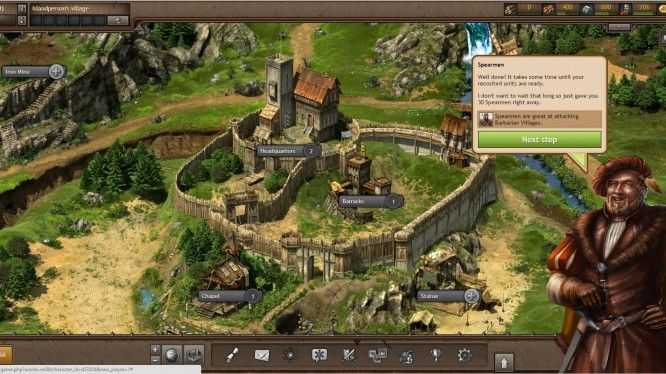 .
Tribal Wars 2
The first Tribal Wars was one of the biggest browser-based MMOs by looking at active playerbase. The sequel has taken everything good from the first game, and made the game better and bigger.
If you want to build your own medieval city you have come to the right place. Tribal Wars 2 gives you 17 different buildings with 30 different upgrades. This together with 13 different military units makes Tribal Wars 2 a varied browser MMO. The game also comes with over 50 different missions that give you achievements and unlocks.
The thing that makes Tribal Wars 2 stand out the most against other similar games is its "endgame". Everyone can take part in a King event and the winner will be crowned King for Life.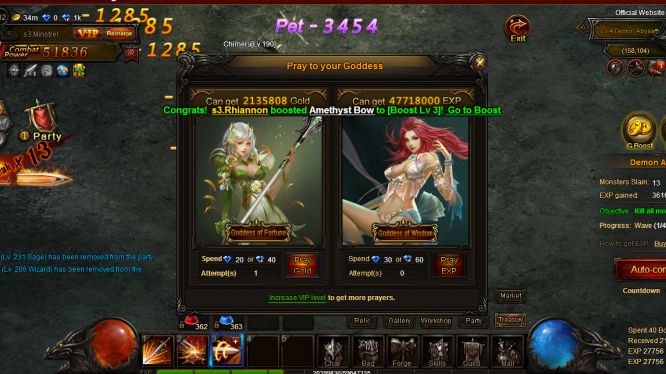 Felspire
This is a classical fantasy MMO in many ways, filled with everything you come to expect from one, all playable in the browser without any download at all.
You start as a nobody and can chose between playing as a warrior, archer or mage. All three classes comes with their own unique abilities and ways to play. Felspire also comes with a great variation in how you customize you hero with both cosmetics and upgrades.
The game also has a great PvP system built around guilds within the games, here you will fight other guilds in huge wars to see who will be the server's best guilds.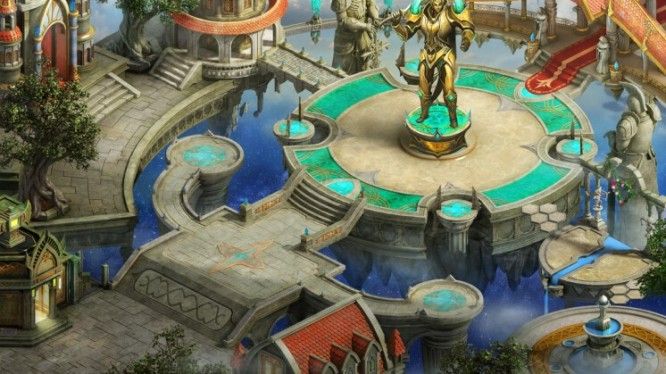 League of Angels 2
With a huge player-base and banners popping wherever you look, the first League of Angels is one of the most well-known and popular browser-based MMOs. The sequel is taking everything from the first game and ramping it up greatly, creating an even better and more addictive game.
You will once again recruit a band of angels to fight demons in a much more visually stunning world. You will have three different factions to choose from this time around and eight different races. League of Angels 2 lets you jump into the action and enjoy the story in a very accessible way while still holding on to a great strategical depth.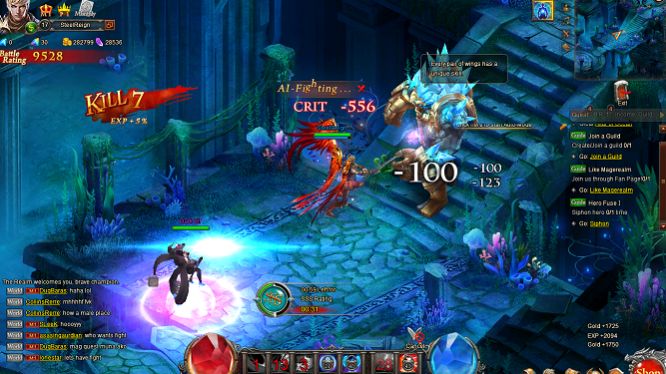 MageRealm: Age of Chaos
Being set in a very typical fantasy world, Magerealm manages to be unique with its monsters and especially its classes. Instead of having your typical magical user or warrior, MageRealm lets you choose between the Realmguard, Spellmaster and Truthkeeper, which all have very different playstyles.
The game also focuses heavily on customization - you can customize everything, and I mean literary everything. Even if none of your friends are playing, you still have the opportunity to call for heroes and angels in your battles.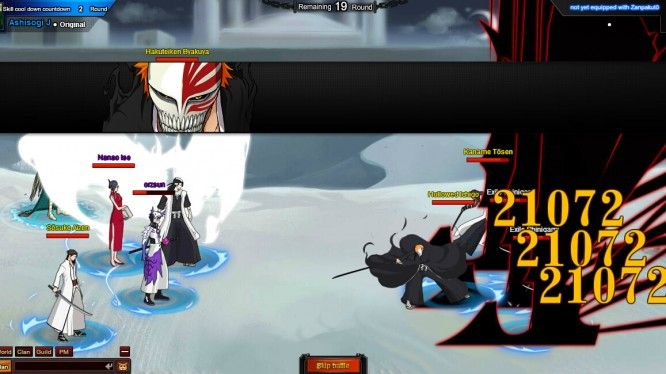 Bleach Online
Being one of the biggest Anime/Mangas out here, but also being one that is actually finished, This is the perfect way to get yourself that Bleach dose you have been waiting for, with one of the actually finished MMOs for one of the biggest Anime/Mangas out there.
Bleach Online comes with a 45-degrees camera, so you will get a great overlook over the battlefield, which lets you focus on tactics while still enjoying the visuals. By completing quests and winning battles you also have the opportunity to collect different friends that can fight by your side.
This is a perfect game for Bleach fans and also for assembling and seeing your dream team fight. The game is free to play and playable in a browser on whatever computer you have access to.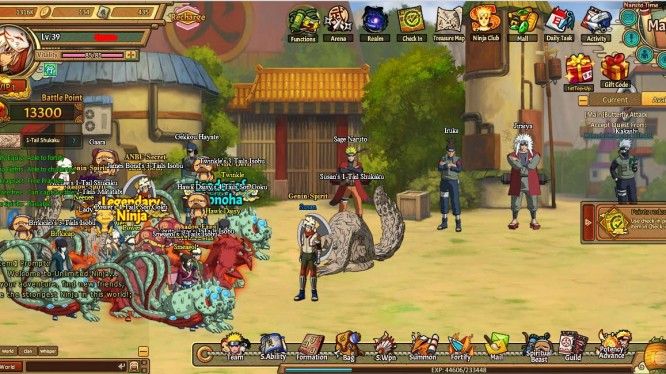 Unlimited Ninja
Following up on another popular anime/manga, we have Unlimited Ninja. Even if the game didn't have the rights for Naruto in its title, it is still a game that deserves your attention if you have watched the anime or read the manga.
The game lets you and your team level up and learn new ninja techniques that you might be familiar with if you are a fan of the show. Unlimited Ninja comes with some great quests that will take you through diverse areas that all looks the same as the one from the series.

Elvenar
Elvenar is a strategy MMO with a great turned-based combat. Think of this as a free to play fantasy version of the later Civilization games. This game is about building your kingdom, expanding it while still keeping control of micromanagement within the empire.
The game is divided into three areas; economy, research and exploration. All are necessary to do to advance through the game, but you can easily put a heavy focus on the one you like the most and not fall behind.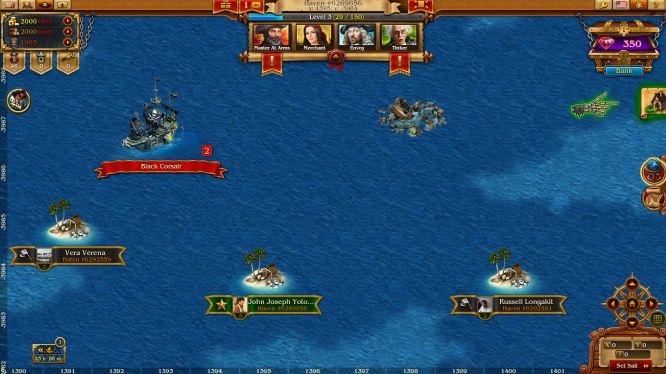 Pirates: Tides of Fortune
What good is a list if there is no pirate on it? Obviously, it's no good. Pirates: Tides of Fortune is not only a game about being a pirate and wreaking havoc on the seven seas, it is also a well-made strategy MMO that deserves its spot on this list.
The game lets you take control of your own island and build your own pirate empire on it, while it also allows you to recruit your own pirate crew and take on all the ships and treasures the sea holds. Tides of Fortune also has a great deal of macro management with both diplomacy and trade, where fighting might be unnecessary.