Lost Ark is regarded by many as one of the most promising MMORPGs currently in development, and with good reason, I might add. It's not easy to capture the minds of so many players, a feat that very few MMOs ever manage to accomplish. The hype meter is reaching remarkable levels of anticipation, and more than a few players have expressed their desire to pack their bags and move to South Korea for a couple of years.
They are obviously exaggerating wildly, but the point comes across clearly. It's impossible not to compare Lost Ark to Blizzard's Diablo – here we have an MMORPG with exciting combat, a sprawling and surprising world where you can even become microscopic and turn into a ladybug during a magical bug-filled journey reminiscent of a reverse "Gulliver's Travels" – but these are the good kind of bugs.
Lost Ark took seven years to create with 200 staff working on the game and nearly 90 million dollars invested in its development. Smilegate developed this game specifically for PC, aiming to prove that despite the unrelenting rise of mobile gaming, this remains as the undisputed best platform for MMORPGs. Once a studio on the verge of closing down, it achieved incredible success with the multiplayer online shooter CrossFire, which still remains as one of the most profitable games in the entire world.
Now that the introduction is out of the way for those who have been distracted, what is Lost Ark getting up to? Announced by Smilegate by the end of 2014, this game has gone through three closed betas – logically restricted to Korean players, unless you could work your way around this limitation – and every single one brought a host of improvements, fixes, class balancing, graphical revamps, and a lot more. It was magnificent to look at the patch notes after each beta and realizing that there was a never-ending list of updates based on player feedback.
At this point we are less than a month away from the Lost Ark open beta, being scheduled for November 7, 2018. In case you didn't know, South Korea usually considers an open beta as the equivalent to launch (or soft-launch, if you prefer), so the time is coming for every Lost Ark player to fully enjoy the game without regrets. Of course, Lost Ark is in continuous development just like any other MMORPG worthy of such a name, so you can expect a nonstop flurry of updates with additional content, fixes and more.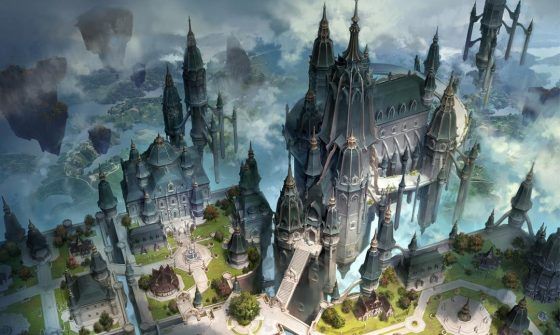 In fact, we already know exactly what is planned for Lost Ark concerning future updates. These are divided into three types: Season, Episode and Middle Update. The Season updates are intended to be the largest of the bunch, adding tons of fixes and setting up the game for future updates. The Episode updates bring the kind of content that many of us are eagerly waiting for, such as new regions, character classes, stories, and events. As for Middle Updates, these will add more endgame content such as high tier raids, dungeons, and gear, as well as field bosses. The frequency of these updates remains unknown, but my guess is that we will get one of these every few months.
For the open beta, Smilegate is clearly working extremely hard as to not disappoint a large community that has placed a lot of expectations in Lost Ark. The changes and improvements range from several combat upgrades to a graphical overhaul, and it's not often that a studio cares so much about the game as to upgrade the visuals before the open beta, with the promise of more improvements further down the road. Years and years go by and many other MMOs remain untouched, still offering the same graphics as when they were released, so this accomplishment is worthy of praise. Blade & Soul is one of the very few that are going to receive a visual overhaul, with the Vision update upgrading the engine to Unreal Engine 4.
The combat system received a lot of attention, with the aim to make it more impactful and meatier. The AI was reworked, and new movement patterns were added for the enemies, so that players aren't tempted into repeating the same attacks. The reintroduction of blood effects is also intended to give a better feel of the battles and the devastating skills of your character. The Identity skill, which is a special skill unique to each character, was either balanced or overhauled according to each character, with the purpose of becoming more distinctive and effective.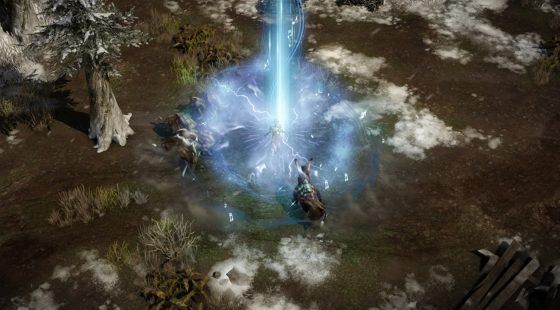 One of the Lost Ark highlights is the Tripod system. With this system you can customize your skills and make the combinations feel unique to your character class. This must feel right, or it will turn into an unfulfilled promise that has no place in any game. The revamp's objective is to make each new tier feel like a natural progression of the previous skills, creating a rewarding and natural chain effect, instead of just feeling like a separate progression. Mastering your tripod skills is going to make all the difference between regular players and Lost Ark pros.
If you like speeding through your games, then you'll just love the latest addition, again based on player feedback: mounts in towns. That's right, players were asking for ways to increase movement in town and one of the things to solve this was the addition of mounts. Sounds like a perfectly logical step – it would be an absurd oversight if it didn't happen. And let's all give a warm round of applause to the option to skip cutscenes!
So, you like having a cozy home in every MMORPG that you step in? I can relate to that; after all, even the boldest heroes need the occasional breather. However, Lost Ark takes the housing system a step further with the option to build not just your own house, but your entire island! Since Lost Ark has an NPC affinity system, you can invite some of your preferred characters to your island, play dress-up and all that jazz.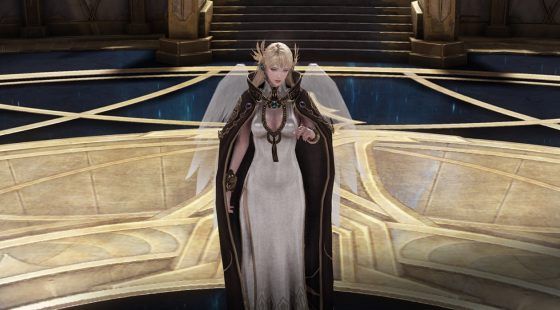 All this and still no Battle Royale mode in sight, for better or for worse. And before you think that this sounds utterly ridiculous to even allude to, let me remind you that both MapleStory 2 and Moonlight Blade, two MMORPGs, did get the unlikely Battle Royale mode. We'll see what the future holds for Lost Ark.
This is only a short piece focusing on the more important points that the Lost Ark open beta is bringing, but Smilegate is already working on four new classes (there are 12 available right now), new islands and additional quests.
Lost Ark isn't a sandbox open world MMORPG, instead being more of a theme park MMO – the kind where you go along for the ride, there is always a lot to see and do, but not much in the way of choices with memorable consequences. But it sure is one hell of an exciting journey, with a wonderful world to explore and a sailing system that has some unexpected depth to it.
While you may show some worries when you realize that Lost Ark runs on the Unreal Engine 3, a quick look at some closed beta gameplay should be enough to dispel those fears. Smilegate has tweaked the engine in many ways so that it remains relevant in a day and age when the Unreal Engine 4 seems to support every other game, from Fortnite to Sea of Thieves. But the best news of all is that according to general player feedback, Lost Ark's optimization is already top-notch, with no signs of frame rate drops, even in highly populated areas.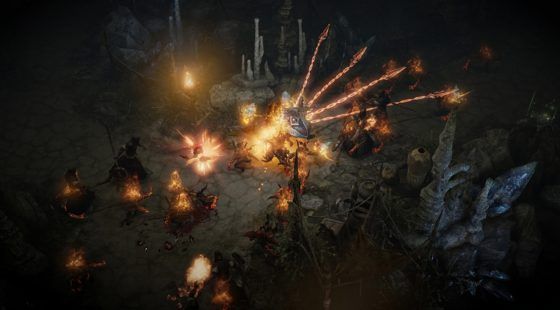 The business model is one of the things that can't go unnoticed. Lost Ark is going to be free-to-play – in Korea, at least. You can purchase some things in the cash shop such as mounts, costumes, items for housing decoration and others for convenience (pets, storage expansion and more). There is the option to purchase gear to level up faster, but before you begin shouting "pay-to-win!" you should know that you can't acquire high-end gear from the shop. Is it still pay-to-win? You decide.
This is all fine and dandy, but most of you aren't living in South Korea and are left scratching your heads, wondering when you can play an English release of Lost Ark. According to Smilegate, the plan is to focus on existing markets first – which translates into Korea and possibly China for now – and then work on the global market. You can rest assured, however; Lost Ark is absolutely, positively, unquestionably coming to North America and Europe sooner or later, as there are too many details hinting at it.
For one, Smilegate representatives have already hinted at their desire to release Lost Ark globally, going as far as mentioning an international release as soon as the game service is stable enough in Korea. But the more interesting piece of info comes from the closed beta client, which includes a very telling "English (US)" folder. If that is no indication of the desire to release Lost Ark in western territories, then I don't know what is.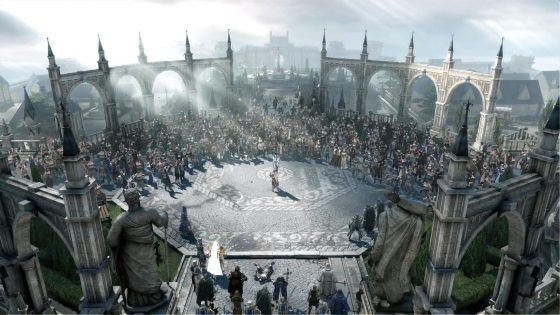 2019 is going to be a crucial year for Lost Ark. The first few months after the Korean release will be revealing of the true potential of this highly anticipated MMORPG, and Smilegate will have to make good on its promises to deliver quality content at regular intervals. With a political crisis leading to a China ban on new licenses for video games created in South Korea, there is some uncertainty about the fate of Tencent's Lost Ark release. Some are saying that Lost Ark already has a license, so it won't be affected by this ban, while others are convinced that this decision will represent a significant hurdle for Lost Ark's Chinese release. Truth is, we haven't heard much about China's Lost Ark for over a year, so it's not looking good.
Hopefully, by early 2019 we should finally get some official news on English localization, as I doubt that the Korean studio will back up on its ambitious plans for a global release. If Lost Ark is a huge success in South Korea – and everything points to that, including the huge investment that it represents for Smilegate – then it's very likely that we may get this game sooner than expected, just as it happened with Black Desert Online. We can only hope.