The devs of Breakaway have been very busy these past few weeks if a recent Breakaway update post is anything to go by. Not only have the members of the roster undergone a complete redesign, but a broad variety of gameplay changes have been introduced as a result of player feedback during the game's alpha testing.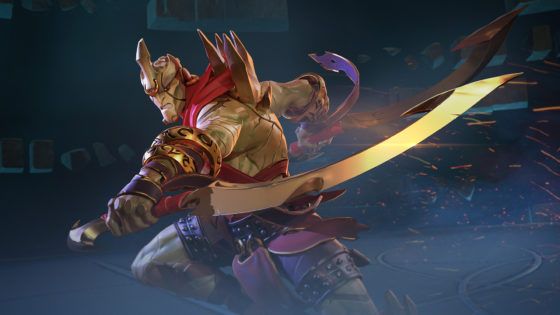 What you're looking at above is the reimagined Spartacus, who is now known as Argus. Similarly dramatic changes have been made to Morgan Le Fey and Anne Bonny, who are now known as the sorceress Korryn and the sniper Kyra respectively. The roster has also added three new characters in the form of the Sun Priestess Alora, the Shadow Huntress Jarra, and Thorgrim the Conqueror.
Major changes have also been applied to the game of Breakaway itself as well. Breakaway now features improved movement with the ability to fire off attacks while maneuvering, improving each character's control. Abilities can now be set to either double-tap, press-release, or smart-cast in order to make the ranges for skills clearer.
Other adjustments include Gold earning increases for kills and assists, changes to several social features, a Relic Running Attribute system that lets players choose a unique empowerment when their character holds the Relic item, and changes to Buildables that makes them harder to kill and grant less Gold when destroyed among other tweaks.
Dates for the next alpha test are currently not available at this time, but you can take a look at everything that's changed on the official site.
Our Thoughts
Needless to say, Breakaway is looking pretty much like a new game. We're glad to see the developers receiving solid feedback and iterating on that input. Here's hoping we get to learn more about Breakaway in the coming days!
Source: official site
Articles Related to Breakaway
The MMO Alpha and Beta List: May 26, 2017
Louis Castle Joins Amazon Games as Studio Head
Amazon Game Studios Lineup Includes a Sandbox MMO