The folks at Soulbound Studios have apparently been very busy according to the newest Chronicles of Elyria dev blog. As the team prepares its next playable demo for PAX East, work on the female character model and several other features has also finished.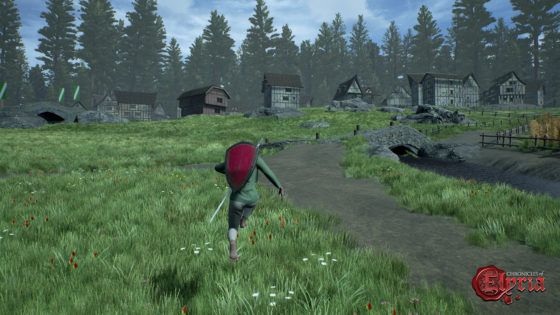 The female rig is in place and fully operational according to the post, including combat animations, movement animations, and customization options. The devs have also put together new combat styles involving a longsword and shield, and have also introduced some parkour movement options as displayed in a preview animation.
In order to make characters feel more alive, clothes and armor will also get tarnished or dirty over time, collecting dirt on cloth or losing luster on armor. Failing to care for your equipment isn't the only thing planned, as an avatar's activity level will also have an effect. "if you eat a lot and exercise little, you'll get fat. If you do a lot of physical labor, you'll build muscle," reads the post.
Chronicles of Elyria will offer up a playable demo at this year's PAX East of the Silver Run Mines region, which will then release later as part of the offline Prologue. More information about everything in the works, including pictures of amusing glitches, can be read on the official site.
Our Thoughts
It looks like Chronicles of Elyria is moving at a solid pace! While features like the ability to get fat or clothes to get dirty seem extraneous, they can add that extra layer of depth and immersion to an MMO. Naturally, we're more intrigued by the alluded-to new combat styles and parkour movement. Hopefully, we'll see some of that in action soon!
Your Thoughts
How do you feel about the work done on Chronicles of Elyria? Do you think that clothes and armor getting dirty is a useless feature or a good idea? What new developments do you hope to see from this game? Let us know in the comments.
Source: official site
Articles Related to Chronicles of Elyria
Chronicles of Elyria Seeks Additional Funding to Complete Project
Chronicles of Elyria Titan's Steppe Video Posted
Chronicles of Elyria Prepares for Meaningful Player Interaction