If you're a super fan of the recent story based, permadeath totting Kickstarter MMO Chronicles of Elyria, Kickstarter Update #34 must feel like Christmas day. While the update showing the character creation wizard is nice enough, it's overshadowed by several new announcements: Prologue: The Awakening, Kingdoms of Elyria, and ElyriaMUD .
First is the Chronicles of Elyria Prologue: The Awakening offline single player game for alpha level backers and "high influencers." Set about five years before the game's Exposition phase, where early backers get a three month head start on the rest of the player base, the game will be exposing players to early versions of the MMO's character creator, world interaction system, survival system, crime and punishment systems, life cycle, and more. Don't worry though, as all backers will eventually get their hands on it.
Next is Kingdoms of Elyria, a kind of web portal that allows exposition players and high ranking backers to essentially test the game's underlying systems. The details are still sketchy, but we're told we'll be able to declare wars, research, and form alliances, among other social interactions, all in character. That means if you backed at the Baron level and choose the name "BlackBear," family BlackBear will be in KoE and able to impact the game world, set about 90 years before the game's exposition.
That may sound boring to some people, but as a little added incentive, everything that happens in KoE will impact ElyriaMUD, a MUD based on the same game world which is, once again, testing some of the game's underlying systems. Like most MUDs, the game will be text based, but the events of the MUD will be shared in KoE, meaning if you kill a lord in the MUD, she'll die in KoE as well, which will affect the game's politics or "dance of dynasties." That's three ways players will be able to interact with the game in a meaningful, developer guided manner before the game is released.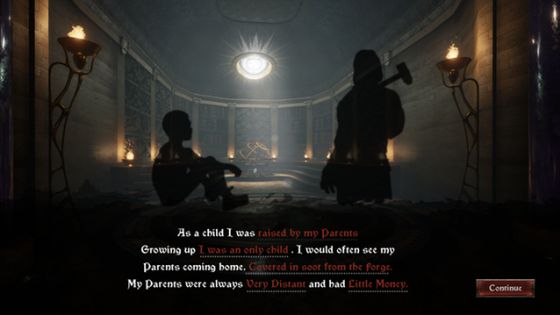 Our Thoughts
There are a lot of advantages to what SoulBound Studios is doing. Not only are they getting free beta testing for multiple systems while feeding scraps to hungry fans, but they're giving ultra fans something to savor during development. It may also be good marketing, as the MUD in particular should catch the eye of the game's target audience, the more experienced MMO vets from long ago.
It's a two edged sword though, as the MUD may seem dated and uninteresting. High level investors may feel pressured to join in at all stages, but if ElyriaMUD or KoE feels more like a job than a privileged, they may not stick with the game till launch. We see a lot of Early Access games become very popular at first, but some launch with lower numbers at release because the first impression was poor.
As a low level backer and someone who experienced a bit of the MUD/ICQ days, I have to say that there's a reason I've moved on from both. The single player experience sounds interesting, but I truthfully didn't back a single player game. The difference between a single player game and an MMO are vast, and what works in one may not work at all in the other. It may be cool to see the systems in isolation, but as a backer, my biggest concern isn't if the team can pull off their features, it's that they can pull off their features in an MMO.
Source: Kickstarter Update #34
Related:
Chronicles of Elyria
,
elyriaMUD
,
Kickstarter
,
Kingdoms of Elyria
,
MUD
,
Permadeath
,
Single Player
,
Soulbound studios
,
web portal