Can you believe we're already a month into 2018? Seems like the perfect chance to take one last look back at 2017. Specifically, we're looking at money and how well individual games and the industry as a whole did. We've got the top games from Steam and an incredibly detailed report from SuperData. So let's dive into the 2017 Online Games Financial Review.
Steam Best of 2017
Steam released very vaguely defined charts for five different categories looking back at 2017. Without giving any specific numbers, they lump games into groups that can tell us which performed the best.
Top VR by Revenue
The VR category was listed by medals with platinum at the top. 12 games made this category including Fallout 4 VR, Job Simulator, and Superhot VR.
Best Early Access Grads
It's no surprise to hear that PUBG is one of the 12 best performing games that left Early Access. It's also in the platinum category with ARK: Survival Evolved, Battlerite, Divinity Original Sin II, and Slime Rancher. Of all these titles only one of them is free to play, that's Battlerite. Everspace is the only VR title to make it into the Platinum category.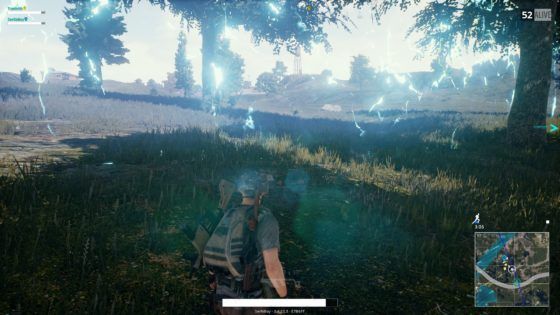 New Releases Each Month
Steam broke new releases down by month, giving us the best as measured by revenue. Only listing the online/multiplayer ones below.
January: Conan Exiles, Avorion
February: Blackwake, Golf It, The Wild Eight, For Honor, theHunter: Call of the Wild
March: Day of Infamy
April: UEBS
May: Star Trek Bridge Crew, Black Desert Online, Friday the 13th
July: Citadel Forged with Fire, Dark and Light, Foxhole, Next Day: Survival
August: Absolver, Robocraft
September: Total War: Warhammer II, Holdfast: Nations at War
November: World of Warships, Call of Duty: WWII
December: YLands, OrbusVR, PUBG
Top Sellers
The top games by gross revenue for the year includes quite a few titles we cover here at MMOGames. Grand Theft Auto V, PUBG, Warframe, H1Z1, Ark: Survival Evolved, Rocket League, Dota 2, CSGO, and Rainbow Six Siege are all in the Platinum category. Other bestsellers include FFXIV, Smite, Paladins, The Division, and The Elder Scrolls Online.
Most Played
Finally, there's the Most Played which is, to me at least, the most interesting category of them all. These are the games with the highest peak simultaneous players in 2017.
Over 100,000 Simultaneous Players: Warframe, PUBG, ARK: Survival Evolved, CSGO, Dota 2, Rainbow Six Siege, Grand Theft Auto V, and H1Z1. The only game to make that list that isn't multiplayer is Payday 2 which does allow Co-op.
50,000-100,000: Path of Exile, Rocket League, Conan Exiles, Rust, Arma III, Paladins
25,000-50,0000: Dead by Daylight, The Division, Total War: Warhammer, Unturned, Counter-Strike, 7 Days to Die, Black Desert Online, Battlerite, Elder Scrolls Online, For Honor, FFXIV
15,000-25,000: No Man's Sky, Call of Duty WWII, Absolver, Smite, Shadowverse, Friday the 13th The Game, The Forest, World of Tanks Blitz, War Thunder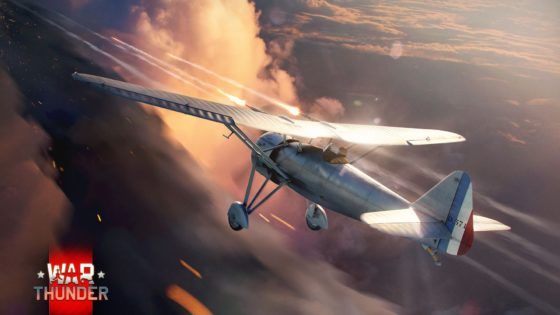 What does all of this mean? Not a whole lot really. It gives us a vague idea that these particular games on Steam are doing well, or at least were at one point in the year. If you want to read the full lists check them out on Steam's Best of 2017.
Kickstarter Video Games Raises $17.5 million in 2017
Unfortunately, this number isn't broken down into specific types of games, but we know that on the whole there weren't many MMOs on Kickstarter this year. Though 2017 was also the year we saw Ashes of Creation become the most funded MMORPG on Kickstarter of all time. Shadow's Kiss also had quite a successful Kickstarter campaign but generally, it seems that Kickstarted MMOs are on the decline. Perhaps because there hasn't yet been a big successful launch.
Star Citizen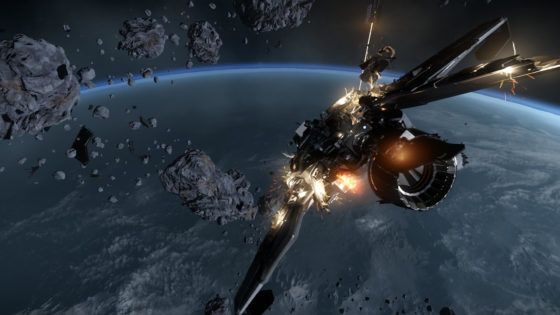 Speaking of big successful launches, Star Citizen was the clear winner for Crowdfunding in 2017. Star Citizen, on its own, raised $34.91 million in 2017. That's more than double all video games on Kickstarter last year. However, it is down from recent years. In 2016 they raised $36.11m and in 2015 they raised $35.9m. With that kind of decline, they could keep raising funds and not drop below $1 million until 2046. Who knows, by then the game may have finally released.
Source: Polygon
SuperData
Superdata have released their year in review report and it is fascinating! One in three people on the planet play free to play games on PC and mobile platforms, that's 2.5 billion people. Digital games made $100.5 billion dollars in 2017. $59.2 of that was from mobile games, $33 from PC games, and $8.3 from consoles. Meanwhile, eSports generated $756 million last year and it is projected to breach the 1 billion mark in 2018. Gaming video content brought in $3.2 billion. The most noteworthy thing to look at is the $14 billion leap in mobile game spending from 2016. SuperData credits Asian publishers with this jump thanks to games like Arena of Valor and Fantasy Westward Journey. In fact, these two titles were the top earners in mobile games, bringing in $1.9B and $1.5B respectively. Other titles on the top 10 include Clash of Clans (at 5), Lineage 2: Revolution (7), and Pokemon Go at number 9 with $890 million.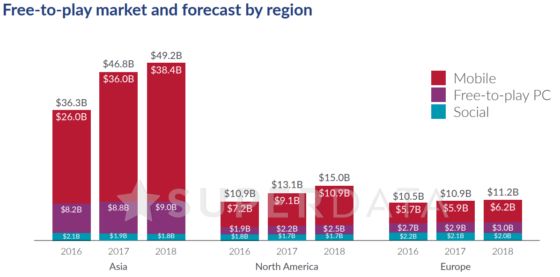 Free to play titles account for 69% of the PC's $33B market. League of Legends was at the top of that list bringing in $2.1B in revenue. Dungeon Fighter Online and CrossFire both also brought in over 1 billion dollars. Other games on the list include World of Tanks, Dota 2, Roblox, Maplestory, Hearthstone, Blade & Soul, and FIFA Online 3.
I found the chart looking at the premium PC market to be particularly interesting. With Eastern audiences, it's very clear that mobile is king. We can also see that reflected in how many mobile games are coming out.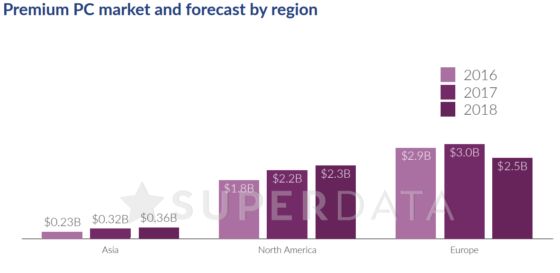 PlayerUnknown's Battlegrounds brought in 12% of all of premium PC's revenue. However, the biggest surprise on the list of the top revenue had to be Guild Wars 2 which brought in $87 million, putting it at number 8. Fantastic for a game that's 5 years old now. It's also interesting to note that most of the games on the list are multiplayer.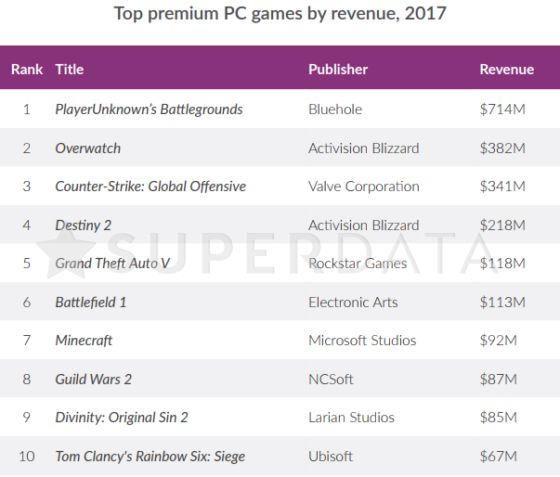 Twitch is dominating gaming video content, something that we already knew, but it is a bit of a surprise to see that 54% of all gaming video content revenue comes from Twitch. Youtube accounts for just 22%. That's less revenue than the Other category. Though with all the demonetization and poor support is it really any wonder that Youtube struggles to bring in the revenue?
Skipping through their report a bit, the final interesting thing of note is that Augmented Reality saw more investment than Virtual Reality in 2017, despite the fact that headset sales are higher than they've ever been. In all honesty, it looks like the technology is just too expensive for most people and so VR hasn't had the success it was projected to have a couple of years ago. Bigger companies seem to be moving on from VR, leaving it a playground for smaller studios and indies.
Related:
Business
,
Column
,
Financials
,
Industry
,
MMO
,
MMORPG
,
SuperData