There is no denying that Guild Wars 2 has some fantastic music. The original soundtrack was created by the incredibly talented Jeremy Soule. Heart of Thorns' music was done by Lena Chappelle and Maclaine Diemer, but the music doesn't stop there. Fans and music lovers have transformed the music made for Guild Wars 2 players and transformed them into something entirely new. In this week's Listed we're taking a look at just a few of the amazing Guild Wars 2 remixes made through the years.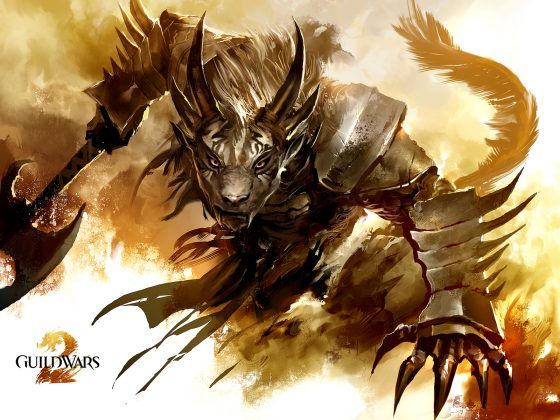 Fear Not This Night
You might expect the theme song to be the most covered song from a game, and for most games this is the case. But Guild Wars 2 is the exception. In fact, it is the end credits song Fear Not This Night that is the most popular, and with good reason. It's a beautiful, very approachable song, making it more attractive to those who haven't played the game. Those who have playing Guild Wars 2 understand the emotion behind the song and why it is. It didn't seem right just picking one cover of this song when there are so many out there. For that reason, I picked two of my favorites.
The Original
Epic Rock Cover by LittleVMills
At the start, it sounds like just a simple guitar cover of Fear Not This Night, but just when you start getting a little bit bored the epic rock comes out and blows your socks off. LittleV is well known on Youtube for his badass covers of music from games with a little bit of Christmas music tossed in there too.
Techno Remix
Who doesn't love a little bit of techno from time to time? This version really couldn't be more different from LittleV's but it is still just so awesome. It was originally released before Guild Wars 2 came out and based on the Gamescom 2011 trailer, which explains why it's a little on the short side. The full song hadn't been released yet.
Guild Wars 2 Theme
Some Guild Wars 2 players may not realize this but the Guild Wars 2 theme is actually itself a remake of the theme from Guild Wars. For Guild Wars 2 though it got an injection of epic and became quite a beloved tune, one you can hear throughout Tyria to this day.
Guild Wars Original
Guild Wars 2 Original
Chiptune by OfficialWillMorris
This entire 7-minute long piece includes the main theme plus the themes of all the races. But personal favorite is the main theme. Not only did they do an awesome job of converting it to an 8-bit sound they also made it a little bit more badass which makes it differ from the next entry quite a bit.
Super Adventure Box: Main Theme
If you're a Guild Wars 2 fan you had to know the SAB would make it on this list. Yes, it is a remix from ArenaNet themselves, but it is so well done it had to be included. For a music nerd like me, this is the best part of the Super Adventure Box, and I LOVE the SAB.
Heart of Thorns Theme
There was really only one Guild Wars 2 theme that has been on the list yet so of course, we had to include the theme from Heart of Thorns! Players have heard this every time they've logged in for the last 2 years and the original is an epic piece of music.
Heart of Thorns Main Theme Original
Mordrem Stomp, Metal Remix by DusK
How do you make an already epic song even more epic? Make it metal. DusK has done quite a few Guild Wars 2 remixes but this one might just be the best. I'm already hoping that they plan on doing a remix for Path of Fire as well.
The Tengu Wall
At this point, we start really diving into the less well-known pieces of music from Guild Wars 2. Fans will be familiar with them, but it's unlikely that anyone else will. To start us off we've got The Tengu Wall.
The Tengu Wall Original
Wontolla Remix
Wontolla's Remix is a little bit slow to build but by 1:30 you've got yourself a beautiful, upbeat bit of smooth dubstep, Guild Wars 2 style. It doesn't really work with the Tengu very well, not that we know much about them really, but if there were some sort of battle with the Tengu this would be the perfect theme for it.
The Charr Triumphant
Each of the races has a theme, the Charr theme is, as you might expect, filled with deep sounds and has a sound that screams war. Perfect for the badasses that Charr are.
The Charr Triumphant Original
Metal Remix by Matthew Weber
One look at the Black Citadel and a metal remix of the Charr's theme becomes a pretty obvious choice. They are by far the most metal of the races. The art that goes along with the music is also amazing. While Charr may be the least played race in Guild Wars 2, there is no denying they're the most hardcore.
The Great Toymaker – Wintersday Theme
Ever since first hearing the Wintersday Theme The Great Toymaker it has taken over as one of my favorite Christmas songs. It really isn't Christmas without hearing The Great Toymaker at least once. And it certainly wouldn't be a Guild Wars 2 Christmas without it.
The Great Toymaker Original
Metal/Orchestral Remix by DusK
I don't know what it is about metal but this is a fun twist on The Great Toymaker. And it's another great remix by DusK, one of many you can find on Youtube.
Faren's Flier
Oh, Faren. I don't know if I love you or hate you. It's a little bit of both. In Verdant Brink and Noble's Folly, you can hear Faren's Flier, a playful little tune that absolutely doesn't belong in the jungle. Which is why it fits so perfectly.
Faren's Flier Original
Faren's Traphouse by Isaac Eaton
We finally get to what inspired this entire article! Faren's Traphouse is a fantastic twist on a piece that I have heard over and over and over, usually standing in Noble's Folly. I had honestly got to the point where I stopped hearing Faren's Flier, but this has made me fall in love with it all over again. To make it even better, Reddit User MithranArkanere made lyrics! I can already hear Faren singing them.
♪Board our Airship, let us have some fun!
Come with Faren to war!♪
♪Faren's Flyer to Maguuma,
What could go wrong? Jump in!♪

(interlude)

♪The Pact Forces are ready to go!
Come with Faren to war!♪
♪Faren's Flyer to Maguuma,
Mordremoth is done for!♪
Related:
Column
,
Guild Wars 2
,
Listed
,
MMORPG
,
Music