Smite is finally coming to the PS4. It will be entering Closed Beta early in March and is now in Alpha. If you don't yet have access you can pick up a key in our giveaways for NA players and EU players.
The Division's Open Beta weekend was a booming success seeing more than 6 million players download and play the game. The servers are now closed to prepare for launch on March 8th. Meanwhile, you can tide yourself over with the End of Society simulator released just a few days ago.
Daum discussed their plans for Black Desert Online's future this week following the end of the Closed Beta. The pre-orders for the MMORPG closed yesterday, but if you did get a pack, you can pre-load the game for the headstart from tomorrow.
Project Genom announced that they will be entering Steam Early Access in May with a bunch of new features not previously a part of the sci-fi MMOs Alpha test.
The second Closed Beta for mobile game MU: Origin will start March 4th for Android and iOS, running for 3 days.
Das Tal will be holding a massive, global Alpha playtest in spring. They plan to host the event for a full 30 days through a large number of game servers, able to host thousands of players. You can sign-up for this test now, but be quick!
And there's an interesting new game on Kickstarter this week called Kaidan. A "community driven asymmetrical multiplayer horror game where players create and share horror stories." Kaidan has the potential to be a truly creative and terrifying multiplayer horror game, from the sounds of the presentation.
Notice anything missing? Get in touch and we'll take a look!
Find links to everything new to Beta Data this week and much more in the list below. Look for this icon: 

 to see everything we added this week.
Pre-Alpha and Alpha
Games in Pre-Alpha and Alpha are games in early testing, and are often under an NDA and require keys to access.
Early Access
Games that are in Early Access tend to require a purchase and/or access to Steam. Anybody can access games in Early Access but builds tends to be unstable as they are still under development.
Closed Beta
MMOs in Closed Beta are those which require a key to participate in, typically for a limited number of people and occurring prior to an Open Beta testing phase.
Open Beta
Open Beta is the phase in which anybody can take part at no cost, with no key required. These days, Open Beta tests tend to be a soft launch with no wipe.
Crowdfunding
MMO and MOBA related crowdfunding events taking place through Kickstarter, IndieGoGo, or open donations through a game's website.
Giveaways
We often have keys and items to give away that either offer access to a game in testing, or grant rewards in games still in testing. These will be listed here.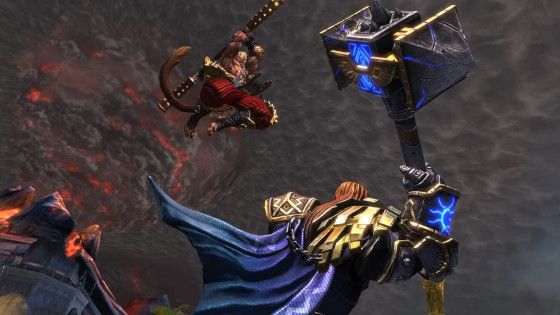 Related:
Alpha
,
Beta
,
Beta Data
,
Column
,
Crowdfunding
,
Early Access
,
Event (In Game)
,
Giveaway
,
Kickstarter
,
News