This week, Beta Data says farewell to Black Desert Online as it launched yesterday following a head start earlier in the week. It feels as though this game has been on our list since Beta Data's inception so we're wiping away a prideful tear and wishing it well. We're also enjoying seeing everybody enjoying themselves so much!
We also finally got a launch date for No Man's Sky! Launching June 21st, 2016, the long awaiting space exploration game will be priced at $59.99 on PC and PS4 and will launch as a full game.
Another game that finally got some news this week is AdventureQuest 3D, a fantasy MMORPG announced to be launching in October following a July Open Beta through Steam, Android, and iOS.
If you're waiting for Paragon, that gorgeous MOBA from Epic Games, you'll be pleased to hear that Early Access is due to begin March 18th with three available packs to choose from. If you'd rather wait, there will be open testing in the summer.
World of Warcraft's Legion Alpha now has a PvP test realm which allows for players to check out how that side of the game works with a level 110 character and a fully upgraded artifact intended for PvP only. Feral Druids have also been added along with a multitude of changes across the board.
If that's not enough for you, ASTA entered Open Beta on March 2nd and is offering bonus rewards to anybody who goes ahead and checks the MMORPG out during the first few weeks. At time of writing, we also have some rather generous gift packs which you should definitely pick up if you're heading in-game.
Smite's PS4 Alpha transitioned into a Closed Beta phase, opening up all game modes and Season 3 content to everybody with access. And yes, our EU and NA Alpha keys will grant you access to the Closed Beta as well. This also marks the start of Founder's Pack sales, so if you want to unlock all gods for your account (current and future), you may want to check those out.
You may also be interested in Trinium Wars, a sci-fi MMORPG set 200 years after the end of World War III. The game entered Early Access on Steam earlier this week and all proceeds will go towards funding the development of even more features.
Darkfall is getting a new reboot from Big Picture Games. Darkfall: Rise of Agon hearkens back to the original game, bringing back open world full loot PvP, a player driven economy, skill based progression, empire building… Basically Rise of Agon aims to be awesome, and you can already sign up for Alpha.
And the latest online card game to come across our desks is Star Crusade. This CCG comes with a sci-fi theme and some interesting features, to boot, with more on the way, including social sharing! It aims to be a community focused CCG which is definitely a space to be filled.
Notice anything missing? Get in touch and we'll take a look!
Find links to everything new to Beta Data this week and much more in the list below. Look for this icon: 

 to see everything we added this week.
Pre-Alpha and Alpha
Games in Pre-Alpha and Alpha are games in early testing, and are often under an NDA and require keys to access.
Early Access
Games that are in Early Access tend to require a purchase and/or access to Steam. Anybody can access games in Early Access but builds tends to be unstable as they are still under development.
Closed Beta
MMOs in Closed Beta are those which require a key to participate in, typically for a limited number of people and occurring prior to an Open Beta testing phase.
Open Beta
Open Beta is the phase in which anybody can take part at no cost, with no key required. These days, Open Beta tests tend to be a soft launch with no wipe.
Crowdfunding
MMO and MOBA related crowdfunding events taking place through Kickstarter, IndieGoGo, or open donations through a game's website.
Giveaways
We often have keys and items to give away that either offer access to a game in testing, or grant rewards in games still in testing. These will be listed here.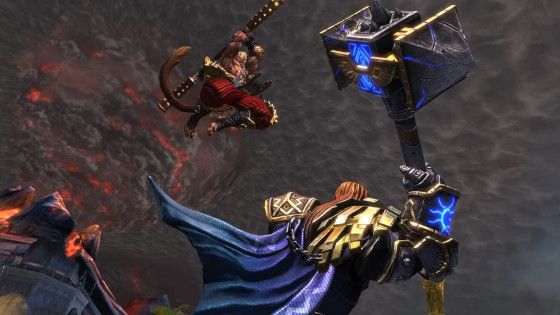 Related:
Alpha
,
Beta
,
Beta Data
,
Column
,
Crowdfunding
,
Early Access
,
Event (In Game)
,
Giveaway
,
Kickstarter
,
News