E3 2017 day 2 was significantly busier for me personally, but the long lines to get into the actual event seemed to have diminished quite a bit. There were, however, extended waits at the major booths like Destiny 2 and Nintendo, while many of the smaller games could be accessed within a couple of minutes. Although I'm not hugely against the admittance of the public into E3, I'm going to guess some general attendees regretted their purchase after waiting all day to only play a couple of games. There simply isn't a lot for general attendees to do besides wait in line for games when compared with the more public events like PAX.
My appointments on Wednesday consisted of Spellforce 3, Ark: Survival Evolved, Total War: Warhammer II, Total War: Arena, Durango, and Logitech. If it isn't blatantly obvious yet, there's a definite lack of true MMORPGs this year at E3, but each of these games does at least have some focus on multiplayer. With that being said, let's dive into the games and see what each one has to offer.
Complete Warfare
This was inadvertently the day of real-time strategy games. The RTS genre is one that I personally feel could use a lot more love from game studios and it was refreshing to get my hands on multiple titles this year at E3. The first of the lot was Spellforce 3 from THQ Nordic, which immediately looked promising.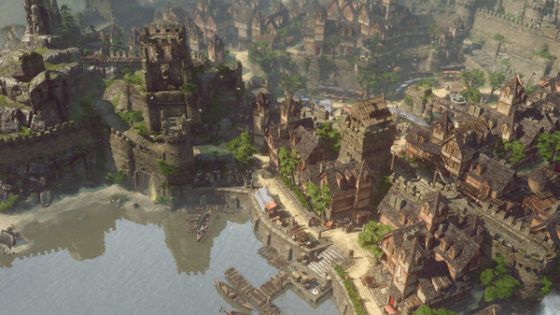 Spellforce 3 is shaping up to be a beautiful game that combines RPG and RTS mechanics. As players travel through the massive campaign world, estimated to be at least 30 hours without completing all the side quests, they can gather a small army of heroes with a maximum of four in a party at any given time. At first, the game has a Warcraft III feeling by allowing players to control both powerful heroes and build an army, but there are a few key differences.
One of the most important differences is that hero progression is based on the campaign progression and not reset after each individual mission. That means characters can gain new abilities, weapons, and armor that persist from one mission to the next. There is also a lot of customization for each hero, as far as skill builds go. Additionally, base building is slightly more complex as workers need to be assigned to each structure and resources must be physically delivered (by NPC units) to complete work orders. This means that raw resources like wood or iron are not magically 'stored' in an overhead UI and actually exist in your various buildings during the game.
There are also a variety of multiplayer options including co-op campaign mode and player vs player. The roles of individual players can be specified and broken down before a campaign or match begins. One of the more interesting options for co-op (or versus) play is to allow one player to control all of the heroes while the other focuses on building bases. Teams can choose to split the roles more evenly if they want, or one player can take on most of the word load. Overall, the campaign in Spellforce 3 looks like a great cooperative experience while the online matches can provide a form of competitive RTS fun.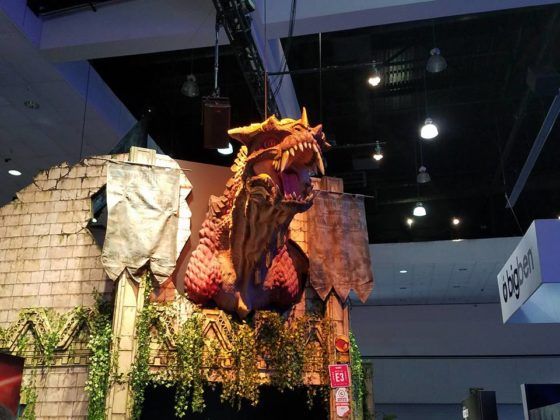 Next, it was time to take the RTS genre in a completely different direction with massive battles in Total War: Warhammer II and Total War: Arena. Where Spellforce 3 is all about managing heroes, spells, and small armies, Total War is focused on gigantic armies clashing with one another and Total War: Warhammer II did not fail on that front.
Everything about Total War: Warhammer II felt massive in scope from the larger-than-life generals to the epic battlefields. In the demonstration scenario, we faced off against high elves as the lizardmen. There was a nice little (actually quite long) intro that explained the two factions, their heroes, and various locations in the game. Additionally, there was a quick cutscene before the battle in order to explain the importance of the ruins and why the conflict was taking place.
After that, it was beautiful, organized chaos. I marched my hordes of spear-wielding lizardmen, lead by the ferocious Kroq-Gar and his Carnasaur mount, directly into the front lines of the high elves. While my hero was making quick work of the smaller enemies, the rest of my troops were slowly getting picked off by the archers on the high ground. Just when I thought the battle might be lost, the rest of my army arrived from the forest. I had magic casters, mounted archers, and of course more front-line cannon fodder.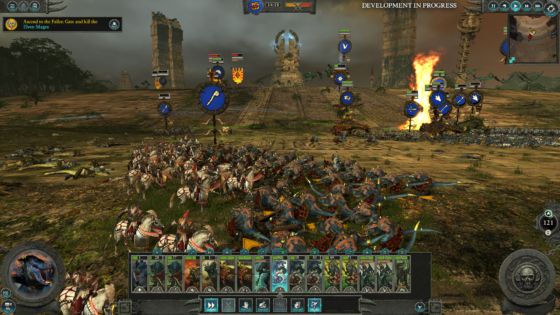 However, I wasn't the only one with backup. The high elves managed to muster up a powerful Sun Dragon that did a fair amount of damage before I brought it down. Eventually, though, my overwhelming numbers allowed me to take complete control of the area and win through attrition.
With all the chaos going on, it's easy to miss the beauty in Total War: Warhammer II. It's more tactically advantageous to stay scrolled out all of the way during the heat of combat, but the detail given to hundreds of elves and lizardmen locked in combat is fantastically done. While we were just given a small taste of the game at E3, the full game will be even larger and more diverse mechanically than the original. This is definitely one game to keep an eye on if you're a Total War or Warhammer fan.
Moving on to the more multiplayer-oriented Total War: Arena brought an interesting change of pace. Originally available in an alpha state on Steam, Total War: Arena shifted to a new publisher (Wargaming) awhile back and was removed from public access. It's now been tweaked in a variety of ways with a closed beta coming soon.
If you've played Total War: Arena before, the core of the game hasn't changed, but there have been updates to combat, morale, progression, and a few other gameplay mechanics. Instead of commanding thousands of troops on the battlefield, each player has control of three squads and a leader. They're then joined by nine other players (10v10) to create the epic-scale battles that we're used to in the Total War series.
Although it can be fun if your team is organized, the gameplay does suffer if there isn't sufficient communication and there aren't a lot of in-game directions or suggestions. This can lead to 10 tiny armies each acting on their own, which can easily get picked off by a more competent team of opponents.  During my match, I commanded three squads of infantry units and charged a formation of archers hiding in the forest. I didn't receive any assistance from my team and was eventually overwhelmed as the enemy backup arrived.
This could have been my fault or my allies' fault, but the key point is that it stopped being fun once I was surrounded and couldn't do anything other than watch my troops die. In its current state, Total War: Arena definitely feels like it would appeal more to groups of friends, or guilds, rather than individual players looking for a quick Total War fix.
Dinosaur Time
While being on a completely different scale, the next two games had a very similar feeling to them: Ark and Durango. Despite being labeled as an Early Access game for the last couple of years, Ark is an incredibly popular (and lucrative) survival game that pretty much everyone has at least heard of by this point.
Well, it's finally getting an official release date (August 8) and some cool new DLC in the form of a player created map called Ragnarok. There will also be two collector's editions. One includes a season pass for any expansion packs and the other has some physical goodies, such as a necklace, leather-bound dinosaur dossier, cloth map, and soundtrack.
The new Ragnarok map is being created with the assistance of the Wildcard Sponsored Mod Program, where the company has actually hired players who excelled with the Ark dev kit. Ragnarok is still in development, but it's already twice the size of the original island, will feature unique creatures, and has a series of dungeons for players to explore.
With versions on the Xbox, PlayStation, and PC, the only platforms missing are Nintendo and mobile. Well, Nexon is creating its own Ark-like survival MMO for mobile devices called Durango. I already know what you're all thinking, but this one definitely seems different from all of the other mobile 'MMOs.'
Durango will put a huge emphasis on player interactions and won't be a simple grinder with auto-combat. While I only had the chance to play the introduction level, before the actual MMO begins, it appears to use semi-real-time combat (similar to RuneScape) and shows players being transported from present time to a more primitive era.
There are a few aspects of Durango that could really separate it from the rest of the mobile MMO pack. The first is that worlds will be procedurally generated and stretch on indefinitely. Additionally, there won't be NPCs or pre-built towns so players must band together to survive. Players can attempt to survive on their own, but towns that make use of everyone's strengths will have a greater chance of thriving.
Finally, the creatures in the game won't simply be generated as a means to an end. Instead, dinosaurs will travel and interact with the world in a more realistic manner. It shouldn't be uncommon to see herds of smaller/weaker animals roaming around or huddled near a water source. As expected, the range of dangers will also be varied from easy game to raid style bosses like the Tyrannosaurus Rex.
We can expect to see Durango available in North America in Q4 2017.
Logitech Going All In With Wireless
Wireless peripherals have been a source of contention among many gamers and communities. Some players can't stand being tied down with cords and others swear that wireless mice aren't as responsive and always run out of battery at the worst moments.
Logitech seems to firmly believe that it has solved the biggest issues surrounding wireless devices. The first 'new' technology is actually something the company has been using in its mice for awhile and is now officially being called "Lightspeed." According to Logitech, its mice push a stronger wireless signal than competitors and have a 'frequency agility mechanism' that avoids interference.
In order to prove this, a wireless Logitech mouse was tested against a SteelSeries wireless mouse and a Razer DeathAdder Elite by hooking them up to a program that simultaneously measured click response rate. During the demonstration, the Logitech mouse greatly outperformed the SteelSeries wireless mouse and was about on par (5ms faster) with the wired Razer DeathAdder.
Solving the second problem was a bit more tricky and took nearly four years of development, according to senior product manager Chris Pate. What Logitech has essentially done with its Powerplay technology is develop a surface that will continuously charge the new Logitech G903 and G703. These mice can function like standard wireless mice on their own, but if used on the Powerplay surface they will never run out of battery life. As an added feature, they're also programmed to drain their battery to a certain point before recharging in order to preserve battery integrity.
There will obviously still be skeptics out there, but there are now fewer reasons to avoid switching to wireless.
Enjoying the announcements from E3 2017? Let us know what games you're most looking forward to in the comments below!
Related:
ARK: Survival Evolved
,
Article
,
Durango
,
E3 2017
,
Event (Real Life)
,
Logitech
,
Mobile
,
Multiplayer
,
RTS
,
Spellforce 3
,
Survival
,
Technology
,
Total War: Arena
,
Total War: Warhammer II