We're all waiting with great anticipation for June 20th, 2017 when we will be thrown into the realms of the new expansion for Final Fantasy XIV: Stormblood. With just under two months to go, I will be looking at my own preparations for the coming expansion along with some ideas how to spend some time in Eorzea if the main content of the game is feeling a little sparse.
Stormblood Benchmarking
During the Letter from the Producer LIVE Part XXXV on April 28th we got a very exciting glimpse into the future of Final Fantasy XIV. Just over an hour into the stream the announcement was made that the benchmark for Stormblood would be available to us, along with some confusion over an actual bench.

The benchmark, a hefty 2gb download, is designed to test whether your machine will be compatible with the Stormblood system requirements. Not only does it run a score for your machine, but it gives us a glimpse into the gameplay for both the Samurai and Red Mage classes. In addition to this we can see an array of new spell animations for various classes which can only lead us to speculate about what these could entail for their respective classes.
Download the Benchmark to experience it for yourself and make sure your machine is ready for Stormblood! You can also make sure all of your machines (and social media accounts) are ready for the expansion by decorating them with the amazing Fan Kits available from the Lodestone.
Housekeeping
Inventory management seems to be the bane of gamers across the globe. When I first arrived in Eorzea I was overjoyed with the inventory allowance and thought it was very generous indeed. Not only did we have 100 in slots in our base bags (4×25) and 25 slots for each gear item, but were given two free retainers with 175 slots each (7×25) and the seasonal outfit armoire. Players are also able to buy additional retainers from the Mog Station, however, with the real money cost of this, it's not an option for everyone.
Nearly two years later I am beginning to sympathize with those begging the folks at Square Enix for further inventory space. As time passes and I begin to unlock more and more classes/jobs, space begins to vanish very quickly indeed. There is a little breathing room on my second retainer, yet with the continual collection of gear and items it's beginning to get a little crowded in RetainerVille.
With the release of Stormblood we will be seeing expanded inventories. During the Live Letter it was announced that inventory space will increase to 35 items per slot in 4.0. In the meantime, it won't hurt in the slightest to have everything organized or removed beforehand. As a glamour hoarder I am very guilty of having far too many items that I just don't use, so it's time to sift through everything and make some decisions!

Another area to consider may be your residence, there's always time to turn your Final Fantasy playtime into The Sims and take this chance to redecorate your house or apartment.
Finding A Family
For those of us that aren't lone wolves, finding a home within the FFXIV community can be a game changing experience. Obviously, if you have a happy home already then this section will not apply to you. As mentioned in a previous article, my very first visit to Eorzea turned out quite badly, I found the game to be tedious and I didn't understand or experience the game as I see it now.

I attribute most of my complete turnaround to the community I was in. They were there to talk to, offer advice, companionship, and a lot of silliness. Although I did much of the content by myself, they were there when I needed them and gave me some of the happiest memories I've experienced in any game.
With the release of Stormblood I believe it's a great idea to be settled into a new home prior to the expansion. Come release, you may experience an influx of people returning suddenly solely due to the expansion release, so establishing a solid social environment before this would be easier by far because in doing this, you are forming social bonds with those who have endured the lull before the release of Stormblood and will more than likely remain for some time after. Just keep in mind what you would like to achieve by being part of a Free Company, be it raiding, social events, or leveling!
If you're unsure how to find an FC, the realm forums is a great place to start, and so is the in-game FC search tool. Failing that you can keep your eyes peeled around Mor Dhona, Idyllshire and the main cities for Free Company recruitment announcements.
The Gold Saucer
If you're stuck for things to do in-game maybe it's time to investigate the Gold Saucer, dust off the challenge log and collect yourself some MGP (Manderville Gold Saucer Points) or brush up on your Triple Triad skills. Alternatively, you could set up some Chocobo racing evenings and work on getting the best Chocobo pedigree around!

Basic Introduction
If you haven't unlocked the quest to visit the Gold Saucer already, you will be able to pick it up from the 'Well Heeled Youth' in Ul'dah so long as you have completed the 'Call of the Sea' [quest level 15] and are able to travel by airship between the cities. Once you undertake this quest you'll be directed to the airship landing and will be taken to the Gold Saucer. Upon arrival there will be a short quest chain to introduce you to the various areas and activities within the establishment. The Gold Saucer has its own currency called MGP which you can spend on the attractions, minions, mounts, glamour items, dances and much more.
Challenge Log
Unlocking your challenge log will gain you access to a list of content based objectives which will reward you with Gil, EXP, or even MGP. The objectives can not only give you direction but will help line the wallet for all those goodies!
Chocobo Racing
This will be one area I'll look into before Stormblood as it has been very sadly neglected. This is the Final Fantasy XIV version of Mario Kart. It's relatively enjoyable as a solo activity but really does come to life when played with friends, especially if you have a naughty saboteur within the group.
Verminion & Triple Triad
Lord of Verminion is the most recent addition to the Gold Saucer, yet for a 'mini-game' it can be rather complex and time-consuming. The best way I can describe it is a mix of Blizzard's World of Warcraft pet battles with an RTS approach. As I am in no way an expert on this I will be watching some YouTube videos and reading up on it using the Lodestone Guide.
Triple Triad is an incredibly fun way to spend some time in-game. It mirrors the original card game from Final Fantasy VIII. Within the Eorzean incarnation you can collect the cards from various sources, challenge NPCs or your friends and take part in tournaments. To learn more about Triple Triad, this website seems to have all you would ever need to know!
Hildibrand & Scholasticate Quests
If you've not yet experienced the wonder that is Hildibrand, now is the time to dive into that quest line! I've never before stared at my screen in such confusion and burst out laughing so many times during game content so far removed from the main story. If it's not for you, that's okay, but if you haven't taken a look yet you might be missing out on a real gem within the game.
This questline is so cleverly implemented, maintaining jovial content without being cringeworthy or clashing with the game style itself. Hildibrand really is a very special entity.
Upon completion, you gain some fancy gear plus the chance to win minions within the related trials.

Following the Hildibrand base content and patch quests for A Realm Reborn, the story continues into Heavensward and beyond, which I'm yet to do so I'm very excited to get started on this. I look forward to seeing what mysteries are in store for Hildibrand in Stormblood!
In conjunction with the completion of the ARR Hildibrand quests, you gain access to the Scholasticate quest line which begins in Ishgard. The Scholasticate quests don't quite have the same impact or humor of Hildibrand, yet hold their own as a relatively short enjoyable quest line. If you've ever wondered what the beautiful instanced library on the left as you enter the Ishgard Cathedral is for, you will soon find out! Upon completion of these quests you receive glamour items and a fancy 'spectacles' emote.

Leveling Alts & Class Quests
Since FFXIV allows your character to master all jobs it only seems appropriate that I use some time before Stormblood is released to expand my knowledge of the other classes. I've recently taken up fishing and without saying the obvious line, I'm absolutely loving it. Not only is it very relaxing but it's fun to have another log to fill up and the locations the Leves require you to fish in are so picturesque.

Class quests seem my Achilles heel, but I'm not really sure why. Those that I have completed so far have been very well made with the inclusion of some gorgeous and somewhat emotional cutscenes. Maybe there is a part of me that wants to batch them up so that I can experience them all in one go, yet the downside with that is that you can end up missing out on important abilities from the respective class. At least when Stormblood arrives, I will know that if I should want to undertake another leveling spree through Stormblood content, I will be up to date with the class quests!
Maybe there is a part of me that wants to batch them up so that I can experience them all in one go yet the downside with that is that you can end up missing out on important abilities from the respective class. At least when Stormblood arrives, I will know that if I should want to undertake another leveling spree through Stormblood content, I will be up to date with the class quests!
Palace of the Dead
If I'm having a day where I'm a little bit lost with what to do in-game, Palace of the Dead is always a good answer. Whether it's just jumping in there to level some of my lower classes, collecting the Hoards for chances on minions, or grouping with friends to try and get to the highest floor, there's always enjoyment to be had.

I have ventured up to floor 100 with two other friends on classes we knew nothing about, yet at floor 101 we were most cruelly bathed in fire and doom. We gained some valuable experience with our classes but unfortunately never made it past floor 101 because I lost all motivation to continue from floor 50 and finding time where four of us could run through seemed to be a challenge. However, this is one of my objectives to add to the pre-Stormblood list! I must complete Palace of the Dead and claim all the shiny, glowy weapons.
Memory Photo Album
Throughout our time in Eorzea many of us have changed shape in one way or another. Some content feels like it has faded into distant memory. If you find yourself in a spell of boredom, why not take a look at The Unending Journey which can be found in any inn room or your Free Company house (should you have one crafted). Here you can relive all of your past cutscenes with your character displayed in their current gear set. Unfortunately I equipped the wrong gear before viewing one of the more important cutscenes in the game, so I've ended up with screenshots where my head item is reindeer antlers (sad times).

However, before Stormblood is released I will be picking a couple of gear sets and going back into the cutscenes to create a small photo album and reliving some of the memories of my main story quests. By doing this I'll have a small reminder of the lore and where my character's feet have walked before I take steps into Stormblood territory.
Final Thoughts
There is of course so much more that can be done including the hunting logs, sightseeing logs, weddings, cosmetics, roulettes, minion/mount collecting and so on. Speaking for myself though, I know that I just don't have the time to do everything before June 20th!
If you feel like you have found all your glamours, achieved all the achievements, made all your money, tidied all your retainers, completed all the content and feel completely prepared for Stormblood then I suggest this:
Adopt a Lalafell Campaign

Your job as a completionist is to locate and nurture the cutest green leaf Lalafell you can find. Shower them with Poetics minions and take them under your wing. Once you have adopted your Lalafell, take a screenshot of the both of you together and tag me on Instagram (@novi.ffxiv) or Twitter (@Aeyvi) and I will feature some of them in a future post!
If you don't have a Lalafell to adopt, why not drop me a screenshot of your character in their 'ready for Stormblood' outfit? Also, don't forget about the FFXIV survey and Moogle Cap competition from last week's post!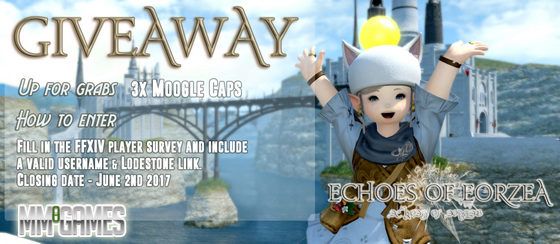 Next week I'll be writing about all things event based. Until then I wish you well for all your preparations for Stormblood!
Related:
Column
,
Echoes of Eorzea
,
Expansion
,
Final Fantasy XIV
,
MMORPG
,
Stormblood