Welcome back another lore based edition of Echoes of Eorzea on the eve of one of the most amorous days of the year, Valentione's Day, or as we better know it, Valentine's Day! This week we will be following up last week's article regarding this Final Fantasy XIV seasonal event. Part two of the Valentione's Day lore will be covering the years of 2015 through to 2018.  As with last week's article I have included a summary of the history of this seasonal event as this is a fairly important introduction to all of the related quests. Without further ado, we will jump straight in!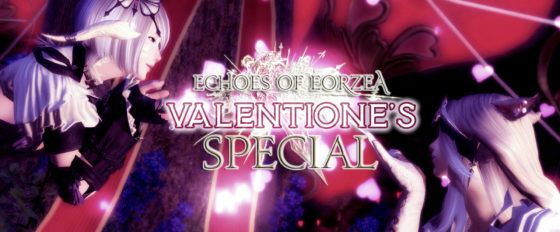 History of Valentione's Day
Valentione's Day was originally established to pay tribute to Countess Arabelle de Valentione of Ishgard—a remarkable woman who exhibited unparalleled courage in her quest for true love. In the present day, it has become an occasion for people to express feelings of love and gratitude to those most important in their lives. This is commonly done via the exchange of simple chocolate bon-bons crafted specially by the giver.
While in recent years there have been complaints that the true spirit of the day has been grossly perverted—now little more than a marketing ploy conjured up by the Culinarians' Guild and the Company of Eorzean Kukuru Growers to increase sales of their products—this does not take away from the fact that countless people across the realm use this tradition to bring happiness to others. And isn't that what the countess would have wanted?
Summary: Countess Arabelle de Valentione of Ishgard was a noblewoman who gave up her place and position to go on an arduous journey in search of love and to spread love to all others. In the years after the countess's passing, it became traditional for the Ishgardian people to emulate that same passion and bravery by bestowing a token of affection to the one they love. It is said that chocolate is a divine concoction made by the maiden servants of Menphina, goddess of love. Lady Lisette is a direct descendant of Countess Arabelle de Valentione and continues her work to this day.
Valentione's Day 2015

Lady Lisette of House Valentione has ventured forth from Ishgard to ensure no tender confession goes unheard, nor any love go unrequited. Adventurers who would hasten cupid's arrows are encouraged to seek her out and aid in her labors of love.
Quest: Where Did Our Loves Go
In an effort to aid those unable to confess their love in person, Lisette has enlisted Hortefense, who is in charge of the mission to deliver tokens of love. However, there has been an unexpected obstacle which requires the help of an adventurer such as ourselves. The service is meant for those shackled with shyness, yet there have been requests from those who would gladly present their tokens in person, yet do not know the location of their loved ones.
For the 2015 Valentione's event, we are sent to various locations throughout the Black Shroud, Thanalan and La Noscea where we follow a set of clues as we seek out and find the lost loved ones and in return are presented with chocolate tokens.
Hortefense is so impressed with your success that he entrusts you with his own mission. Some years ago he was gravely wounded in battle and left to die, had he not been saved by a noblewoman of Ishgard. Though searching for her tirelessly ever since he has had no luck. Lisette is familiar with the story and yet cannot recall the names of those involved. We recount Hortefense's story to one of Lisette's emissaries who immediately divulges the information we are after. The noblewoman was, of course, Lady Lisette de Valentione herself. Overcome with emotion, Hortefense proposes to Lisette, yet is declined but allowed to stay in her presence as a friend and no more.
Event Items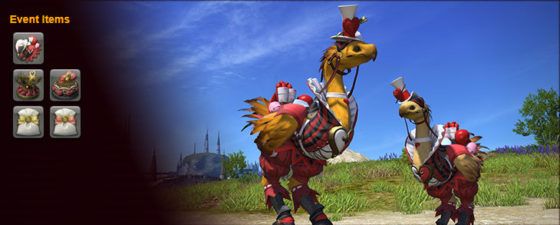 Valentione's Day 2016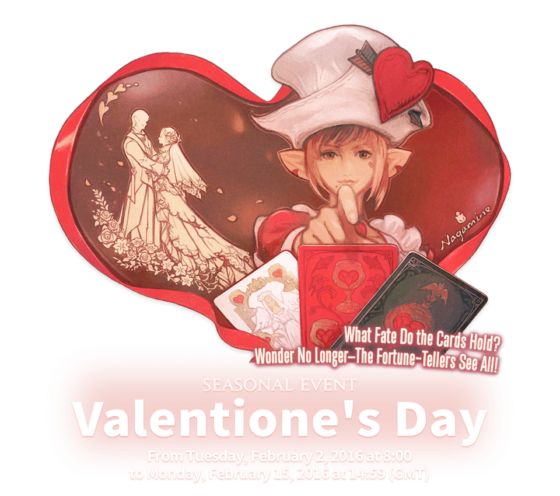 Word has it that Lady Lisette has come with an entourage of fortune-tellers, who will lay bare the fates of Eorzea's lovers. Adventurers who would divine the truth of their love are encouraged to seek her out!
Quest: What Is Love
Once again we are reunited with Lisette and her gentleman-in-waiting, Hortefense. Lisette tells us of the fortune tellers that can divine a couple's affinity for risk, romance, and riches. Although assured that they are accurate, Lisette would like you to act as her ambassador and be seen enjoying the days' festivities.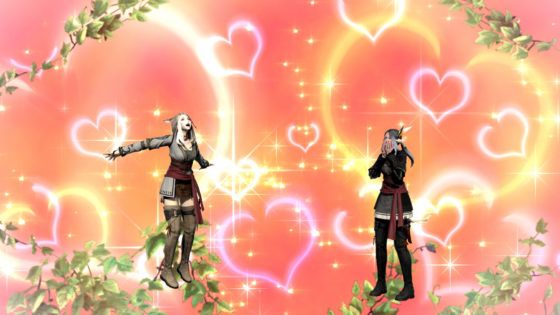 To take part in this quest, the player must adorn the Paramour's earrings and partner up with a fellow player (who is also wearing the earrings). The pair must then visit all three fortune tellers and report back to Lisette.
Follow-up Quest: A Pair of Hearts
Lady Lisette has lost sight of her companion, Hortefense and wishes us to find him quickly. He is reported to have been seen near the fortune tellers with a young lady in tow. After speaking with a fortune teller you are informed that he was indeed there but rushed off to an unknown destination after his reading. In his eagerness to leave, he neglected to take the card of his partner with him which read "Lisette de Valentione". We return the card to Lisette who had no idea about the plans to have their fortunes read and requests that you help her find her manservant. Eventually, you find a disheartened Hortefense sitting alone in the Anchor Yard. He left the Aftcastle on the verge of tears because the reading was so unfavorable. Lisette bids him return to the Aftcastle to visit the fortune tellers once again, yet Hortefense fears this greatly and wishes you to accompany them. With the correct information received, the fortune teller declares that Lisette and Hortefense are more compatible in love than any couple she has encountered. Overjoyed with this news, Hortefense declares his true and honest feelings for Lisette and asks her to join him in marriage, to which she agrees!
Event Items

Valentione's Day 2017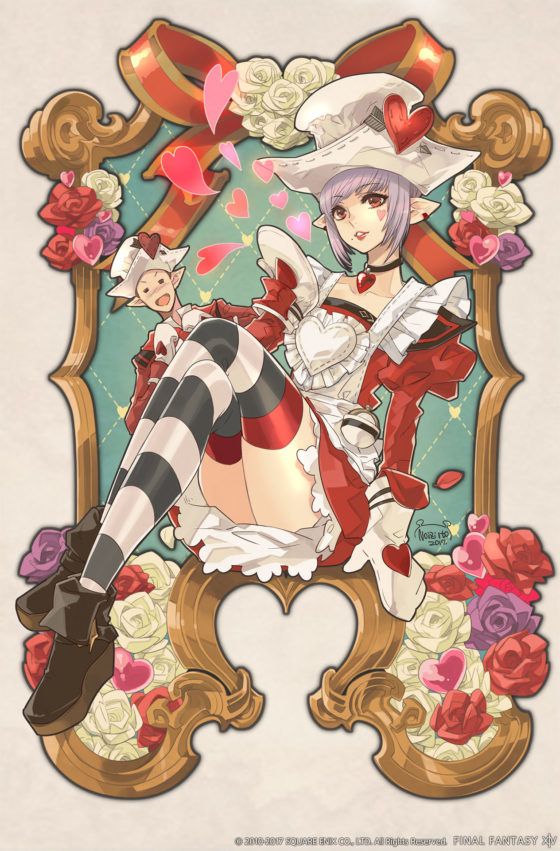 'Tis the season for ardor and affection! Once again Lisette de Valentione and her retinue have made the journey from far-off Ishgard to share the love with adventurers the realm over. Those in search of true love's kiss should seek Lisette out before the season comes to a close!
Quest: Once More with Feeling
Lisette hopes we are enjoying the festivities of the 2017 Valentione's Day and the time has come to pass on an honored tradition of House Valentione, though we are warned to use this 'tradition' thoughtfully as the effect is rather potent. For further instruction, we are sent along to Hortefense.
Hortefense greets us joyfully and begins to instruct us in the way of a very particular motion. Although our first effort at reproducing his expression is poor, we are encouraged to overcome our timidity and self-doubt and try again.
"Mayhap it was my demonstration that was lacking… Let us try once more. This time, breathe in deep the love in the air and let the passion flow freely from your lips!"
After one more try, we are successful and rewarded with the Dote emote.
Event Items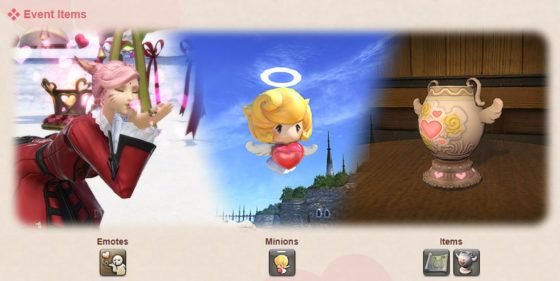 Valentione's Day 2018
Brace yourselves and embrace your innermost feelings, for Valentione's Day is come to Eorzea once more! Whether you are luckless in love or blissfully bonded, Lisette de Valentione and her retinue would see to it that none are without ardor and affection during this most passionate of seasons. And remember: love comes not to those who wait, but those who participate!
Quest: Lessons in Love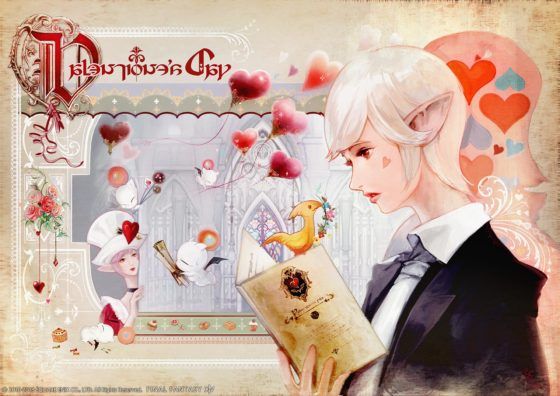 During the 2018 Valentione's Day celebrations we once again meet up with Lisette who informs us that this year they have joined hands with the Sanctum of the Twelve, the purveyors of eternal love which will apparently create a union in the heavens. She has a special request to make of us in the form of helping Astrid, her trainee (and sister), who seems far too 'sober' and rational during these festivities. Lisette asks us to watch over her in secret and help guide her during her given seasonal tasks as part of her training.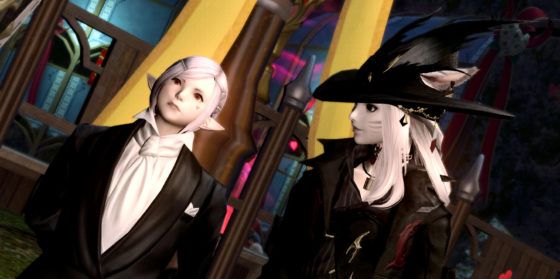 Astrid is incredibly worried about failing in her given duty of organizing the new 'affinity test' for the celebrations. To make things worse, the Moogles who were assigned to help her have gone missing. She implores us to find them on her behalf.
We meet one Moogle at the Conjurer's Guild (Sleepy Moogle), one near the Botanist's Guild (Slack Moogle) and the last is near the Lancers Guild (Slothful Moogle). All, in turn, tell us that her approach is incorrect and there is no romance or fun within her test, therefore they are on strike. Astrid is dismayed at the news and we are asked whether to listen to the Moogles or ignore them, to which I personally chose the 'listen' option. However, Hortefense (her brother-in-law) interrupts to tell her that to deal with troublesome Moogles you should consult a Moogle.

With this in mind, we hasten to Kuplu Kumo, the leader of the sanctum choir. Kuplu anticipated this problem and explains that love is not tangible and transcends rational thoughts. During this discussion, Astrid realizes that her test must include more fun but that is not her forte, yet just so happens to be the foremost quality of a Moogle. While Astrid consults with Kuplu, we are sent to round up the missing Moogles (at the Leatherworkers Guild) by threatening to 'squash their poms'.
By the time we return, the wayward Moogles are working with renewed enthusiasm and Astrid is overjoyed with the results of the new 'affinity test', so much so that she wishes for us to be the first to test it.
Completion of this quest unlocks access to the new Seasonal Instance for which you must be partnered with another player (there is a matchmaking system in place for those not able to be in a group of two). Within the instance, there are two separate Trials of the Moon which require cooperation, communication, and patience. The first trial is called 'Til Mog Do We Part' which involves making your way through two separate mazes while attached with an affinity beam. The maze has certain obstacles to overcome yet if the beam breaks, your affinity will reduce and if it reaches 0 the instance will end. The second trial is called 'Cards Beat As One' and involves a card memorization game where you and your partner must select two cards and try to match them all to complete the trial.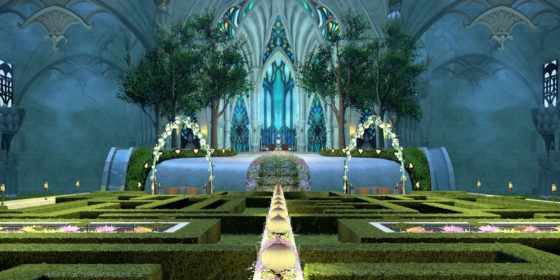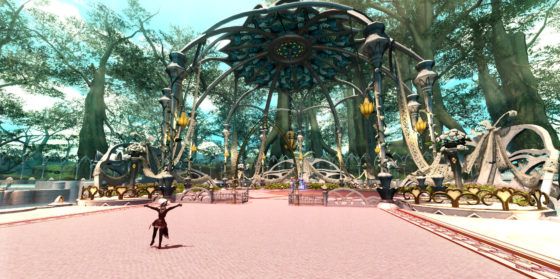 Upon successful completion, everyone is happy and Astrid has now completed her training successfully!
The event also includes the return of the fortune tellers from 2015's event, which is part of the repeatable quest from Lisette and also requires the player to be in a party of two (there is no matchmaking system in place for this repeatable quest).
Event Items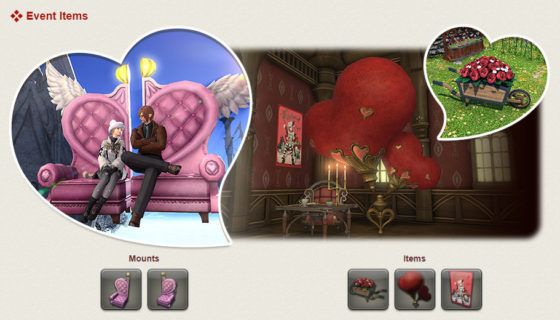 Final Thoughts
As the years pass, I can't help but notice a few things concerning Final Fantasy XIV events in general, having now summarised around 7 years worth of Heavensturn and Valentione's Day, and 4 years of Starlight Celebration. Before I clarify, however, I want to reinforce that I absolutely adore seasonal events. They are fun, unique, and better than those of any other MMORPG I have played.
These are the facts though. Over the years, the story introductions on the Lodestone have gone from long, detailed paragraphs to one-line quest introductions. Event rewards fluctuate and began to reduce, although lately, we are seeing a rise in mount rewards, which means (to new or absent players) that to obtain the last year's event item on the Mogstation the following year, it's likely to cost a player around £12 rather than the £3 item sets of previous years.
However, having done the 2018 Valentione's event my concerns have eased significantly, as it's apparent that a great deal of care and love has gone into this year's event, even with the inclusion of an event instance, similar to that of All Saint's Wake. We are incredibly lucky players to have such a dedicated development team.
For me personally, I have found the 2014 event to be the most heartwarming in terms of the questline story, but the 2018 event is by far the most enjoyable considering it combines both an instance and the fun of the 2015 fortune tellers. I must also add that the artwork over the years for all the seasonal events has been stunningly beautiful (obviously that is an observation based on my personal tastes) and I very much look forward to future events on artistic merit alone. Although the styles have changed throughout the years, they retain an incredible amount of care, quality, and skill within their work.
I wish you a very happy Valentione's Day to you and your loved ones!
Thank you all for reading this lore-based edition of Echoes of Eorzea! As always, if you have any questions, advice or comments please don't hesitate to get in contact either through here, Anook or Twitter.

Related Articles
Valentione's Day – Part One
Heavensturn Lore – Part One 
Heavensturn Lore – Part Two 
Starlight Celebration 2017 
Starlight Celebration History 
Related:
Column
,
Echoes of Eorzea
,
Event (In Game)
,
Final Fantasy XIV
,
MMORPG
,
Valentine's Day