Each holiday season, Final Fantasy XIV hosts a winter festival called the Starlight Celebration. Tis the season for decked halls in the 3 main cities, fun cosmetics for players, and housing items to decorate homes.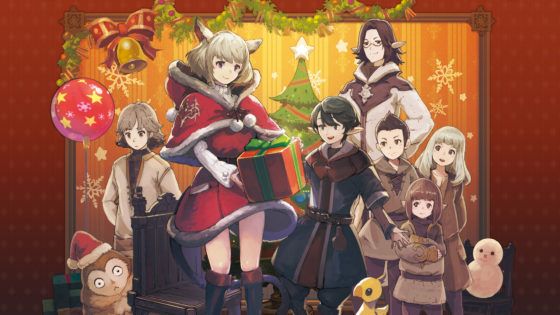 How It Began
Just like every holiday in Eorzea, the Starlight Celebration has lore behind how the traditions began. The origins are of Ishgardian history, a story that tells how a group of knights discovered the plight of orphans during the depths of winter. They chose to assist the children, providing food and shelter in their barracks, which was apparently against the rules to do.
In order to hide the activity, the knights dressed the orphans in their red jackets (as if red jackets in snowy winter helps hide activity). Anyhow, that's the origin of the red and white robes that are worn by the Starlight Saints today.
The orphans did live through the winter, thanks to the knights' generosity. In turn, the kids paid it forward when they grew to adulthood by giving gifts to children in need on the coldest week of the winter. This tradition then grew into what Eorzea now knows as the Starlight Celebration.
The current day festival still focuses on bringing cheer to children, especially those in need. This year's event sees adventurers helping out children who are recovering from illness and are housed in a ward in Ul'dah.
The Newest Quest Lines
The Starlight Celebration for 2016 rewards players a new, dyeable Starlight Robe cosmetic, which differs slightly in design between male and female characters. This cosmetic is rewarded pretty early on into the quest, since you need to be dressed like the Starlight Saint to do most of the quests in the line.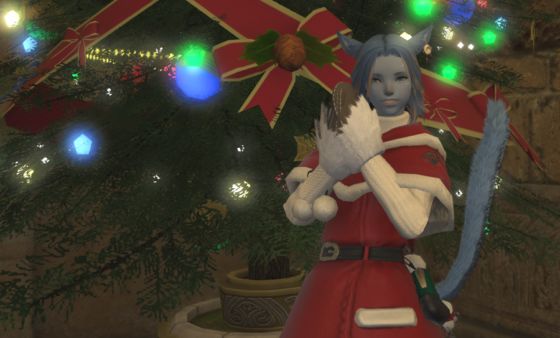 If you see the quests through to the end, you'll also get the Starlight Celebration music scroll for your house or apartment's orchestrion. There are also housing decorations, some for indoors, and some for outdoors, which you can purchase for gil from the Starlight Celebration vendor.
The quest line itself isn't long, and is what you've come to expect from holiday quests in FFXIV. There's a sentimental storyline about a child, his struggle with illness, and the desire to connect with family for the holidays. The interesting aspect of these quests is that it opens up a little side area to serve as the children's ward. It's a place in Ul'dah that I don't think ever existed before. It also gives a little extra backstory on the Alchemist guild.
A Daily Quest
Completing the holiday quest line opens up a new daily quest. You can choose from a list of stories to tell the children in the ward. This list is affected by how much of the game your character has completed. For example, I tried this on a character who hasn't reached Ishgard yet, and I only had half the list of stories that my characters at end game had. Makes sense.
After telling your story, it must be late, because they offer you a room to rest in for the night. As you sleep, you have strange dreams, which are associated with the story that you told to the children. Upon waking, there's a present under the tree for you.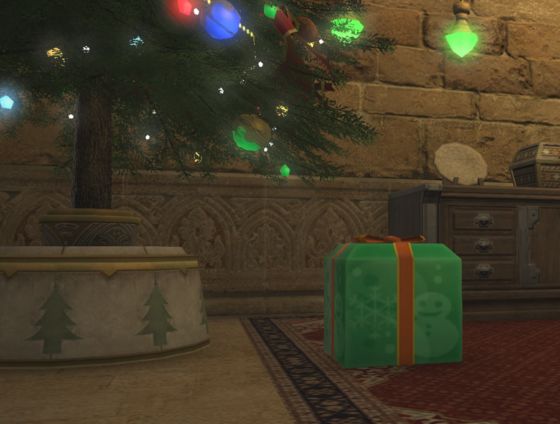 The community is working to gather information about the gifts within the box, but what you get in the end does seem to be random. I've mostly received bronze Allagan pieces, but I know you can get special prisms and demimateria as well.
The list of tales and dreams can be quite long, depending on how much you've unlocked through the game. So this is something to come back and experiment with daily, and get a little holiday reward each time.
Tying it Together
I'm a bit of a story buff, so I take notice of the continuous storylines that most of the FFXIV holiday events have. The Starlight Celebration has been the one outlier in the game. It's not had a story with any continuity, but I wonder if what we're seeing this year is an attempt at creating one for the future.
The first Starlight Celebration I attended was in 2013. It's hard to remember the event that far back, but snowmen seemed to be the theme. The event centered around a FATE where you had to earn buffs from snowmen to attack and defeat imps.
You earned Eternal Ice from winning the FATE, which was used as currency to purchase your cosmetic goodies that year. There was one set of barding and three different sets of cosmetics, some that were multi-pieced. So if you wanted to get all the items, you had to play the FATE a handful of times.
The Starlight Celebration in 2014 began to focus more on children and holiday decorations. This was the year we had to undertake daily quests in the housing districts to earn Fallen Star currencies for cosmetics and furniture. It relied on Free Companies to purchase and place holiday trees out in their yards so that other players could interact with them to complete quests.
Last year's Starlight Celebration centered on bringing joy to the world through the Starlight Bell. The bell was broken, and it was up to adventurers to help fix it in time for Starlight. It's also the first appearance of Godbert Manderville as the Starlight Saint, which has carried over into this year's festivities.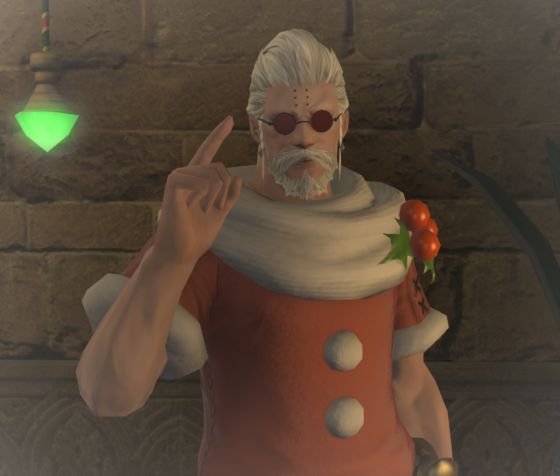 As you can see, though, there's no storyline that really carries over for this holiday, which marks it as strange next to the continuing quest lines for Halloween, Valentine's Day and Moonfire Faire.
I wonder if carving out a new area in Ul'dah with this children's ward, and establishing a new head character over these children is the first step in creating a place that we can visit each year from here on out. This is the second year that the Starlight Celebration has been centered in Ul'dah, and this year's storyline introduced characters that they can continue to develop.
Interestingly enough, aside from Godbert Manderville, and others who appear to you in dreams, players have noticed that a certain trio of NPCs have returned to help out with the holiday events. The Songbirds, who were the center stage of this year's Little Lady's Day, are hanging out in Ul'dah again, just in case you were interested in seeing what they've been up to since then.
This event will be around until December 31st, so make sure to unlock those daily quests and spread the holiday cheer! On behalf of the Eorzean Evening Post, I wish you and yours a wonderful holiday season!
Related:
Christmas
,
Column
,
Eorzean Evening Post
,
Event (In Game)
,
Final Fantasy XIV: A Realm Reborn
,
MMORPG