It's that time of year again, and given the fact that it is, you're probably sitting there scratching your head as you read this thinking 'Everquest is still around?' Yes, not only is Everquest still around, but it is alive and kicking with plenty of users. It's definitely not a desolate wasteland – far from it. You can still partake in raids whether you're checking out some of the new content from the latest expansion or reliving your glory days on one of the progression servers. Getting back on track, Frostfell is here and you are most definitely invited to take part in it, so get your stocking caps out and get ready to participate in Norrath's favorite holiday!
We're a little late to the party, given that Frostfell began on December 3, but as they say, better late than never, right? If you are new to Everquest, finding the Frostfell events might be a bit difficult, but they are in fact scattered all around Norrath if you want to hunt for them. If you want to dig right in, however, and you're a new player, the best thing you can do is find a portal to the Plane of Knowledge and speak to M.C. Tinkerton who offers a TON of Frostfell quests. When the events are active, Tinkerton can be found right next to the Great Divide portal.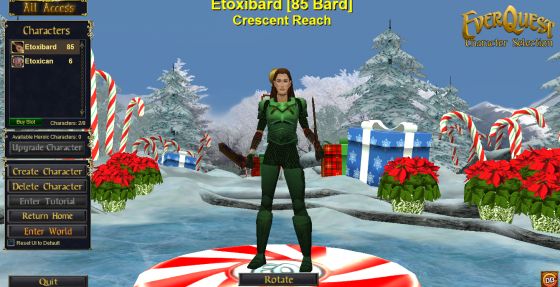 The Quest for (Frostfell) Glory
Obviously there are a ton of things to see during Frostfell, but there are just as many things to do. The first thing you'll want to do is pay a visit to the Frostfell Goblin, which can be found in multiple locations around the world, and initiate one of the quests. The first quest, of course is 'Upgrade stockings,' a line that allows you to complete a number of tasks in exchange for larger stockings that can hold more weight and have more space.
1st – 2 slot Santug's Stocking
2nd – 4 slot Santug's Stocking (40% weight reduction)
3rd – 6 slot Santug's Stocking (60% weight reduction)
4th – 8 slot Santug's Stocking (80% weight reduction)
5th (final) ~ 10 slot Santug's Stocking (100% weight reduction)
To obtain these and other incredible Frostfell themed prizes you will need to complete the quests presented by the Frostfell Goblin:
Frostfell – Searching for Clues (#1)
Frostfell – Saving Santug (#2)
Search for Bram Bandyboot
Rescue Hailie Biggeyes
The Freedom of Kanf Shadowhands
The Savior of Gemmi Goodkin
Misplaced Wishes
The Frostclaw Lair
Gathering Holiday Cheer
Operation: Jolliness
It's a pretty big questline and if you haven't done it before you're definitely in for a treat, BUT it doesn't end there. Around December 16th a new line of quests was introduced which will continue to run until 11 PM December 30th, so you still have a few days to get in on the action if you haven't already. Most importantly, do remember that Everquest is NOT Everquest 2 in that it does not contain all of the festivities to a single location. For example, the Frostfell Wonderland Village. Sure, that's fun, and who doesn't like sliding across the rainbow bridge? In Everquest, however, you will need to travel all over Norrath to find the various quest givers, and as per usual in Everquest, you might just find yourself traveling through dangerous territory, all in the name of celebrating the greatest holiday of the year.

The Return of Santug Claugg
Along with all of the usual Frostfell quests, Santug Claugg, the ogre who dresses in red has once again returned to Norrath, but he'll only be giving out gifts between the 24th and 26th of December. If you didn't see him last year, make sure you get around to it this year. Don't worry though, he's featured in plenty of quests; one of our favorites being a mini adventure in which Santug is captured – can you figure out who took him and why?
If you can solve that part of the quest, you'll get to move on to the next in which you are tasked with recovering the lost pieces of Santaug Claugg's list. There are a total of ten parts and you need to bring them all back. There are a plethora of quests involving the jolly red Ogre, and they all result in some amazing Frostfell prizes. If you're up for the challenge, the quests are there waiting for you.
Not all of the Frostfell quests will require combat, if combat isn't your thing. You know, the most interesting thing about Everquest is that you don't HAVE to fight if you don't want to. Unlike other MMORPG's, Everquest does not hinge on your ability to kill mobs or participate in raids. If you want, you can simply be an integral part of the world by crafting, baking, or telling stories if you really want to. Some of the Frostfell quests really play to that strength, particularly 'Baking for a Feast,' which begins with speaking to Hargar the Velium Chef. That particular quest is a rather long one – longer than any crafting quest you'll find yourself doing in Everquest 2. In fact, we hope you brought some REALLY big bags to hold all of the stuff that you're going to collect over the course of the quest. Seriously, it looks like you're collecting half a cookbook full of ingredients. If you threw this crap together in real life you could probably actually make something. Not to fear though, the rewards are great.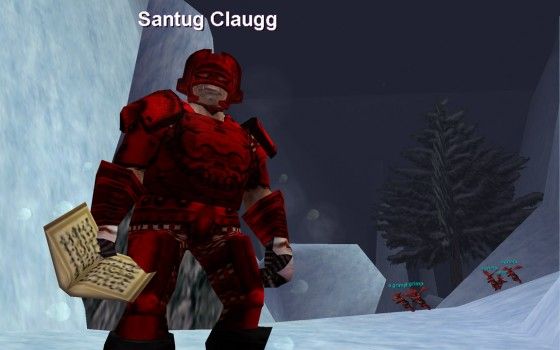 To the Marketplace
There's tons of fun to be had in terms of killing, looting, baking, and fishing, but in the midst of all that don't forget to check out the marketplace! If you've been saving your monthly 500 DBC stipend then you're all ready for Frostfell. If you're a free player, well, you're probably going to need to sink some real money into this, but who cares, Frostfell!
If you navigate over to the marketplace, you'll find a ton of Frostfell-themed items, all having become available on December 9th. Unfortunately, on January 31st, all of these items will go back into the Daybreak vault, never to be seen again – until Frostfell comes around next year, that is.
The official Frostfell items aren't the only thing we have to look forward to this year, as the Player Studio is still alive and well. That is actually one of the greatest things about Everquest; Daybreak's willingness to allow other players to have their say and build their very own items. The Player Studio is available year round, but during Frostfell it seems to have some especially fun items. The one benefit is that these will remain available for purchase in the store long after the celebration is over. The merchandise for sale will often include housing items, so don't forget to take a look so that you can build your very own Frostfell Wonderland village in the middle of your personal zone.
As you travel throughout Norrath you're going to come into contact with all kinds of NPC's. Make sure you talk to them all whether you're trying to get the coveted stocking, finish a baking quest, or simply save Santug Claugg. There's fun enough for everyone, and you'll want to get in on it as quickly as possible. It's not going to be there forever, and you won't have another chance until next year; 365 days is a long time to wait if you miss out on this year's Frostfell fun!
Related:
Daybreak Game Company
,
Everquest
,
Frostfell
,
Holidays
,
MMORPG