For the last 5 months MMOGames has been using the gaming social media website Anook.com. We don't just use it on a professional level either, many of us have our own personal Anook accounts. So we wanted to learn more about this amazing site that brings together Twitch streams, news, and social media sorted by game. Where did it come from? What can we do there? And of course we look ahead to the future of Anook as well. We got the opportunity to sit down and talk with David Hirtz, Founder and CEO of Anook.
First off, can you tell us what Anook is exactly?
Anook is the missing home for gamers.
A global communication and information platform that enables gamers to stay updated on their favorite games, organize and enhance their gaming life, and share their experience with friends and like-minded gamers. All content on Anook is generated and curated by the community.
The website is developed by a small team of passionate gamers from all over the world. We all share the same vision of creating a centralized gaming hub and revolutionize the way gamers interact with each other.
We are 100% self-funded and Anook still in public beta.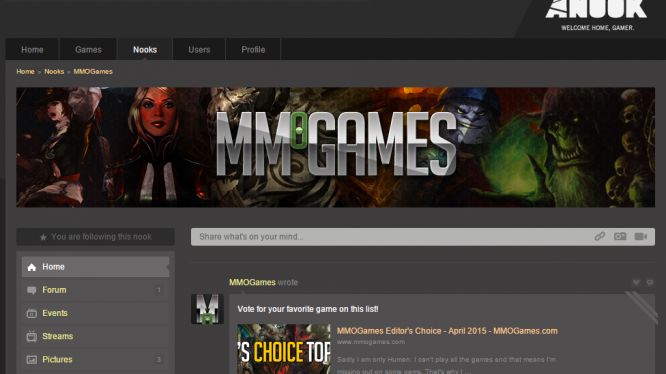 So is it a place for all types of gamers? Single player and Massively Multiplayer alike?
Absolutely. Single and multi player, casual, hardcore and pro-gamers – even game developers. Anook provides users with a personalized feed, exclusively displaying content of games they like and gamers they follow.
Gaming communities, called Nooks, which are created by our users, can be used for almost anything: Managing a guild or clan, organizing play dates with a group of friends or simply discussing ideas and strategies with gamers who share the same interests.
Anook also provides gamers with a comprehensive gaming profile, or like I call it, personal gaming shrine, – a counterpart to your "real-life" social media profiles – which can be used for anything from finding new gaming buddies to showing off your latest achievements.
What led you to creating the site?
In 2004 I lost touch with a lot of my guild mates after switching from Dark Age of Camelot to World of Warcraft. That was when I first started looking for a cross-platform gaming social network.
But in the end it probably was the daily routine of checking a dozen guild forums, gaming blogs, news sites, YouTube and social media websites just to stay updated. This made me realize that I should stop asking for someone else to make a website, that would combine all those aspects of my gaming life, and just create it myself.
So I quit my job and started working on Anook.
Can you share some of the long-term goals for the site?
Right now, gaming services like Steam, Origin or Battle.net only provide closed communities, so gamers have to use various communication tools to stay in touch. Our vision is to establish Anook as a comprehensive gaming hub – both a stage for the competitive gaming scene and a home for casual gamers.
We have a lot of new features planed for the website, such as live chats, more customization options for users and nooks, new gaming identities, etc.
But our big goal is to bring Anook to mobile phones and consoles and to provide a public interface to indie and studio developers to use our community features in their games.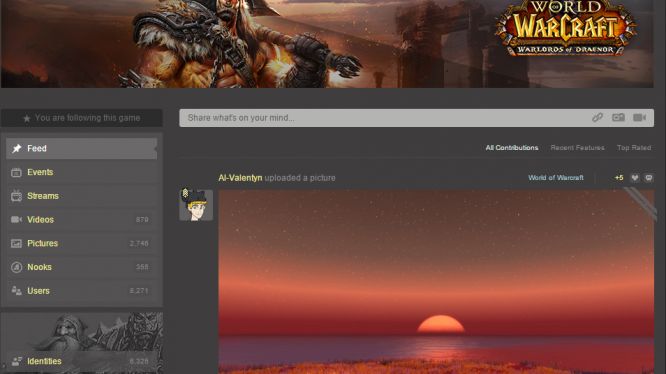 Where would you like to see Anook 5 years from now?
In five years from now Anook will hopefully be integrated into devices and games directly, regardless of platform or service. I want to scroll through the latest gaming news, watch a funny gameplay video and organize my raid party for the night all on the way home – on my new Apple Watch 3S, if they turn out to be useful by then.
What does Anook offer that other sites don't? And who would you say is your main competitor at this point in time?
We are sometimes compared to websites like Enjin, Raptr or even the Steam community, but we don't consider those websites competitors at all. Anook is much more than a social network, clan hosting or a stat tracking website.
Anook combines all aspects of gaming – the whole gaming ecosphere. Before Anook we spent a third of our dedicated gaming time not playing games but rather on gaming websites, blogs, forums and social websites to stay on top of the latest news and strategies.
We are not trying to replace existing websites and services, but rather integrate them with additional gaming related features: We already feature services like Steam, YouTube, Twitch, and many more.
In the past a lot of marketing money was thrown at half a dozen emerging startups proclaiming to be the new "Facebook for gamers", but none of them provided any real benefits for gamers. We still need to use Twitter to follow our favorite pro gamers or Facebook to stay in touch with old guild mates…
I believe Anook has the potential to change this.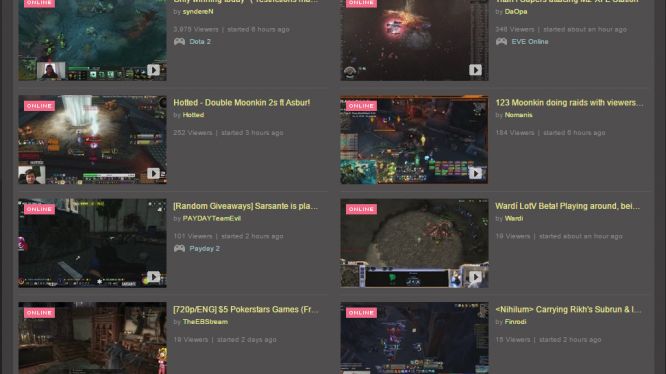 How does the site generate income?
It doesn't. And as long as we can afford the server costs out of our own pocket, we'll keep it that way. We are not in it for the money, we think this website needs to exist. And we have a lot of really awesome people supporting us every day to keep Anook running. That said, we still hope that in the long run Anook will pay our bills at some point… 😉
How can people reading this get involved and help grow the site?
Check out the website, sign up if you like it. Follow your favorite games and become a part of the community. If you want to help out even more, spread the word and invite your friends and team members.
We are also always looking for voluntary moderators, evangelists and web developers, so maybe you can even join our team!
I'm also more than happy to answer any questions, just send me a message on Anook: http://www.anook.com/chocy
Related:
Developer
,
Interview
,
Real Life
,
Social Media