The first week of the 2017 League of Legends World Championships has completed! This week was the first of a new stage in the competition – the "Play-in" stage. This gave teams from regions with a smaller competitive presence a chance to prove themselves and contest for a spot in the groups. We saw some fantastic performances, however, following this stage only one team from a non-major region has progressed to the next stage.
To clarify the "major" regions in League of Legends are North America, China, Korea and Europe. Other regions such as Taiwan and Hong Kong also have a strong competitive standing.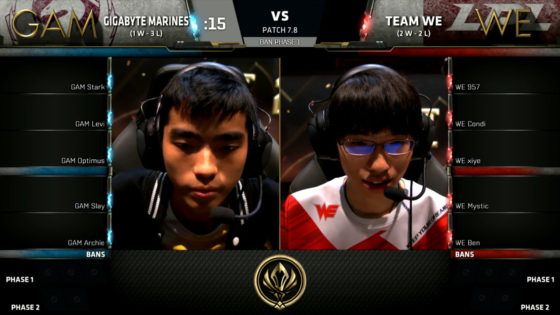 It was no surprise that China's Team WE made it to the group stage. They performed with near-perfection all the way through the Play-in Stage and finally secured a perfect 3-0 score against Young Generation. Going into the Play-in Stage, this team were the favorites and fans will be ecstatic to see these expectations fulfilled. Going forward, my prediction for this team is that they may have difficulty finding their feet against some of the stronger contenders in this year's line-up.
Team Fnatic from Europe has had a chequered past. The only European team to ever have won the World Championship, they have since seen a decline in success owing in part to drastic management and roster changes. They had high hopes in the EU LCS but failed to win out over the likes of G2 eSports and Misfits Gaming. That said, they fought hard in the Play-in Stage this year and succeeded in securing their place in the Group Stage. They did not achieve the same landslide victories as Team WE, but with the combination of their competition experience and their slightly easier group, I think they have a chance at least to make their mark on this year's Championship.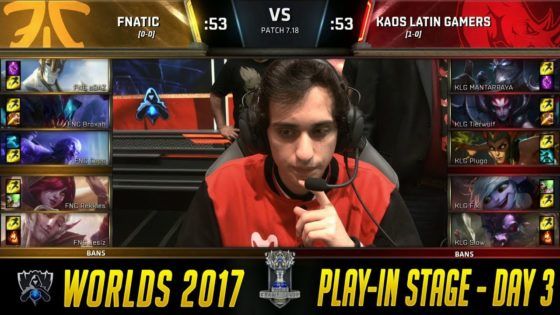 Cloud9, North America's #3 Seed made it to the Group Stage with relative ease. This team has had some extremely good competitive success in the past and, like Team WE, seemed in a class of their own amongst the other teams in the Play-in Stage. They too performed at a level worthy of the next stage and have secured their spot in doing so. However, with one of the hardest groups facing them in the next stage, they'll have their work cut out for them in progressing further.
My prediction for Cloud9 is that if they stick to their play-style (which I would describe as a "stop-and-start" approach; meaning that they vary the pace of their play in order to surprise their opponents with sudden moves around the map), they may do well. However, if they let their opponents bully them into diverting from their plan they may run into trouble, as they are not the best at adapting on the fly.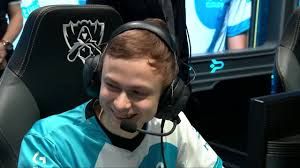 Finally, 1907 Fenerbahce eSports from Turkey were the only small-region team to make it to groups. Against all odds, they won out against teams from Taiwan and Hong Kong, who may have been favorites to win. Their victories were by no means smooth and no doubt they will have some things to change about their approach heading into Groups, but they should be immensely proud of their achievements thus far.
My prediction is that with their lack of experience they may find it hard to adjust to the no-nonsense play style of some of the big teams. However, with a wildcard team like this, anything can happen. Often in League of Legends, a lack of experience can simply lead to unexpected team compositions and strategies that catch opponents unawares. I would say that this team may be one to watch, especially in future competitions.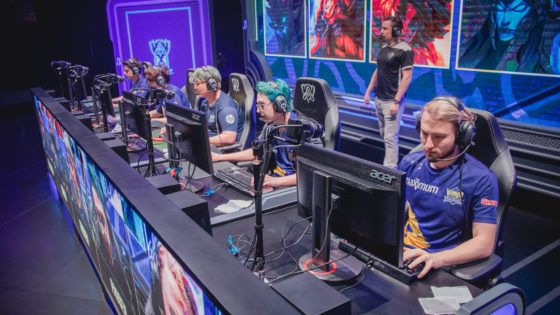 So, these teams will all find the next stage challenging, as a step up from the Play-in. As I mentioned, however, a lot will depend on the groups especially early on. So without further ado here are the Groups for the next stage of the LoL World Championship 2017:
Group A:
Edward Gaming (China)
SK Telecom T1 (Korea)
AHQ E-sports Club (Taiwan)
Cloud9 (North America)
Group B:
Longzhou Gaming (China)
Immortals (North America)
Gigabyte Marines (Vietnam)
Fnatic (Europe)
Group C:
G2 Esports (Europe)
Royal Never Give Up (China)
Samsung Galaxy (Korea)
1907 Fenerbahce Espor (Turkey)
Group D:
Flash Wolves (Taiwan)
Misfits Gaming (Europe)
TSM (North America)
Team WE (China)
Groups A and D are undoubtedly where the strongest teams lie. Team Solo Mid being paired with the likes of Flash Wolves and the rising stars of Europe, Misfits Gaming, may spell doom for Team WE.
Likewise, the sheer amount of experience and skill coming from Group A is astounding. Let's just say I would be surprised if Cloud9 come out of that dogfight with much left to give. Fnatic, on the other hand, have it relatively easy at this stage. North America's Immortals have been hit-and-miss, to say the least in their competitive history, and the Gigabyte Marines and Longzhou Gaming shouldn't be too much for them to handle provided they play at their best. I would say they have a good chance of performing well in the next stage.
Finally, 1907 Fenerbahce eSports undeniably will have a difficult Group Stage. As I said, an underdog like this can always surprise you. However, no matter how much love we as spectators and fans can send to them through the airwaves, the teams they have to face will not ease up on them. I personally would love to see this team flourish going forward this year, but my prediction stands that next year could really be their year to shine.
So this is the line-up for the first half of the Group Stage, and despite my personal predictions it is all still to play for. Please, everyone, join me in my new mantra "1907 Fenerbahce for Worlds!"
Related:
Article
,
eSports
,
League of Legends
,
MOBA
,
Riot Games
,
World Championship