The Latest MMO Alpha and Beta News
Check out the latest news from the MMO Alpha and Beta world below to find out what's been going on over the past couple of weeks!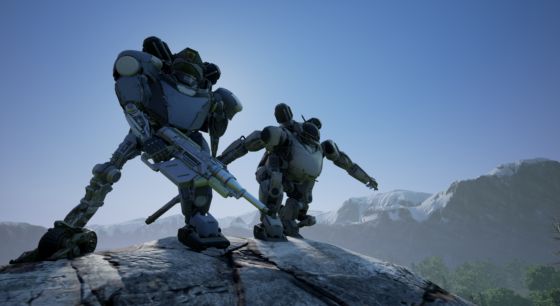 Online mech combat game Heavy Gear Assault has launched its Steam early access page, bringing us an interesting update to the Heavy Gear franchise as this is the first mech title built in Unreal 4.
Sandbox MMO Dark and Light has launched its early access page on Steam as well, although players will only receive access to the game sometimes soon in 2017. The game's launch is scheduled for Q4 2017 and a short first gameplay video was also released.
Snail Games has also announced a mobile version of Dark and Light to be released in 2017, boasting an MMORPG experience similar to the PC one, including a massive open word with dynamic events.
Last but not least in the early access updates, Wild Terra has also taken things to the next level and is now available on Steam.
Shards Online is moving into Alpha on January 13 and will be offering consistent updates in 2017 according to the newsletter, including a larger game world and an additional game universe dedicated to EU players.
Following news announced at the Hi-Rez Expo, SMITE Tactics is officially moving into closed beta as of today.
Sandbox survival title Space Engineers is ending 3 years of early access to move to closed beta. You can find details about the changelog and a new trailer on the official forums or the Steam page.
Hero's Song was canceled after spending only a little under two months in early access on Steam, due to insufficient funding. Pixelmage Games have promised that all backers would be 100% refunded.
On a more positive note, Project Gorgon's Indiegogo crowdfunding campaign has ended with 86% of the flexible goal reached, with developers preparing the next updates and additions to the game world which include a large new map housing the main city and starting area of orcs.
Hi-Rez is looking to bring their MOBA's gameplay to tablets and smartphones with the mobile title SMITE Rivals, described as a free-to-play "collectible card arena" set to launch early 2017.
Revelation Online's developer, NetEase, has been teasing a new martial arts experience with stunning graphics in its upcoming MMO based on Chinese martial arts novels. The official English title is "Justice" and the game is rumored to go into beta soon, after about 4 years in development.
It seems that Asian MMORPG Moonlight Blade is also preparing a Western launch for NA and EU players, in addition to the Taiwanese and Korean launches, although no further details on the release or publishers are known yet.
That about does it for this week's MMO Alpha and Beta List. Notice anything missing? Get in touch and we'll take a look!
Find links to everything new to the MMO Alpha and Beta List this week and much more in the list below. Look for this icon:

to see everything we added this week.
Pre-Alpha and Alpha
Games in Pre-Alpha and Alpha are games in early testing, are often under an NDA and require keys to access.
Early Access
Games that are in Early Access tend to require a purchase and/or access to Steam. Anybody can access games in Early Access but builds tends to be unstable as they are still under development.
Closed Beta
MMOs in Closed Beta are those which require a key to participate in, typically for a limited number of people and occurring prior to an Open Beta testing phase.
Open Beta
Open Beta is the phase in which everybody can take part at no cost, with no key required. These days, Open Beta tests tend to be a soft launch with no wipe.
Crowdfunding
MMO and MOBA related crowdfunding events taking place through Kickstarter, IndieGoGo, or open donations through a game's website.
Giveaways
We often have keys and items to give away that either offer access to a game in testing or grant rewards in games still in testing and of course we add these to our MMO Alpha and Beta list.

| | |
| --- | --- |
| MU Legend Closed Beta Key | Giveaway |
| Erectus the Game Closed Beta Key | Giveaway |
| Empire: Revenant Beta Gift Pack | Giveaway |
| Dragonbone Dynasty Open Beta Gift Pack | Giveaway |
| Crystal Saga II Open Beta Gift Pack | Giveaway |
Related:
Alpha
,
Beta
,
Beta Data
,
Closed Beta
,
Crowdfunding
,
Early Access
,
In Development
,
MMORPG
,
MOBA
,
Open Beta
,
Pre-Alpha