The Latest MMO Alpha and Beta News
Check out the latest news from the MMO Alpha and Beta world to find out what's been going on since last week!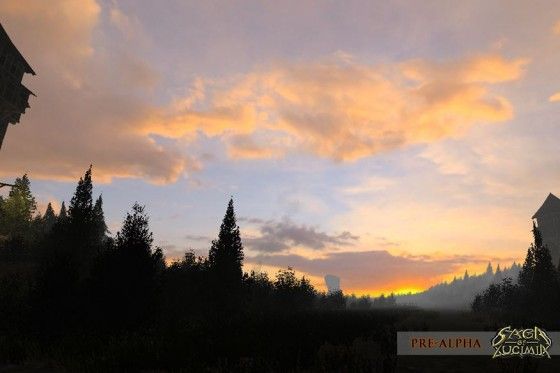 Saga of Lucimia is back with good news after quite the long silence, as devs released a video describing the new alpha build and its new or improved features ahead of the game's seventh early access test that is running this weekend. The test will take the form of troll hunts, an opportunity for players to go on a tour of the lands along with the CMs.
An official crowdfunding campaign has been announced for Ashes of Creation, and it's scheduled to begin on May 1, which is probably a bit sooner than expected but welcome for the game's supporters nevertheless. The announcement also offers loads of useful information and delightful screenshots and trailer introducing everyone properly to the game, particularly its specific system of nodes known as Metropolises.
Space survival sandbox Rokh is planning to launch in early access on Steam on May 16, following a failed crowdfunding campaign a few years back and several postponed launch dates for this same step of entering early access. At the moment it sounds like the launch is definitely happening so we are eagerly waiting to see more of what Rokh's reimagination of Mars has to offer.
Meanwhile, Worlds Adrift's closed beta is getting postponed for an unclear amount of time, although the developers stated it would rather be a matter of "weeks, not months", and this time is necessary to iron out the last few issues with important features such as the character creator, world map, combat or salvaging.
Valiance Online has been posting regular updates about its road to alpha and progress in the development roadmap, but the latest big news is about the game's Premium edition rewards. This tier will be offering more goodies than foreseen for its backers, with some of the shinier rewards added including new "mounts" and pets. The change comes at the same time as an increase in the backer tier prices for the future, though we can imagine with the new additions, "veteran" backers will definitely not feel left behind compared to any perks new players might get.
Hellion devs have some interesting ideas about the way players can make ships or outposts their own, including setting up security systems (although they can be hacked) but also decorating however they please, with a variety of items scattered around the game world. There is even an option to place written messages, which could go in many ways depending on every person's artistic qualities.
Several of our favorite open beta multiplayer games have new heroes this week as well. In its latest patch, Paladins just added Seris, Oracle of the Abyss to its roster, while Paragon will soon release the odd and somewhat unsettling Revenant.
But the real winner of the hero category should definitely be Master X Master, who unlocked all its characters for the MOBA's final closed beta testing round. The event played out on the Titan Ruins ranked PvP map and players were able to choose from the full roster of 36 Masters to complete at least seven ranked matches, unlocking an exclusive CBT Taejin skin.
Bless Online is beginning its closed beta test in Japan. Although the CBT ends quite quickly, on May 4, it's still more of Bless than we'll be able to see for a while considering there is no news yet on about the game's western launch. Meanwhile, however, Russian publisher 101XP has shut down Bless' Russian beta servers for revisions, since the game was not as well-received by players as they had hoped. We are curious to see if the Japanese CBT reaches the same conclusion or not, although we are quite convinced now that Bless won't be advancing west past Russia for the time being, not until said revisions are addressed anyway.
ARK's latest patch, allowing players to create underwater bases and breed or tame aquatic creatures, has also been applied to the console version of the game this week and is now in full effect across both platforms, putting the same dilemma of going underwater or not in front of all players – we still haven't made up our minds.
That about does it for this week's MMO Alpha and Beta List. Notice anything missing? Get in touch and we'll take a look!
Find links to everything new to the MMO Alpha and Beta List this week and much more in the list below. Look for this icon:

to see everything we added this week.
Pre-Alpha and Alpha
Games in Pre-Alpha and Alpha are games in early testing, are often under an NDA and require keys to access.
Early Access
Games that are in Early Access tend to require a purchase and/or access to Steam. Anybody can access games in Early Access but builds tends to be unstable as they are still under development.
Closed Beta
MMOs in Closed Beta are those which require a key to participate in, typically for a limited number of people and occurring prior to an Open Beta testing phase.
Open Beta
Open Beta is the phase in which everybody can take part at no cost, with no key required. These days, Open Beta tests tend to be a soft launch with no wipe.
Crowdfunding
MMO and MOBA related crowdfunding events taking place through Kickstarter, IndieGoGo, or open donations through a game's website.
Giveaways
We often have keys and items to give away that either offer access to a game in testing or grant rewards in games still in testing and of course we add these to our MMO Alpha and Beta list.

| | |
| --- | --- |
| Swords of Divinity Open Beta Gift Pack | Giveaway |
| Empire: Revenant Beta Gift Pack | Giveaway |
| Lil' Conquest Gift Pack | Giveaway |
Related:
Alpha
,
Beta
,
Beta Data
,
Closed Beta
,
Crowdfunding
,
Early Access
,
In Development
,
MMORPG
,
MOBA
,
Open Beta
,
Pre-Alpha