The Latest MMO Alpha and Beta News
Check out below the latest news from the MMO Alpha and Beta world to find out what's been going on since last week!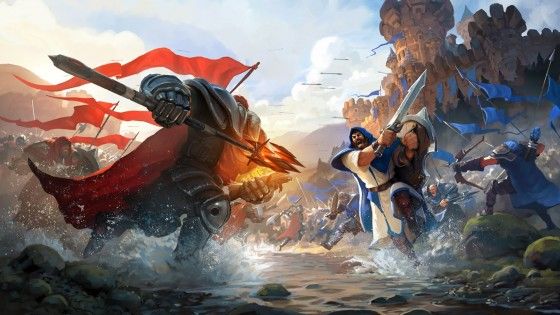 Albion Online has revealed its launch date! While Founders are currently waiting for a server wipe and world revamp brought about by the significant Galahad update, players who were not involved in the early stages of the game can look forward to its official launch date, July 17.
Conan Exiles is continuing its official game server updates: first off, the announcement of their new EU server partner, doubled by the revival of the original database that means players can jump back in the game and pick up right where they left. A more contested update, however, has been the decision to implement region locks (only on official servers!) in order to avoid problems caused by time zones, language barriers and different playstyles. The East/West split in official servers was followed by the addition of Asian servers this week.
Life is Feudal has begun its second closed beta test this week, including not only backers but players who applied on the website for a chance to participate. The latest updates include a redesigned combat skills tree and guild management fixes.
MU Legend has also started its second wave of beta testing while MU Origin is adding a PvP server arena and improves character progression in its update 1.6.
Between a successful round of closed beta testing and a series of guides helping new players get more familiar with game features such as the Wings, we can safely say that Revelation Online is headed at full speed towards its open beta. Players have a small break to relax or prepare as the open beta starts on March 8, with early access for Founders already available on February 27.
Ship of Heroes is now counting down to the start of its Kickstarter campaign, which will be open to backers for one month starting April 4. Though details are scarce for now,, it seems that contributors will be rewarded with various sorts of in-game rewards and recognition, along with exclusive first looks at the game during alpha testing.
Project Gorgon's orcish chapter is rapidly growing as the Gazluk Keep dungeon seems to be almost ready to hit the live servers. According to the devs, Gazluk Keep is based on EverQuest II community dungeons and is going to be massive enough for several groups of adventurers to simultaneously roam it without necessarily running into one another.
The Repopulation is having its game data transferred to Steam according to Idea Fabriek, who are planning to restart servers in as little as a few weeks, in line with their previous announcement of looking to release the alpha while working towards the beta progress and launch.
A new F2P fantasy brawler is slowly making a place for itself on Steam: Skara is an online multiplayer team-based battle arena currently in open alpha. It just received a heap of improvements through its latest patch and seems to have made an impression already through its visual style and lore.
A new trailer is out for AdventureQuest 3D, looking to shake things up and keep both current and prospective players enthusiastic and engaged in the game's evolution. Does it have the intended effect or have you already forgotten about AdventureQuest 3D's open beta launch?
That about does it for this week's MMO Alpha and Beta List. Notice anything missing? Get in touch and we'll take a look!
Find links to everything new to the MMO Alpha and Beta List this week and much more in the list below. Look for this icon:

to see everything we added this week.
Pre-Alpha and Alpha
Games in Pre-Alpha and Alpha are games in early testing, are often under an NDA and require keys to access.
Early Access
Games that are in Early Access tend to require a purchase and/or access to Steam. Anybody can access games in Early Access but builds tends to be unstable as they are still under development.
Closed Beta
MMOs in Closed Beta are those which require a key to participate in, typically for a limited number of people and occurring prior to an Open Beta testing phase.
Open Beta
Open Beta is the phase in which everybody can take part at no cost, with no key required. These days, Open Beta tests tend to be a soft launch with no wipe.
Crowdfunding
MMO and MOBA related crowdfunding events taking place through Kickstarter, IndieGoGo, or open donations through a game's website.
Giveaways
We often have keys and items to give away that either offer access to a game in testing or grant rewards in games still in testing and of course we add these to our MMO Alpha and Beta list.

Forge of Gods Promote Pack GiveawayGiveaway
| | |
| --- | --- |
| MU Legend Closed Beta Key | Giveaway |
| Conquer Online Gift from the Wind/td> | Giveaway |
| Swords of Divinity Open Beta Gift Pack | Giveaway |
| Empire: Revenant Beta Gift Pack | Giveaway |
| Dragonbone Dynasty Open Beta Gift Pack | Giveaway |
| Crystal Saga II Open Beta Gift Pack | Giveaway |
Related:
Alpha
,
Beta
,
Beta Data
,
Closed Beta
,
Crowdfunding
,
Early Access
,
In Development
,
MMORPG
,
MOBA
,
Open Beta
,
Pre-Alpha