The Latest MMO Alpha and Beta News
Check out below the latest news from the MMO Alpha and Beta world to find out what's been going on since last week!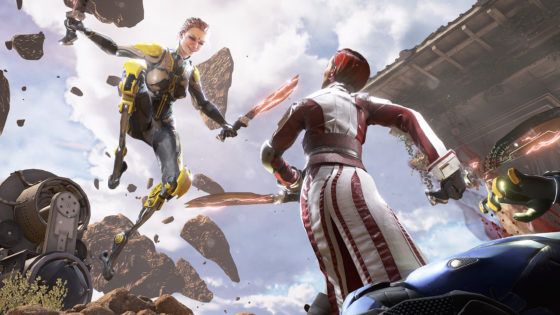 LawBreakers is hosting a new closed beta weekend and players can already sign up on the website for a chance to take part in the test that will run from March 16 to March 19, ahead of a launch slated to happen later this year according to Nexon.
Cloud Pirates is now live on Steam early access with its brand new "Gold Rush" 1.1 update, whose most notable addition is a game mode where a flying ore convoy is to be escorted and defended from attacks by enemy players.
Shards Online has completely changed its name to Legends of Aria and will be marketed as a full-fledged MMORPG from now on. The change mainly focuses on offering a heavily expanded map with no player limits instead of small "shards" of a world with low player counts.
Dark and Light confirmed that it would be launching in early access some time at the end of this year through social media posts hinting at development going strong to achieve this release.
The Repopulation is going to resume its activities as announced earlier this month, by the looks of an Idea Fabrik update stating that the game would be replayable as of Sunday, March 12. The same post announces that the game is making a return on Steam later this month.
Crowfall has a few updates out about the state of the game, and it is preparing to transition the game servers to 24/7 uptime within the next few months according to the official announcement. This means that there will be a stable live alpha environment as well as a separate test realm where changes will be staged without interrupting the live functioning of the game world. Aside from this, players can also watch the newest Q&A video from ArtCraft discussing the latest updates and future plans on the official website.
OrbusVR, the virtual reality MMO sandbox that was just making a small appearance last week seems to be here to stay: the game had a short Kickstarter of a single week that not only reached but even doubled its goal in the space of a single day, meaning that the initial goals, as well as the first two stretch goals, are happening. You can still join in for the next couple of days if you want to support this campaign and contribute to the last stretch goal being achieved.
Social sandbox game TUG will be communicating updates about its progress much more often, as the dev team will be posting bi-monthly updates while working towards a mid-June deadline for showing off some of the game's core experience. We are still waiting for a date to be given for TUG's alpha, hopefully coming soon.
Destiny 2 will offer players the option to import their level 20 characters in the sequel providing that they completed the Black Garden mission, but it seems that none of the gear, power or items previously acquired will make it as well, according to an update from Bungie that also talks a bit about the next big update coming to the original game.
Eastern MMOARPG Lost Ark might be starting closed beta testing in Korea somewhere over the next few months according to a rumor tracked by Steparu. There's no confirmation of a Western launch at all but who knows what might happen after the game is launched?
That about does it for this week's MMO Alpha and Beta List. Notice anything missing? Get in touch and we'll take a look!
Find links to everything new to the MMO Alpha and Beta List this week and much more in the list below. Look for this icon:

to see everything we added this week.
Pre-Alpha and Alpha
Games in Pre-Alpha and Alpha are games in early testing, are often under an NDA and require keys to access.
Early Access
Games that are in Early Access tend to require a purchase and/or access to Steam. Anybody can access games in Early Access but builds tends to be unstable as they are still under development.
Closed Beta
MMOs in Closed Beta are those which require a key to participate in, typically for a limited number of people and occurring prior to an Open Beta testing phase.
Open Beta
Open Beta is the phase in which everybody can take part at no cost, with no key required. These days, Open Beta tests tend to be a soft launch with no wipe.
Crowdfunding
MMO and MOBA related crowdfunding events taking place through Kickstarter, IndieGoGo, or open donations through a game's website.
Giveaways
We often have keys and items to give away that either offer access to a game in testing or grant rewards in games still in testing and of course we add these to our MMO Alpha and Beta list.

| | |
| --- | --- |
| Forge of Gods Promote Pack Giveaway | Giveaway |
| Conquer Online Gift from the Wind | Giveaway |
| Dragonbone Dynasty Open Beta Gift Pack | Giveaway |
| Swords of Divinity Open Beta Gift Pack | Giveaway |
| Empire: Revenant Beta Gift Pack | Giveaway |
| Lil' Conquest Gift Pack Giveaway | Giveaway |
Related:
Alpha
,
Beta
,
Beta Data
,
Closed Beta
,
Crowdfunding
,
Early Access
,
In Development
,
MMORPG
,
MOBA
,
Open Beta
,
Pre-Alpha