The Latest MMO Alpha and Beta News
Check out below the latest news from the MMO Alpha and Beta world to find out what's been going on since last week!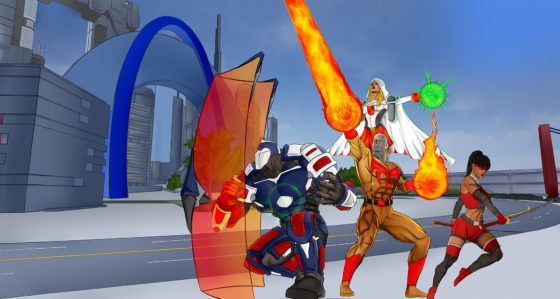 The details of the Kickstarter campaign for the latest addition to the City of Heroes spiritual successor roster are out! Ship of Heroes will be seeking $400,000 over the course of 5 weeks, beginning on April 4. Noteworthy: beta access will only be granted to Kickstarter backers. Alpha is expected to start in late 2017 and some lucky backers might actually get in, "depending on how much they donated" according to the Heroic Games CEO. You can join the discussion about the Kickstarter campaign on the official forum. The Ship of Heroes devs also released a network test video doubling as a tribute to City of Heroes and its players.
Meanwhile, fellow spiritual successor City of Titans released more details about its Downtown district, a place that devs call "the beating heart of the city" and which will be home to a "wildly eclectic range of superbeings", featuring more than just skyscrapers.
Sandbox MMO Albion Online launched its Galahad patch this week, introducing one of the last major updates before the game's official launch on July 17, 2017. The dev team hosted a Reddit AMA as well, tackling among other things the issues of pay-to-win worries, free trials (not happening), and having a single global server like EVE Online.
Paragon is celebrating one year since it first launched into early access by introducing the new hero Yin, updates to existing heroes and cards and an in-game celebration with gifts for all players!
You can check out the abilities of the melee carry, wind summoner Yin on the official website, along with a nice video previewing her abilities.
Trove has officially launched on PlayStation 4 and Xbox One today, after spending a few months in open beta since last December. Trion estimates the total number of players across both consoles to have reached nearly 5 million, rivaling that of PC Trove players.
The Elder Scrolls: Legends is now live on PC and will be rolling out slowly on all other platforms: iOS tablets on March 23; Android tablets in April; Mac somewhere during the next few months as well; and final, Android and iOS phones during summer. Bethesda also announced some updates to follow for the game, with the first story campaign update arriving on April 5 and a big expansion this summer that we will get more details about in June during E3. The game will also be adding a variety of features in May along with its Gauntlet play mode, including Spectator mode and Twitch integration to make in-game tournaments all the more exciting.
On a less joyful note, SMITE Rivals is taking a break: Hi-Rez's digital card game has been put on hold so that the studios may better focus on developing the turn-based strategy spin-off SMITE Tactics.
Project: Gorgon's latest dev update highlights a new skill to be made available in the next patch. The Bard skill will enable a player to provide team support through short-term buffs, healing or crowd control spells, but it is also a skill described as "tricky" to unlock and master. The available music sample showing how Bards compliment the combat music is really impressive!
The latest Ashes of Creation dev diary elaborated on the game's reactive world, described as one of its five design pillars. Each server will have its own world that slowly reacts and answers whatever decision or action players make, for the better or worse, according to the official post.
Dark and Light posted a preview of the Pegasus, which is one of the three leader-exclusive mounts players will be able to earn in-game by getting involved in politics and becoming a faction leader. Sadly (although it makes complete sense), it sounds like the benefit of using the faction's guardian as a mount only lasts during the time that a player holds the faction leader title.
The Dual Universe team is not ready yet to show off in this first half of 2017 the playable version of the game, as they had first announced. The game's alpha is instead delayed to September according to the dev diary video breaking the news.
You may remember Project Genom's legal conflicts and being pulled off Steam at the end of 2016, as well as the decision to completely renew the code following those incidents. The latest news from the dev team tells us that a great part of the code has now been rewritten, fixing not only much of the legal issues but also bugs reported during early access, enabling players to try out a whole new game, as shown in official screenshots and videos.
The Repopulation's servers are currently live as announced over the last few weeks' updates, including on Steam!
The Kickstarter campaign for OrbusVR is officially over and the project has been fully funded, including almost all of its stretch goals! Alpha is expected to begin on April 20 according to the official update.
That about does it for this week's MMO Alpha and Beta List. Notice anything missing? Get in touch and we'll take a look!
Find links to everything new to the MMO Alpha and Beta List this week and much more in the list below. Look for this icon:

to see everything we added this week.
Pre-Alpha and Alpha
Games in Pre-Alpha and Alpha are games in early testing, are often under an NDA and require keys to access.
Early Access
Games that are in Early Access tend to require a purchase and/or access to Steam. Anybody can access games in Early Access but builds tends to be unstable as they are still under development.
Closed Beta
MMOs in Closed Beta are those which require a key to participate in, typically for a limited number of people and occurring prior to an Open Beta testing phase.
Open Beta
Open Beta is the phase in which everybody can take part at no cost, with no key required. These days, Open Beta tests tend to be a soft launch with no wipe.
Crowdfunding
MMO and MOBA related crowdfunding events taking place through Kickstarter, IndieGoGo, or open donations through a game's website.
Giveaways
We often have keys and items to give away that either offer access to a game in testing or grant rewards in games still in testing and of course we add these to our MMO Alpha and Beta list.

| | |
| --- | --- |
| Forge of Gods Promote Pack Giveaway | Giveaway |
| Conquer Online Gift from the Wind | Giveaway |
| Dragonbone Dynasty Open Beta Gift Pack | Giveaway |
| Swords of Divinity Open Beta Gift Pack | Giveaway |
| Empire: Revenant Beta Gift Pack | Giveaway |
| Lil' Conquest Gift Pack Giveaway | Giveaway |
Related:
Alpha
,
Beta
,
Beta Data
,
Closed Beta
,
Crowdfunding
,
Early Access
,
In Development
,
MMORPG
,
MOBA
,
Open Beta
,
Pre-Alpha