The Latest MMO Alpha and Beta News
Check out the latest news from the MMO Alpha and Beta world below to find out what's been going on since last week!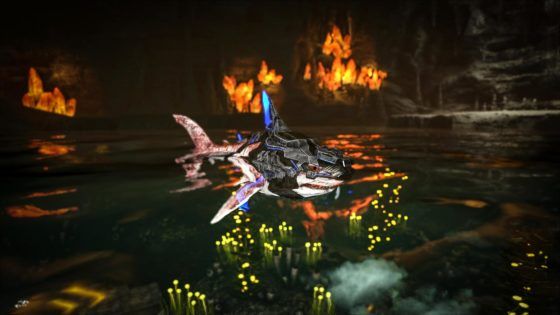 Wildcard's sponsored mods program is paying off for custom ARK servers, seeing many good additions coming out of it including an auction house. Meanwhile, from ARK's monthly crate of "why the hell not", the TEK megalodon saddle brings players the possibility of laser-equipped sharks, and there's also something about hell pigs, giant bees, and cloning chambers. Proceed to patch notes at your own risk.
Kritika Online is bound westwards as En Masse Entertainment announced the dates for the western closed beta test and launched a new website for the game! The closed beta test is running between May 24 and June 13 for players who are selected by En Masse or get one of the newly introduced founder's packs, the latter option also offering a head start for the open beta that launches in summer.
Funcom just launched a new trailer for The Secret World Legends while dropping the real bombshell that is the shared world RPG's launch date: June 26. At least we don't have to wait much longer to see the revamped TSW considering the beta is under NDA still and the information has been quite scarce so far. The promising part, however, is the devs references to players finally getting to see what follows after Tokyo and the remainder of the story, which everyone had been eagerly waiting for.
Darkfall: Rise of Agon had its official launch last weekend and is holding a big giveaway to mark the occasion; players can sign up until May 18 to enter the competition for the chance to win a gaming desktop or game time. The team also released a video retracing the history of the game's development that went through several rough patches but recovered, eventually crossing the finish line when launching last week.
Crowfall had a strong start to its mysterious teaser week that has us wondering, just like everyone else, exactly what the big reveal has in store, but you won't hear us complaining about seeing a new piece of gorgeous concept art every day!
Ashes of Creation is having a very successful Kickstarter campaign so far, to say the least, since numbers make it sound like a gross underestimation. The game currently has almost 10,000 backers and several stretch goals unlocked. Next on the list are the Underrealm for $1.75 million reached and the backer-exclusive Tidesnapper water mount for 11,000 backers reached. Don't miss the new video of the Predator class either if you've not seen it already!
Valiance Online posted some preview shots of its new City Hall platform and the Landvik Memorial Hospital, starting a top photo/video thread that will only feature internal media until launch but also contributions from players once they have access to the game.
Meanwhile, Ship of Heroes released a demo video for one of their mission maps, more precisely maze-like spaceship corridors situated right below the city, illustrating the sci-fi themed environment of the game.
Conan Exiles is going to decrease the frequency of its patches in order to ensure a higher quality for its updates, while working on features highlighted by their recent player survey. The latest update doesn't disappoint in the least, though, as it adds a heap of new placeables for players who are fond of decoration, but also two new traps and a modder update. Last but certainly not least, Joel Bylos answered some questions on Reddit, addressing among other things the critical issue of butt-sliders, or lack thereof.
Shroud of the Avatar is running a few trial for almost the entire month: between May 10 – May 31 everyone can join and play Shroud of the Avatar for free within the restrictions of the trial account. Judging from the latest newsletter there's quite a bit to explore so don't delay signing up too much!
The Kickstarter for Chronicles of Elyria's anniversary sale has started this week and will continue until June 1.
Dark and Light still has no news about its delayed beta, but is compensating with small updates like these screenshots of its new and improved models, textures and lighting.
Multiplayer steampunk game Steam Hammer is hitting early access today, offering a 64-player survival sandbox and access to gadgets and weapons fitting the theme, including chain swords, alchemistry and Tesla generators.
That about does it for this week's MMO Alpha and Beta List. Notice anything missing? Get in touch and we'll take a look!
Find links to everything new to the MMO Alpha and Beta List this week and much more in the list below. Look for this icon:

to see everything we added this week.
Pre-Alpha and Alpha
Games in Pre-Alpha and Alpha are games in early testing, are often under an NDA and require keys to access.
Early Access
Games that are in Early Access tend to require a purchase and/or access to Steam. Anybody can access games in Early Access but builds tends to be unstable as they are still under development.
Closed Beta
MMOs in Closed Beta are those which require a key to participate in, typically for a limited number of people and occurring prior to an Open Beta testing phase.
Open Beta
Open Beta is the phase in which everybody can take part at no cost, with no key required. These days, Open Beta tests tend to be a soft launch with no wipe.
Crowdfunding
MMO and MOBA related crowdfunding events taking place through Kickstarter, IndieGoGo, or open donations through a game's website.
Giveaways
We often have keys and items to give away that either offer access to a game in testing or grant rewards in games still in testing and of course we add these to our MMO Alpha and Beta list.

| | |
| --- | --- |
| Swords of Divinity Open Beta Gift Pack | Giveaway |
| Empire: Revenant Beta Gift Pack | Giveaway |
| Lil' Conquest Gift Pack | Giveaway |
Related:
Alpha
,
Beta
,
Beta Data
,
Closed Beta
,
Crowdfunding
,
Early Access
,
In Development
,
MMORPG
,
MOBA
,
Open Beta
,
Pre-Alpha