The Latest MMO Alpha and Beta News
Check out the latest news from the MMO Alpha and Beta world below to find out what's been going on since last week!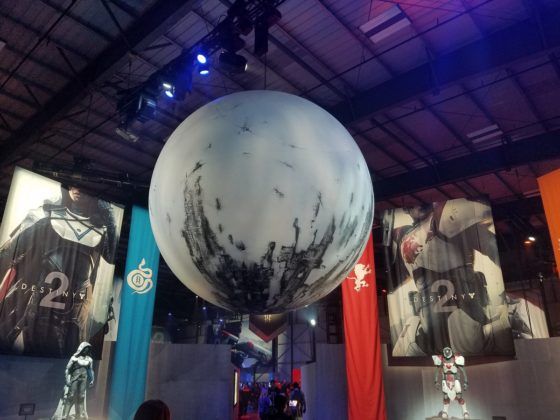 One of this week's major highlights was without any doubt the Destiny 2 stream event, revealing bits of gameplay to a very hungry audience and confirming once again that the game will indeed be available on PC as well. The game's platform, however, came as pretty big surprise: on Windows, Destiny 2 will be exclusively available through the Blizzard app (formerly known as Battle.net) and will be able to make use of all its features. You can check out the gameplay trailer in our news piece if you missed the event.
Crowfall also hosted a big reveal stream on Tuesday, after teasing all that concept art throughout the week. Those who had always been convinced archetypes wouldn't stick around for long were right, as players will be able to pick an individual class and race instead. As if that weren't enough, there will be more than 100 new disciplines available in the next playtest, along with a major overhaul of lighting and graphics.
Attention all SMITE fans waiting for news about Tactics! The project has been rebranded as Hand of the Gods: SMITE Tactics, and is still the same TBS game that was announced, it simply has a new name and look. And since the project is not in limbo anymore, you can sign up on the (new) official website for a chance to win a beta key.
Ashes of Creation is really smashing records on Kickstarter, as it reached 11,000 backers and $2 million in funding earlier this week, meaning backers just got themselves a nifty Tidesnapper underwater mount plus social organizations.
Sea of Thieves is sailing into its first PC tech alpha this weekend, which will be featuring about 1,000 players. The test focuses on auto-detection and generating feedback on control schemes.
A GoFundMe crowdfunding campaign has started for a certain new cyberpunk sandbox MMO, not entirely unfamiliar to players interested in new projects. Exile Online had already attempted to organize a Kickstarter campaign last year but sadly did not meet its goal at the time. However, its devs didn't despair and are ready to compete for your attention (and funds!) with new progress, while breaking their end goal into smaller milestones reminiscent of Em8er's campaigns.
Mars survival sandbox Rokh also just launched into early access in spite of a rocky trajectory since its crowdfunding attempt from last year and several delays of the early access launch. It might be too early to shout victory, but it is definitely not too late to try and get players' attention!
For those who prefer a more old-school feel to their games, MMO Arcfall just entered Steam early access, while planning to shift into beta sometime in late 2017. You can pick it up for $14 instead of $20 until May 23.
Console players, don't forget about Marvel Heroes Omega, which is launching its open beta on PS4 next week on May 23, and on Xbox One the week after. A headstart for Founders is also provided, starting today, May 19, and of course all progression will carry over into the final launch as of today.
Wild West Online will no longer put up a Kickstarter campaign as it successfully received sufficient funding from investors, this also means they will skip going into early access as the developers would rather focus on the game's full release.
This month also brings many goodies to Paladins through its 50th open beta update, including new looks and skins but also tweaked and bug fixes, and a whole new map, Bend.
Lawbreakers is hosting its second closed beta test this weekend, and it's not covered by an NDA so that spectator mode will likely get tested through and through. This test round's most notable features are the new Reactor map and the Blitzball mode, spectator mode and further customization modes, plus the playable Wraith.
That about does it for this week's MMO Alpha and Beta List. Notice anything missing? Get in touch and we'll take a look!
Find links to everything new to the MMO Alpha and Beta List this week and much more in the list below. Look for this icon:

to see everything we added this week.
Pre-Alpha and Alpha
Games in Pre-Alpha and Alpha are games in early testing, are often under an NDA and require keys to access.
Early Access
Games that are in Early Access tend to require a purchase and/or access to Steam. Anybody can access games in Early Access but builds tends to be unstable as they are still under development.
Closed Beta
MMOs in Closed Beta are those which require a key to participate in, typically for a limited number of people and occurring prior to an Open Beta testing phase.
Open Beta
Open Beta is the phase in which everybody can take part at no cost, with no key required. These days, Open Beta tests tend to be a soft launch with no wipe.
Crowdfunding
MMO and MOBA related crowdfunding events taking place through Kickstarter, IndieGoGo, or open donations through a game's website.
Giveaways
We often have keys and items to give away that either offer access to a game in testing or grant rewards in games still in testing and of course we add these to our MMO Alpha and Beta list.

| | |
| --- | --- |
| Swords of Divinity Open Beta Gift Pack | Giveaway |
| Empire: Revenant Beta Gift Pack | Giveaway |
| Lil' Conquest Gift Pack | Giveaway |
Related:
Alpha
,
Beta
,
Beta Data
,
Closed Beta
,
Crowdfunding
,
Early Access
,
In Development
,
MMORPG
,
MOBA
,
Open Beta
,
Pre-Alpha