The Latest MMO Alpha and Beta News
Check out below the latest news from the MMO Alpha and Beta world to find out what's been going on since last week!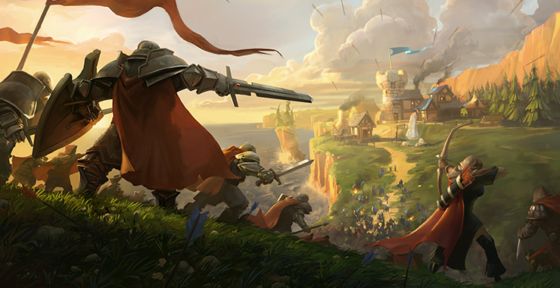 Albion Online will be offering players a brand new map with new mechanics for its Hellgate encounters in the upcoming Hector update. The changes target the PvP side of Hellgate encounters, namely to balance them and ensure more fairness. It seems many players were trying to use the Hellgate mobs to gain a PvP advantage but devs were quick to react since such tactics were not part of the encounter's original design. Along with other design changes, the new Hellgate map will be split into several levels to separate groups by experience and difficulty sought.
The delayed alpha test for Legends of Aria (aka Shards Online) will be starting on May 12, by which time everything should be ready for the test to proceed as planned. Devs will also stream a demo on Monday, May 8, to make up for the delay and give players something to look forward to.
Ashes of Creation is having a great crowdfunding campaign so far, to say the least, as it has almost reached double the goal it had started with. The initial amount was actually completed in 12 hours after the start but there's still room for more surprises – after all the campaign still has 28 days to go and devs already added pretty interesting bonus rewards on to the initial goal. The team has posted three stretch goals so far, including tavern games, enhanced mount system with group functionality and naval content. Their progress is definitely exciting to witness and we're hoping all stretch goals get funded by the end.
One year later after its successful crowdfunding campaign, Chronicles of Elyria is fully celebrating its anniversary in every way, not only rewarding its backers with various extra perks depending on their pledge level, but also with a promotional discount to its current pledge packages for new players. As a bonus, there are various events planned for the month, including further sales, a raffle, and a mystery promotion taking place at the end of the month.
Crowfall is teasing something "massive" for the upcoming May 16 reveal, which is meant to be a (very!) mysterious but also impactful enough announcement about the game that it might warrant such a big intro. A new teaser will be posted every day by the ArtCraft team, so fans can entertain themselves while waiting by trying to guess what this might be about…
A mobile version of Lineage II will be unveiled in June, as Netmarble has started pre-registrations for what looks like either the start of beta or a full launch of the Unreal 4-powered mobile game.
It must not be long until the first fully VR-capable MMO emerges since so many developers are trying to create something for this medium these days Co-op multiplayer RPG Age of Heroes makes no exception, as it is geared towards all main three VR platforms and seeks to place teams in a dungeon-crawling type of environment they can explore and fight their way through. The teams seem to agree so far, as the game has been greenlit on Steam and might be ready as soon as this year.
That about does it for this week's MMO Alpha and Beta List. Notice anything missing? Get in touch and we'll take a look!
Find links to everything new to the MMO Alpha and Beta List this week and much more in the list below. Look for this icon:

to see everything we added this week.
Pre-Alpha and Alpha
Games in Pre-Alpha and Alpha are games in early testing, are often under an NDA and require keys to access.
Early Access
Games that are in Early Access tend to require a purchase and/or access to Steam. Anybody can access games in Early Access but builds tends to be unstable as they are still under development.
Closed Beta
MMOs in Closed Beta are those which require a key to participate in, typically for a limited number of people and occurring prior to an Open Beta testing phase.
Open Beta
Open Beta is the phase in which everybody can take part at no cost, with no key required. These days, Open Beta tests tend to be a soft launch with no wipe.
Crowdfunding
MMO and MOBA related crowdfunding events taking place through Kickstarter, IndieGoGo, or open donations through a game's website.
Giveaways
We often have keys and items to give away that either offer access to a game in testing or grant rewards in games still in testing and of course we add these to our MMO Alpha and Beta list.

| | |
| --- | --- |
| Swords of Divinity Open Beta Gift Pack | Giveaway |
| Empire: Revenant Beta Gift Pack | Giveaway |
| Lil' Conquest Gift Pack | Giveaway |
Related:
Alpha
,
Beta
,
Beta Data
,
Closed Beta
,
Crowdfunding
,
Early Access
,
In Development
,
MMORPG
,
MOBA
,
Open Beta
,
Pre-Alpha