Come back every Wednesday in October to find the most complete list of MMO Halloween events going on in 2014!
Know of one that has been announced and isn't on the list yet? Let us know in the comments and on Halloween we'll pick one name at random to win a Steam Copy of Civilization: Beyond Earth! Find out all the giveaway details at the end of the article.

 Find everything newly added on October 30th in Blue! 

Age of Warriors – Halloween Events – Oct 25 to October 31
In this 3D mobile game, players can collect special items and candies through Battle Soul event times. Players can exchange these items for bonuses and Halloween-inspired features such as Pumpkin Lord outfits, Skill Books, and Gold Bags. Get more info through their Facebook page here.
ArcheAge – Hallowtide – Oct 21 – Nov 4
The port towns have been decorated in celebration of Hallowtide! Take part in the pumpkin daily quest to help out with the decoration process and get a Hallowtide Goodie Bag filled with a random selection of consumables and candies.
Archlord 2 – Help Poor Jack O'Lantern! – Oct 21 – Nov 11
Help Jack O'Lantern gather Witch's Pumpkin cookies from instanced dungeons and contested areas. Bring them back to him for a trick, or a treat. Get some fantastic buffs, or get turned into an animal. Additionally, Archlord 2 will have a login event. Gather pumpkin seeds every day you log in for some awesome pumpkin hats. There are three hats in all and logging in every day of the event is the only way to get them all.
C9 – Halloween Mix & Match Event – Oct 21 – Nov 4
Take on the Pumpkin Knight to get awesome rewards in C9's Halloween event. If that isn't your thing then you can still take part in Halloween. You'll be able to buy a limited edition Halloween Gear Package.
Darkfall Unholy Wars – Halloween Event – Oct 30 – ?
The beasties have begun to amass candies and sweets for wicked reasons and it's up to you to stop them. Triumphant ones will receive unique treats. Awesome Halloween-themed items will also be available on the shop.
DC Universe Online – The Witching Hour – Oct 7 – Nov 4
Klarion, everyone's favorite witch-boy is back again causing mischief in Gotham City. This is your chance to get all the previous Halloween rewards and activities completed including the Midnight Masquerade. New this year are awesomely spooky items for bases, new masks, feats, and more. DCUO is also holding a Halloween sale where you can get up to 30% off selected lair themes, suits, and some forms. The sale ends November 2nd.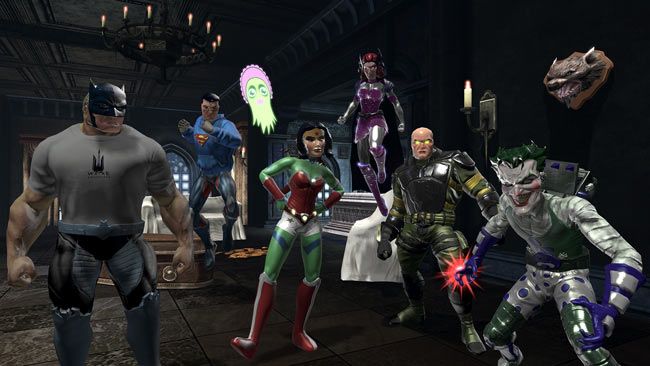 Dragon Nest – Halloween Nights – Oct 7 – Nov 3
Saint Haven has been transformed into a Halloween town! Get rewarded for attendance during this festive season with Spooky Halloween boxes containing coins, candy, and fried bat. Turn the coins in for Pumpkin Heads, Ghost transformation potions, and much more.
Dragon's Prophet – Styx Festival – Oct 9 – Nov 6
Play through haunted Auratia while battling Abyss dragons and other terrible monsters. Players will also get access to all new Halloween themed items that can transform them into skeletal warriors, or zombies. There are also Halloween themed weapons, eggs, and housing items on sale.
Dota 2 – Diretide – ???
Roshan is wandering through the endless night in search of the one thing that will satisfy his hunger, Greevil Taffy. When he's filled himself with it he's hit with a Sugar Rush and becomes dangerous. Defeat him for fantastic rewards.
Elsword – Hunting Erilot – Oct 8 – Oct 14 Event has now ended! *Thanks to irishwilly from in the comments*
Search for Erilot's base in this Halloween pre-event. No word yet on any further Halloween events taking place in Elsword. Ariel's Nightmare dungeon has now been announced! They're also bringing back the Halloween exclusive skins, so grab them while you can!
Everquest – Nights of the Dead – Oct 15 – Nov 5
New items for your home are just the beginning of the festivities in Everquest. All of the player's favorite events will be making a return. So get ready to find the roaming vampire, round up some Scarecrows, and be sure to drop in on Marta Stalwart for some old fashioned pie throwing.
Everquest II – Nights of the Dead – October 9 – ?
The annual Everquest II Nights of the Dead event is back again! Making a return this year are fan favorites like the HauntedMansion and Hedge Hollow. There are all achievements, collections, and the title of "The Pumpkin King".

F.E.A.R. Online – Halloween Event
This action horror shooter is going to get creepier with the new Blood Lust game mode that will be released on October 30. It allows players to enhance their weaponry and to transform into creatures with special skills. Zombie nurse characters, scary skins, and themed items will be available all throughout the Halloween weekend.
Forge of Empires – Halloween Event – Oct 22 – Nov 5
Forge of Empires is introducing the Contemporary Era as the same time as the start of their Halloween event. This means players will have a whole lot to look forward to in the October 22nd update. In addition to a new modern Asian theme Jack O'Lantern is out giving quests that allow you to get new portraits and new buildings. For the first time you'll also be able to get a Haunted House.
Guild Wars 2 – Blood and Madness – Oct 21 – Nov 4
Last year's Halloween event is back! Bloody Prince Edrick is once again breaking out of his chains and you have to stop him. Even though Lion's Arch is still rebuilding they've decided to decorate for the holiday. Trick or treating is available, and of course access to the mad realm.
Grepolis – A Cauldron of Treats – Oct 27 to Nov 10
Get a chance to get Democritus as an exclusive hero during the Halloween event. Gather ingredients and work your best as an alchemist to obtain the best awards and treats possible. Enjoy the event until November 10. For more details, check Grepolis' line up of event in this video.
Guns and Robots – Halloween – Oct 24 – Nov 1
Win spooky presents and smash pumpkins while you hunt down your enemies. There will also be a Trick or Threat contest in which you can get your hands on exclusive items.
KingsRoad – Soulstone – Oct 21 – Nov 10
The first ever Soulstone event series is celebrating Halloween with special maps, brand new gear and unique collectables you won't be able to get any other time of year.
Landmark – Halloween – Oct 2 – Oct 17 Event has now ended!
Landmark is holding a Halloween themed building competition. Submissions had to be in by October 17th but winners will be announced before Halloween.
League of Legends – League-o'-Lantern – Oct 14 – Oct 31
League of Legends is holding a good old fashioned pumpkin carving competition! Carve a LoL themed pumpkin and submit it. Entries close on October 31st, winners will be announced on November 7th.
Maplestory – Halloween Events – Oct 15 – Oct 31
Maplestory is hosting a variety of events from an art contest to collecting items, Witch Malady's secret mission, candy, and even a haunted house! The cash shop hasn't been forgotten and is filled with all sorts of spooky treats.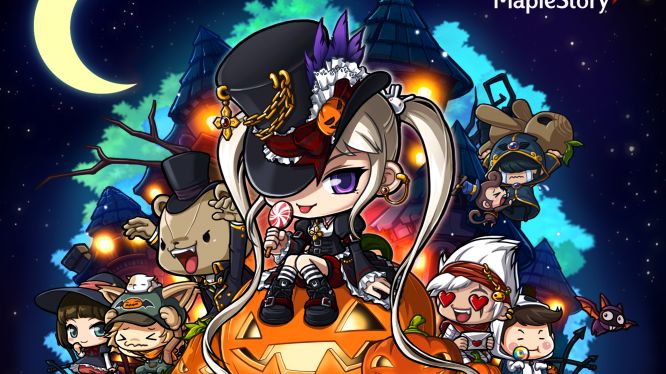 Marvel Heroes 2015 – Trick or Treat Halloween Event – Oct 21 – Nov 4
Marvel Heroes 2015 is having a 50% off Halloween sale on all costumes until October 31. There's also a Halloween event for two weeks with their Trick or Treat Buffs, Pumpkin Credit Item Drops, and a guaranteed bonus item from their Halloween Mystery Bag. Get all the intel you need here.
MU Online – The Lord of the Halloween: Return of Jack-O-Lantern – Oct 28 – Nov 11
Blood-thirsty monsters are scattered all throughout MU ready to jump out at unsuspecting people passing by. Gather the pumpkins they drop in fights and smash them open for some fantastic and fun rewards.
Orcs Must Die Unchained! – Halloween Patch
Free Halloween vanity skins have been made available along with a spooky variation of the Cliffside Clash map. The Highlands map is also making a return. Just don't call it a pumpkin patch.
Planetside 2 – Nanite of the Living Dead – Oct 2 – ?
Thanks to super-fast growth hormones Space Pumpkins are spreading throughout Auraxis out of control. Help rid the world of this irritating weed and get some fantastic limited time rewards!
Smite – The Reaping – Oct 17 – Oct 19 Event has now ended!
Get an exclusing Jack-O-Lantern icon for your first win and enjoy 2X worship all weekend.
TERA – Revenge of the Kaprima – Oct 14 – Nov 4
The Fane of Kaprima dungeon is returning to TERA once again this year for Halloween, but she's harder than ever to defeat. That of course means awesome new loot! Additionally, the Banquet of Blood is making a return where you can take on all sorts of undead creatures. If you're looking for something a little more towards the nice side of Halloween stop by the EldritchAcademy where they're preparing for the Harvest Festival.
The Secret World – The Broadcast – Oct 20 – ?
The Cat God and Spooky Stories of Solomon Island will be returning this year along with an all new mission chain following conspiracy theorist Dave Screed. The chain is called The Broadcast and will be available starting October 20th. Funcom is also introducing a new Halloween grab bag so who knows why kind of terrifying things may be introduced.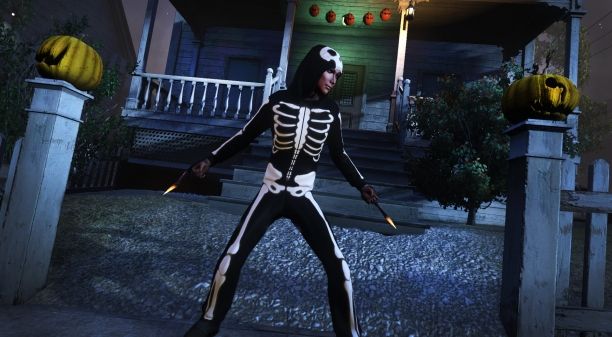 The Settlers Online – Trick-or-Treat – Oct 15 – ?
Trick-or-Treat at on your friends' islands, face off against a giant Golem, and take part in the annual Pumpkin Hunt with all new items, including a fish farm.
Villagers & Heroes – Spooky Town – ?
A new event zone, Spooky Town, is added as Halloween descends upon the Seven Realms of Villagers & Heroes. Players can challenge the witch goblin Spooky Druda and four Incarnations. Defeated creatures will drop treats like XP boosters, potions, health and spirit generators. Costumes like the Angel of Royalty, Dark Otter suit, or Sugar Sweet Candy Witch will also be available in the new zone.
Looking for information on how to win this awesome giveaway? You're in the right place! If you find a Halloween event that has been announced and isn't on our list leave a comment below with a link to the announcement. The first person to leave a comment about the game gets their name dropped in a hat for the big prize. We're looking for MMOs, MOBAs, and some shooters. Multiple entries ARE allowed so keep your eyes open and post often. And if you already have Civilization: Beyond Earth, don't worry we'll get you the Steam game of your choice up to a $50/€50 value.
The winner will be announced on Twitter, Facebook, and Google+ so be sure you're following us!
Related:
ArcheAge
,
Archlord 2
,
C9
,
DC Universe Online
,
Dota 2
,
Dragon Nest
,
Dragons Prophet
,
Elsword
,
Event (In Game)
,
Everquest
,
Everquest II
,
Forge of Empires
,
Guild Wars 2
,
Guns and Robots
,
KingsRoad
,
Landmark
,
MapleStory
,
MU Online
,
Orcs Must Die! Unchained
,
Planetside 2
,
SMITE
,
TERA
,
The Secret World
,
The Settlers Online