Another E3 has come and gone, and that means it's time for another award showcase. Overall, E3 2016 was a big success for single-player games and virtual reality, but online multiplayer titles were few and far between. However, we did manage to pick a few gems out of the bunch and here are our choices for the best of E3 2016.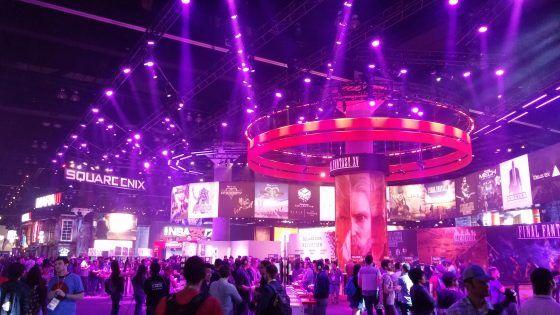 Best Tech: Oculus Rift Touch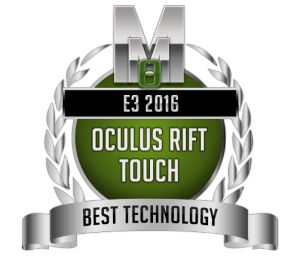 Oculus Rift Touch probably isn't that much better than a Wii Motion+ controller, but it was noticeable enough that during Laguna's hands on, he was focusing more on his timing than figuring out the delay between the device and actions, and that's a good step up from before. The game he played, Ripcoil, showed that the Touch can add something to gaming space that's hard to do with non-motion controls (though he's still not sure it needs to be VR, even if it's fun).
Best Booth: Nintendo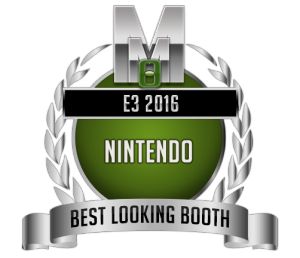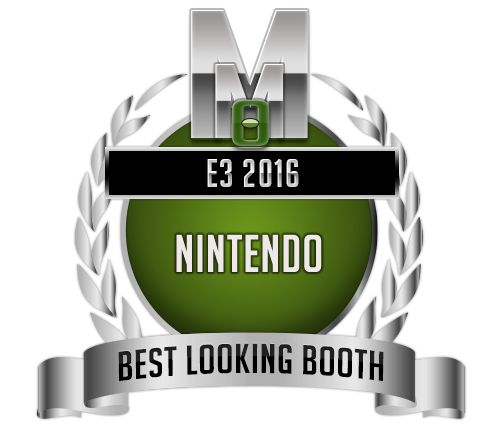 While some people would criticize a few things about how Nintendo handled E3, their Zelda booth was fairly immersive once attendees got past the line. You entered a waiting area decorated like the interior of a ruin, sat down, and got a voiced introduction before watching the game happen on a wall in front of you. At the end, the screen turns into a door like the one you'll see in the demo, and a bunch of women (who also clearly would vote for a female Link) in a similar blue outfit to Link's welcome you to the demo area, which is decorated like the Hyrule you're about to play in.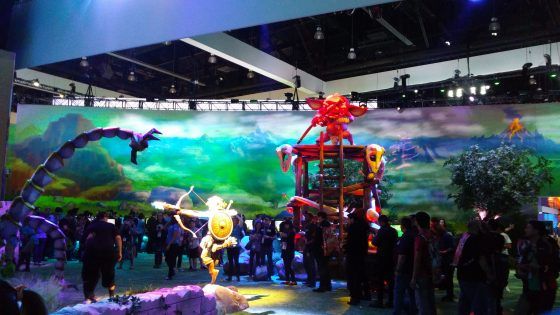 Best Indie MMO: Dual Universe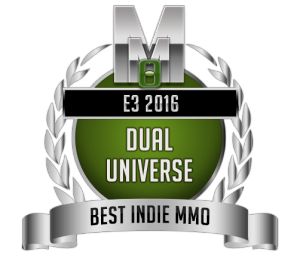 Dual Universe has a lot going for it. Admittedly, it was the only indie MMO at the event that we saw, but we aren't just giving them this award for that reason. Dual Universe earned it though for its creative approach to dense player populations on a server, as well as focusing on ground-to-space gameplay that's focusing on PvE first. What happens with PvP remains to be seen, but the systems in play at least protect against newbie ganking.
Best PvP: Lawbreakers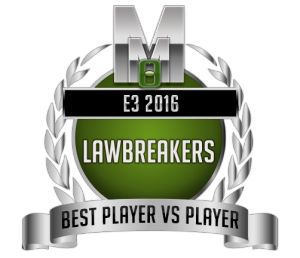 We had a tough time on this one, and while we discussed Tekken 7 seeming more accessible and Sea of Thieves just being fun vehicle combat, LawBreakers won the day with its gravity play, node locking of captured points, and the fact that Nick and Laguna separately won 2/3 games, showing that the MMOGames crew clearly knows how to win at this game.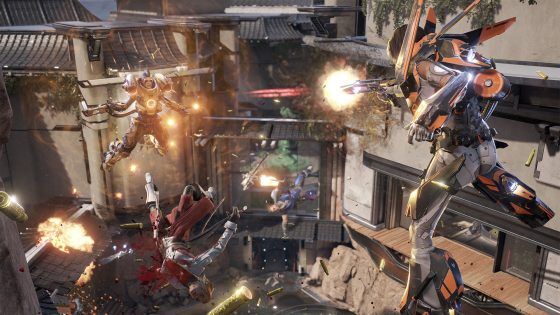 Most Anticipated: Zelda: Breath of the Wild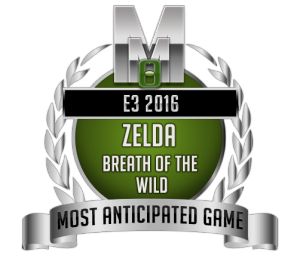 If anticipation is measured by hype, Zelda: Breath of the Wild wins by a landslide. There was a lot of talk about people going a second time for shirts and coins to sell for ebay money, making lines longer and forcing Nintendo reps to close them, further limiting the already restricted demo zone, plus it's the only thing Nintendo brought. The combination built a very visual looking amount of hype on the showroom floor that came up in conversations throughout the event. Nintendo certainly made it look like there's a lot of anticipation for the game at E3, but if readers feel differently, tell us in the comments below!
Best MMORPG: Guild Wars 2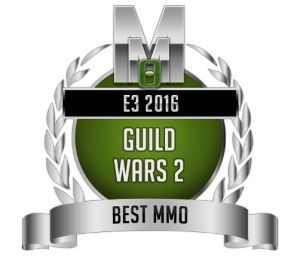 Wow, what an overall disappointing year for MMORPGs. The only major MMO to really show up on the floor was The Elder Scrolls Online, besides the Final Fantasy XIV Sephirot challenge, and even so it was overshadowed by everything else Bethesda had unveiled. Behind the scenes was another story, and ArenaNet had a lot of upcoming content to discuss in regards to Guild Wars 2.
Moreover, E3 is specifically meant to be an industry event, which means that the content relayed is more important than how flashy the booth was or how developers were interacting with fans. Unfortunately, nearly everything ArenaNet told us about upcoming Guild Wars 2 content is under a TBD embargo. However, what we can say is that regardless of the type of content you enjoy in Guild Wars 2, you won't be left out. Keep an eye out on MMOGames for when ArenaNet lifts that embargo to find out what we saw.
Best Shooter: LawBreakers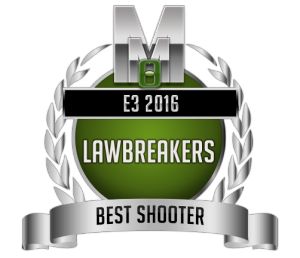 The latest FPS from CliffyB shows that old dogs can certainly learn new tricks. Although the game feels very much like an old-school arena shooter, LawBreakers more than makes use of modern graphics and physics engines. With a high skill cap, zero gravity mechanics, a class-based system, and amazing gun handling, Boss Key Productions has put together a winning combination with LawBreakers.
Most Innovative: Master x Master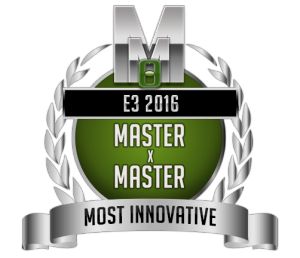 Part MOBA, part action RPG, Master x Master delivers a unique product that takes the best of both worlds and expands upon it. Want some Diablo-style dungeon crawling action? Check. How about 5v5 MOBA combat? Also included. Not to mention it draws in the most popular characters from NCSoft's other titles including: WildStar, Guild Wars 2, and Blade & Soul. We've been eagerly awaiting a game that takes the MOBA outside of the arena but doesn't skimp on PvP either, and it looks like Master x Master will finally be that game.
Best MOBA: Paragon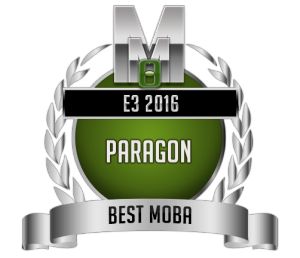 Last year, it seemed like every studio was attempting to build their own multiplayer online battle arena. This year, however, the MOBA scene was toned down a bit, but that doesn't detract from Paragon's achievements. Paragon has finally transitioned the core MOBA mechanics into a true third-person shooter. Unlike SMITE, which also has a third-person perspective, Paragon makes use of vertical terrain and requires precision aiming of attacks and abilities. Furthermore, Paragon is hands down the best looking MOBA on the market.
Best in Show: Zelda: Breath of the Wild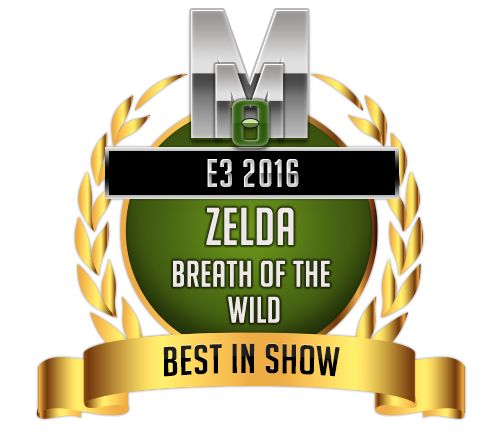 It's a little strange to put a game that isn't even a multiplayer title as the "Best is Show," but there's no denying that Zelda: Breath of the Wild was the winner of E3 2016. There was simply no other game at the convention that drew the crowds, or insane lines, that Zelda did, and why shouldn't it have? There has been a proper console Zelda title since Skyward Sword in 2011, and it will be a Nintendo showcase game for the NX.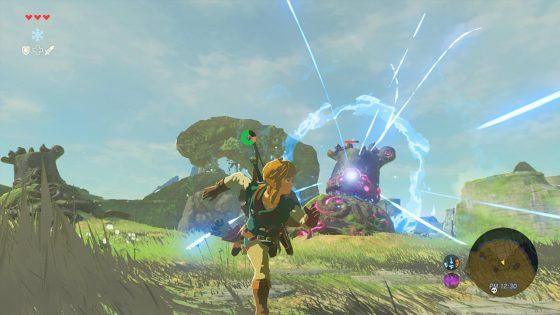 Of course, we've received plenty of other games to hold us over including: A Link Between worlds, Hyrule Warriors, and Twilight Princess HD, but fans have desperately been craving something new. And Breath of the Wild is just that. Not only will it be the first new game release with "next-generation" graphics, but it's redefining what makes a Zelda game. Instead of: explore dungeon, find item, kill boss, rinse and repeat, Breath of the Wild will have a much greater scope and more gameplay depth.
Despite Nintendo's lackluster appearance at the last few major events, the company pulled all the stops at E3 2016 and won the entire thing with a single game. When we're taking a break from online dungeon crawling or crafting shiny new loot, you can be sure to find us playing Zelda: Breath of the Wild once it's available next year.
How were our picks this year? Let us know in the comments below and be sure to check out all of our E3 2016 coverage.
Editor's note: Awards were discussed between those at the convention including: Nick Shively, Laguna Levine, and David Giltinan.
Related:
Awards
,
Dual Universe
,
E3
,
E3 2016
,
Guild Wars 2
,
LawBreakers
,
Master X Master
,
MMORPG
,
MOBA
,
Paragon
,
PvP
,
Shooter
,
Zelda