Another fantastic year of Gamescom has come and gone. With more internet spaceships than you can shake a keyboard at, Deadpools galore, great cosplay, and fantastic reveals this year was an amazing ride. With all of that being said it's time for us to pick our favorites and what we thought was the best of Gamescom 2016.
Best Booth – Black Desert Online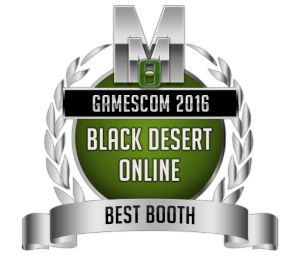 More often than not booths at Gamescom are pretty basic. You have your computers or consoles, a sign of some kind with your logo, and you make it open and airy. You might even include a stage for small events to happen on and swag to be thrown from. But every year there are a few companies who really go all out to make the booth itself an experience. This year it was none other than Kakao Games and Black Desert Online that blew us away. From the outside it was just a plain box but inside there was faux stained glass, a ship that acted as the stage, cannons, and smoke machines galore. Black Desert Online really pushed for an authentic feeling environment and it was amazing. The only downside being that it was a little difficult to get photos that weren't filled with the fake smoke as you can see from our photo.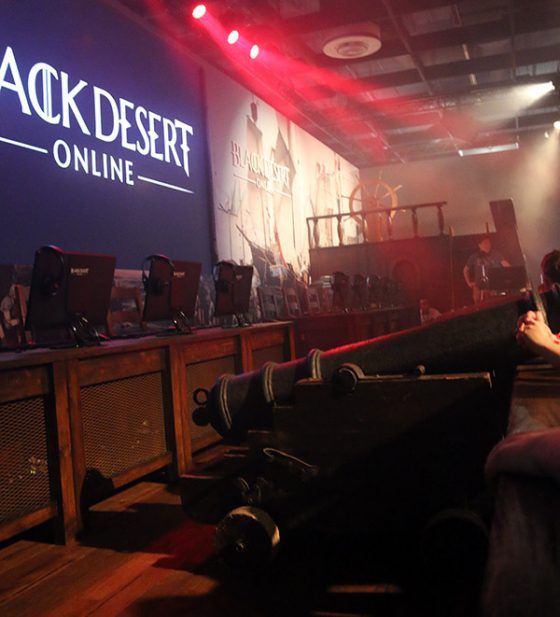 Best PVP – Dreadnought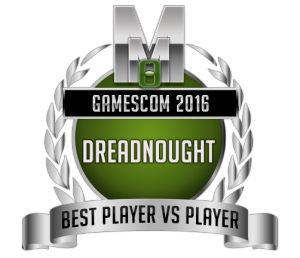 Ask anyone who knows me, I adore spaceships. I love their looks, their function, the fantasy of them. Something I rarely get in games though is that sense of majesty, of massive ships doing things. EVE has that sense of theatre. Dreadnought does as well. The titular Dreadnoughts rise and fall slowly, they haul painfully onto new headings and lay waste to all before them. I love how this makes the pvp feel for Dreadnought. It isn't a flurry of laser strikes and broken hulls from a space fighter battle. It isn't the charge in and pray combat of some MOBAs. It's an elegant dance between two teams and the ships they've chosen. To the victor go the spoils and to the defeated? Majestic ships also make magnificent explosions.
Best Cosplay – Captain Jack Sparrow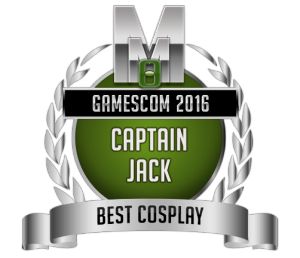 Every year we see some amazing cosplay at Gamescom. Some of this year's highlights were the incredibly buff and shirtless Super Saiyan and the nearly naked Enchantress from the Suicide Squad. But it was Captain Jack Sparrow who really stole our hearts. With an empty bottle of rum, and fully in character he had the mannerisms and movements of Captain Jack down so perfectly we actually wondered if we had met Johnny Depp himself.

Best Shooter – Battlefield 1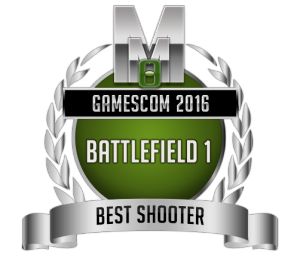 We saw several great shooter games at Gamescom this year, but one stood high above the rest and that was Battlefield 1. With a World War One setting, this fourteenth entry to the Battlefield franchise boasts stunning graphics and fun, active ways to play that even those of us who don't usually care for FPS games enjoyed.
Best Mobile – Shadowgun Legends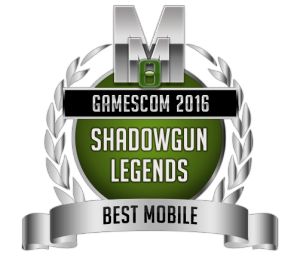 This can't be a mobile game. Someone in Madfinger has to have spiked the coffee they gave me. That or it was all a fever dream. I don't know when mobile games got to look so good, I'd always dismissed them. My mind was stuck back in the era of simpler games, where for me the height of ability was a phone playing Worms. Shadowgun Legends blew me out of the water with how good it looks, how smoothly it played and how utterly ambitious it is. Take Destiny, replace the space opera with comedy and fun and then throw the whole lot on a mobile. That's not quite Shadowgun Legends, but it'd give you an idea.
Best MOBA – Gigantic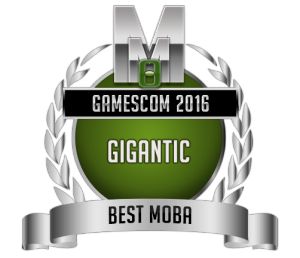 This year the hype for MOBA seems to be on something of a decline with several games saying they have MOBA-like combat but trying to avoid being outright called a MOBA. But not Gigantic. It firmly embraces being called a MOBA by its community and celebrates it with bright colors and light hearted fun. Though they weren't showing anything new this year they were still massively popular with a line into the booth every time we passed by. It's bright, it's light hearted, and it's fun as hell to play.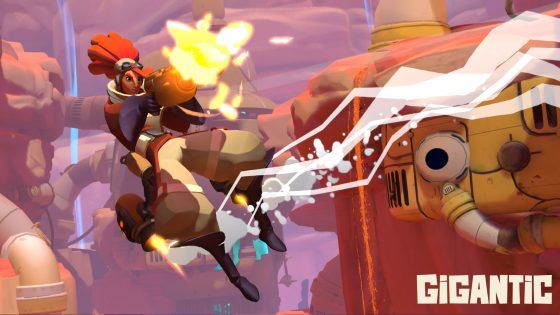 Best Card Game – Gwent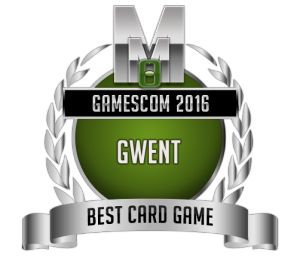 There are so many card games on the market today and while some are incredibly fun and have some great ideas, the core gameplay is always familiar. Gwent is its own beast. There is no Mana cost for cards, you can play your cards whenever you like, but what you start the game with is what you have for 3 rounds, so you will need to utilize strategy and trickery to win. There is so much to this game that other card games just don't have.
Best VR Game – Project Arena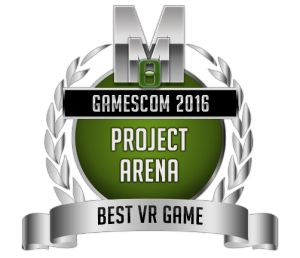 Somewhere out there they have a person in a dark basement. Their sole job is to look at VR technology and exclaim "Wouldn't it be cool if?" for Devs to hatch great ideas from. This Gamescom saw VR bringing us around dinosaurs, scaling mountains, parachuting, flying a Federation Starship as a crew and piloting an X-Wing.
Then there was Project Arena. Wouldn't it be cool if we did that bit from TRON?
Yes, yes it would. The game may be simple, granted I started to see more strategy in it as my play session ended, but it is just so much fun. The Vive technology works wonders and it was my first experience with it. Everything came together to easily make the CCP Project Arena my best VR game experience at Gamescom. If anyone wants to hop into a virtual space and play VR deathfrisbeetag with me… just yell. Be prepared for a workout, there's a lot of dodging.
Most Anticipated – Dual Universe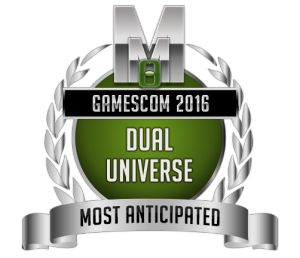 You have to be wary of salesmen. Salesmen can talk the talk and try persuade you to buy into their product. Dual Universe did not have the sense of salesmen trying to persuade me. This was passion and excitement laid bare. A massively ambitious game, Dual Universe aims to bring together the voxel building and destroying aspects of other games and package it in a MMO universe. Imagine if No Mans Sky and EVE had a baby and that baby had voxels everywhere. The team have taken the planetary simulation engine they decided to work with and are crafting a universe of possibilities. Like any sandbox, it's the potential that's intoxicating and I see just so much potential in this one. I can't wait to get my hands on it.
Best Singleplayer – HOB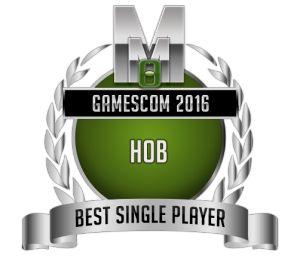 Every once in a while, a game comes along that steals our hearts and Gamescom 2016 had one such title in HOB, a single player game from the creators of Torchlight. With its charming style, adorable creatures that all need to be plushies, we felt HOB is a great game to sit back and relax to. Which is actually a little strange as it's filled with little puzzles that you must complete to progress and these can provide quite the challenge. HOB is, quite simply, a lot of fun.
Best Indie MMO/Multiplayer Elite Dangerous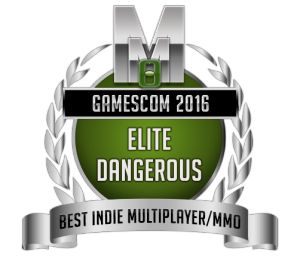 You know, there were spaceships everywhere this year. MMOs, PvP, single player, every genre that could potentially be set in space I think was for Gamescom 2016. Still when you have to pick the best in this category it can be hard. Given what I saw though? Elite Dangerous Horizons takes the cake. It's not just because Elite is the grandaddy of space games, it's not just because they are bringing in fighter combat and mixing things up. It's not even entirely because of that beautiful teaser they showed…
I look at Elite and I see a team dedicated to make the most out of their universe and striving to give more to the players. I'm always happy to see Elite, but this year with the peeks ahead, I was thrilled. Roll on the next installment.
Best MMO Expansion – World of Warcraft Legion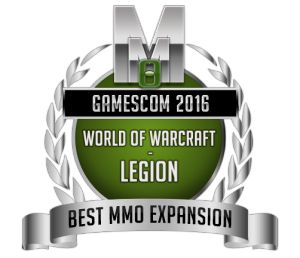 There wasn't a huge MMO expansion presence at this year's Gamescom, but there were a few, and all were ever-so-slightly overshadowed by Legion, whose launch date is just around the corner. With Blizzard's customary giant booth, exciting information revealed for Return to Karazhan due to arrive in patch 7.1, and of course the spectacle that was the Legion Café, pretty much all of the MMO expansion excitement goes towards Legion right now.
Best Multiplayer – Sea of Thieves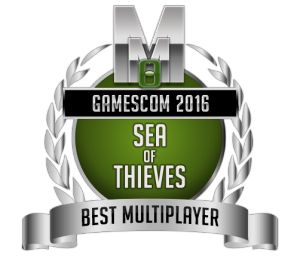 Sometimes when you sit down to play games with your friends, all you want to do is have some silly fun, and that is exactly what Sea of Thieves provides. We had an absolute blast with Rare's multiplayer pirate game, requiring teamwork and apparently a lot of grog, and simply can't wait to play some more!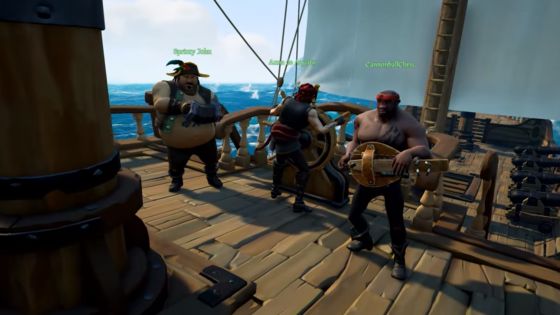 Best MMO – Black Desert Online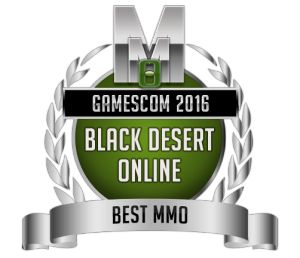 If there was one genre that was lacking in representation this year it would be MMOs. The usual MMORPGs you've come to expect were there of course. World of Warcraft, FFXIV, as well as MMOGs like World of Tanks. All of their booths were impressively large, but what they really lacked was any new content. This is where Black Desert Online was able to take the lead. With amazing new naval based gameplay and a massive expansion that will be underwater and make the world much larger. When it came to MMOs at Gamescom, Black Desert Online was without a doubt the best.
Best in Show – Gwent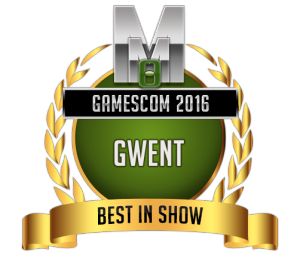 CD Projekt Red have a real gem on their hands with Gwent. The game is innovative, it has a singleplayer mode with additional story for The Witcher franchise that ties into the card game, multiplayer is, of course, an absolute blast, but it isn't just the game itself that stole the show for us. Gwent had a huge presence at Gamescom 2016. We got to see a live Gwent table in a massive Witcher-themed booth that left quite the impression, and if that wasn't enough, there were people wearing paper Gwent crowns just about everywhere you looked, including atop the head of a massive plush alpaca.
Related:
Awards
,
Battlefield 1
,
Black Desert Online
,
Dreadnought
,
Dual Universe
,
Elite: Dangerous
,
Expansion
,
Gamescom
,
Gamescom 2016
,
Gwent
,
Legion
,
Sea of Thieves
,
Shadowgun Legends
,
World of Warcraft