With everything I've seen and done during PAX East 2016, I've now got the very difficult task of going over all of my experiences and assigning the best of the lot. This is a lot like choosing whether the lobster or the steak was the best part of a surf and turf, but I'm going to do my best. As well as maybe start some arguments.
Best Technology: HoloGrid: Monster Battle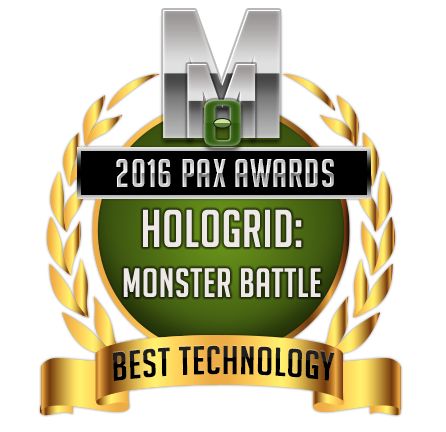 No other tech on the gaming floor combined so many cool, new ideas at once quite like this game. It managed to put together AR, CCG gaming and mobile gaming into a mixture that engages with its personality and depth of play.
HoloGrid could have easily leaned on its AR tech to make it simply a neat toy, but it has built a very compelling game in the process. It has managed to toe that difficult line between being accessible while also offering a strong level of strategy. In addition, it has a strong base to build on for more variety of cards. If HoloGrid can secure the right attention and make its game affordable, then Happy Giant has possibly caught lightning in a bottle.
Best Looking Booth: ARK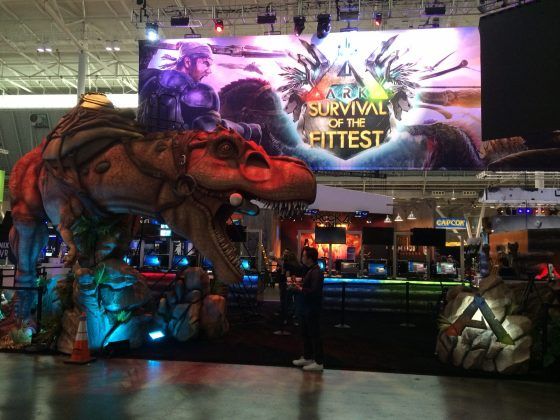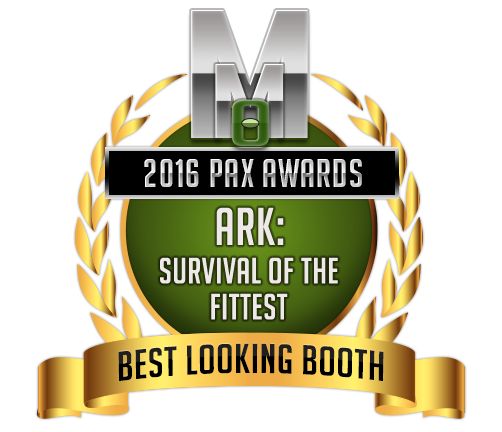 ARK was out in full force at PAX East 2016 with a tournament, a slew of play stations, a gigantic screen showing off the tournament as it played out and a huge T-Rex mount that people could climb aboard and snap photos of themselves on. It was a spectacle that made quite an impression on many, myself included.
Most Popular Booth: Nintendo
It felt like every booth ever was busy, but the Nintendo booth drew a lot of attention this year. In specific, the near-launch of Star Fox Zero, Bravely Second: End Layer, a new Monster Hunter and a new Kirby title drew myriad players and their 3DS's to the Nintendo area of PAX East 2016. I was barely able to move every time I was in that general area, and was never able to get my hands on any of the games on offer there – it was that jam-packed.
Best PvP: Orcs Must Die! Unchained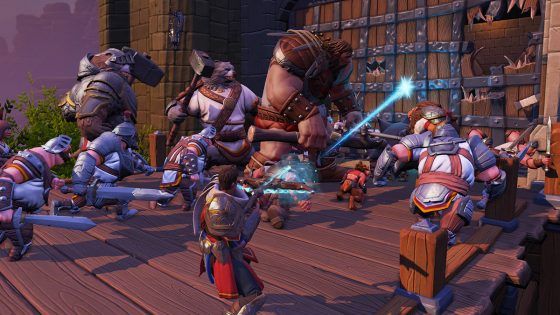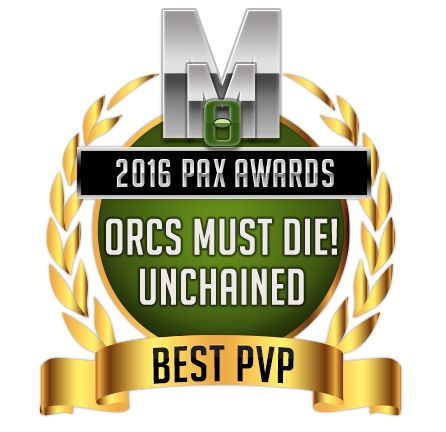 Despite the ambivalence from the devs at the idea, Orcs Must Die! Unchained easily makes for compelling eSports viewing. This is helped on by the very fast pace of its PvP and general sense of fun.
Hands-on, OMDU has some of the most agile controls I've laid hands on, letting anyone jump in feet first and get to playing without too much trouble. The ebb and flow of the game kept players on their toes and the action high, and the overall sense of fun kept things competitive yet upbeat. Orcs Must Die! Unchained has the ingredients to become a stable of PvP gaming.
Most Innovative: Fated: The Silent Oath
I approach this award as a changed man. Virtual reality was nothing to me but a pointless exercise – an overpriced toy that required the sort of setup and technology that was beyond the means of the average gamer, and producing titles that had the depth of most Facebook games. Fated has completely reversed my line of thinking with its emotional impact and storytelling skill.
Even though my time with the game was short, it has made a deep impact on me and my opinions on VR. I wanted to learn more about the world of Fated and the story it was beginning to weave, and I wanted to hear more from Executive Producer Vincent Martel about the development of VR and the VR community. On top of immersion, the game itself offers a price point that surprised me with its affordability. Everything about Fated is a game changer, and I truly hope that it is a true trailblazer for future VR titles.
Most Anticipated: Overwatch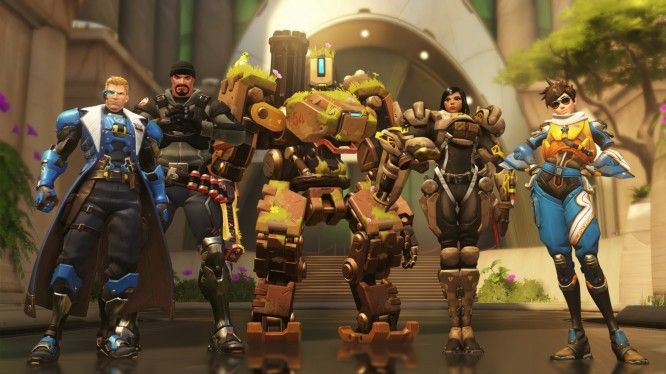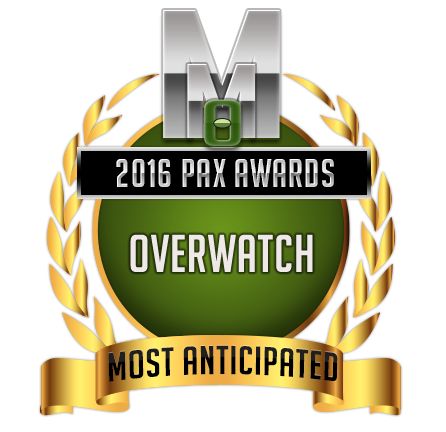 As we inch closer and closer to May, the anticipation for Overwatch's release becomes more obvious. The Blizzard booth had all barrels blazing to stir the pot, with an excellent display and more than a few appearances in the Arena and other eSports venues on the floor.
With the variety of shooter games that were on offer, Overwatch still proved to be the 800-lb. gorilla of the genre, drawing huge crowds and attention to itself over the course of the weekend. It likely didn't require this much advertisement, but Overwatch has momentum and is not about to let off on the gas pedal.
Best Shooter: Doom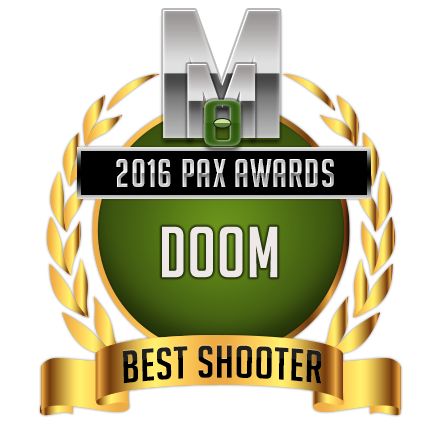 There were a LOT of options here, from Overwatch to Shadow Warrior 2 to Battleborn. As a pure shooter, though, Doom stands above the rest.
My time playing this one was brief, with most of that time spent standing in line. When I was able to get in, however, it definitely felt worth the wait. Doom is a return to the classic run-and-gun gameplay that got me in to FPS gaming in the first place. I was brought back to my Unreal Tournament or Tribes 2 days, even though my skills didn't come back. Between that, SnapMap and the multiplayer modes on offer, Doom feels like a reupholstered chair – the same skeleton and frame with a new, comfortable and beautiful cover.
Best MOBA: Orcs Must Die! Unchained
Another loaded category, this, but I'm giving the nod to OMDU here not just for its excellent PvP, but for maintaining a sense of whimsy that makes it attractive for noobs like myself. Introducing new people to your game is just as vital to MOBAs as feeding the current crowd is, if not more vital, and Orcs Must Die! Unchained welcomed all during PAX East 2016.
It started with a bunch of orc cosplayers protesting their mistreatment at the hands of the game's booth. It continued with a bright color palette and a host of varied characters, and carried through to some animated gameplay as Champions defended against waves of marauding orcs. Everything about OMDU makes MOBAs fun again and makes you want to play more and learn the maps and strategies. This game wins for not only building a solid game, but for letting others walk in and really play.
Best MMO: ARK: Survival of the Fittest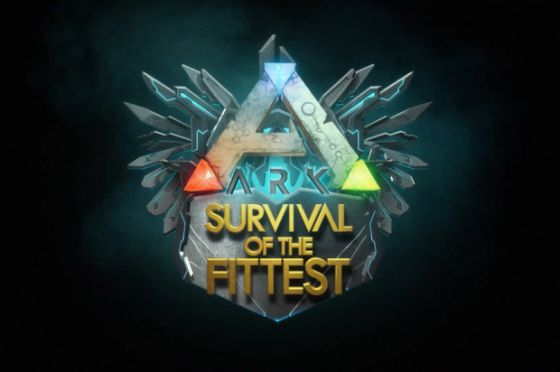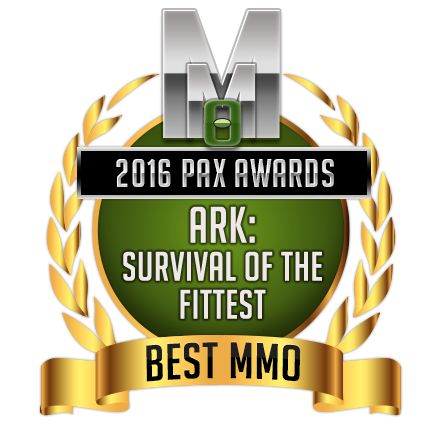 There were not many marquee MMO's in attendance of PAX East this year, so the choice was rather obvious. With that said, ARK had a great show overall and made a lot of people curious about the game.
The PvP tournament drew lots of attention to the game, and the booth stayed very busy throughout the weekend, proving ARK was definitely looking to win hearts and minds. The recent news of a delayed release just means that the game very clearly wants to make itself as strong as possible.
Best Indie MMO: Chronicles of Elyria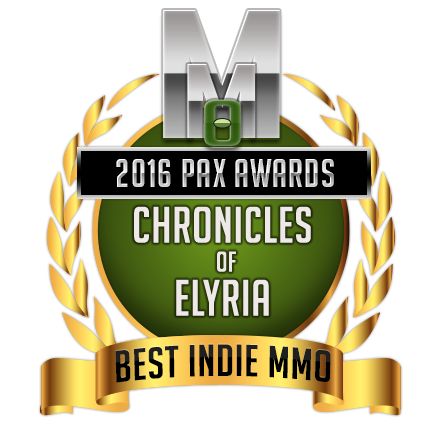 This game has some of the most intriguing systems I've heard in MMOs. Chronicles of Elyria seems to be walking the space between an open survival sandbox game and a standard themepark.
The ideas of aging, dying, crafting and questing via Contracts and living out your life in either living legend or mediocrity all pulled together to create an MMO that could be the promise of a living world that many are striving for. The combat build on offer illustrated a team that values players who can balance timing and risk. If the team at Soulbound Studios can build on the backend they have now and craft the things that they're planning, then Chronicles of Elyria may just be the best MMORPG to come out in years.
Best In Show: Overwatch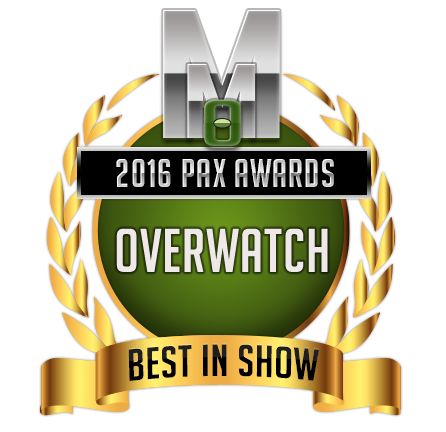 I'm not really sure there's a way to pick the Best in Show with everything that PAX East 2016 had to offer, so let me try to qualify my selection.
Overwatch had made an impression overall with sheer output. The game was everywhere; in its booth, in the Arena, on the minds of every player. Crowds lined up to play and the watermark for every other shooter, like it or not, had been set. Excitement for this title is at fever pitch, and that's the way Blizzard likes it.
Even though I personally seem to be inoculated against this game's wiles, I absolutely appreciate why people love it – Overwatch has a level of character and polish that only Blizzard seems capable of, and they're poised to dominate the shooter genre.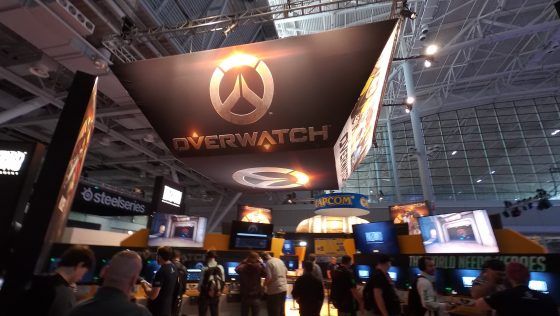 Related:
ARG
,
ARK: Survival Evolved
,
ARK: Survival of the Fittest
,
Awards
,
Chronicles of Elyria
,
Doom
,
Event (Real Life)
,
Fated: The Silent Oath
,
FPS
,
Hologrid: Monster Battle
,
Indie
,
MMO
,
MMORPG
,
MOBA
,
Nintendo
,
Orcs Must Die! Unchained
,
Overwatch
,
PAX East
,
Shooter
,
Technology
,
Virtual Reality