This Giveaway Has Ended
Neverwinter is an immensely popular fantasy MMORPG from Perfect World Entertainment, set in the epic Dungeons & Dragons Forgotten Realms setting. In Neverwinter, players can explore the vast and mysterious world of Faerun, overcoming challenges and fighting fearsome monsters, all while meeting famous characters from the Forgotten Realms novels and game sourcebooks, and now Neverwinter can be enjoyed from the PlayStation 4 Console! Facing fearsome dragons and exploring forgotten dungeons is no simple feat, however, and PS4 players are finding themselves immersed in a world which has been ongoing for a few years now. To make it easier for new PlayStation 4 players to step into the shoes of the explorer and adventurer, Perfect World Entertainment has teamed up with MMOGames to bring you this Neverwinter PS4 Gelatinous Cube Giveaway! Enter now, win a key for a Gelatinous Cube companion – one of the most iconic creatures in Dungeons & Dragons – and you need never adventure alone!
Important Note:
This giveaway is only valid for the North American PlayStation 4 Client of Neverwinter. The keys will not work for other versions of the game.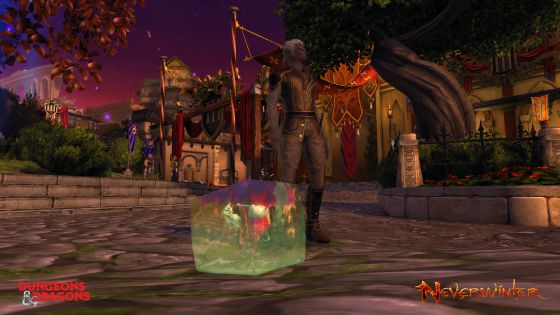 What You Get From The Neverwinter PS4 Gelatinous Cube Giveaway
1x Gelatinous Cube companion! The Gelatinous Cube is a stalwart companion with the following stats and abilities: Type: Augment, Quality: Rare (Blue), Active Companion Bonus: +105 Power, +105 Defense, Powers: Ooze, 2 Defense Slots, 1 Offense Slot
NOTE: This giveaway is ONLY valid for the North American PlayStation 4 client of Neverwinter. The keys will NOT work for any other version of the game. Only 1 key may be claimed per account.
How To Redeem Your Neverwinter PS4 Gelatinous Cube Giveaway Key
Download and install Neverwinter if you do not already play the game.
Open a Sony Network Entertainment account on PSN (or use your existing Sony Entertainment Network account).
Select the PlayStation®Store icon on the PS4™ system home screen.
On PlayStation®Store, select 'Redeem Codes' at the bottom of the menu.
Enter the code.
Once the code has been entered correctly, select 'Continue' on the dialog box.
Select 'Continue' to complete code redemption.
Launch Neverwinter and locate the Rewards Claim Agent in Protector's Enclave to claim your items.
Enter Via Gleam
Sign in with a selection of options within the Gleam widget below and complete one or more entries to enter. You can select all of them or just one, it's entirely up to you, though the more you choose, the more chances you have to win! We will be running this giveaway contest in several sections over the coming weeks, so check back often and keep trying until you win!
This is the final round for this giveaway! This portion of the giveaway ends on Monday, August 8, 2016, at 8:00 AM GMT. We will be in touch by email with the winners once the contest comes to an end.  If you have any issues, please contact us.
Neverwinter PS4 Gelatinous Cube Giveaway Part 5

Related:
Dungeons & Dragons
,
Game Keys
,
Giveaway
,
Neverwinter
,
Perfect World Entertainment